Daniel Olaoye is thankful for the opportunities German football has given him, as he aims to play in one of Europe's top leagues. 
The 24-year-old London-born forward plays for MSV Pampow in the NOFV-Oberliga Nord, Germany's fifth tier. With the season curtailed because of the coronavirus pandemic, he's had a chance to reflect on the last year and look ahead to the future. 
"I had my own personal goals that I couldn't achieve in the end," said Olaoye. "It was a shame to not have a full season, and I did have an ankle ligament injury, too. 
"It hasn't been easy, but I know I can handle whatever comes my way next season. I know I can stay motivated and on top of the situation. 20 goals and assists is my target next year, which I believe I can reach."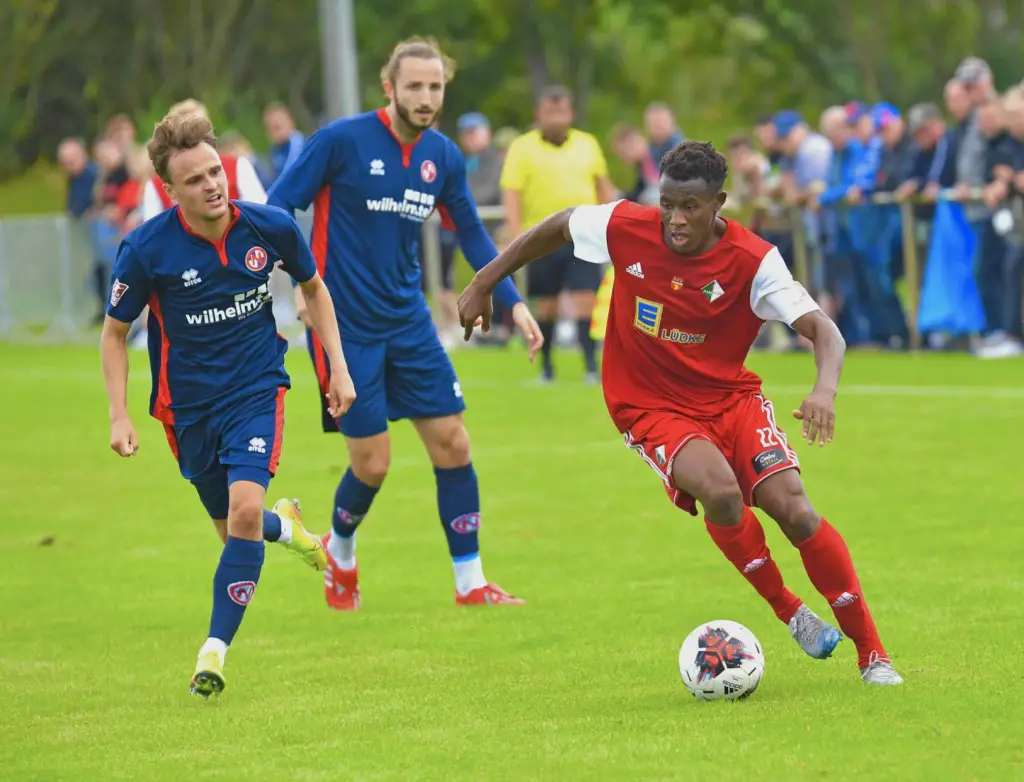 Pampow enjoyed a decent start to the season, as they pushed for promotion to the Regionalliga Nordost, but they have not played a league match since November. 
They also progressed to the last 16 of the Landespokal Mecklenburg-Vorpommern, a regional cup from which the winners graduate to the DFB-Pokal and potentially face the country's biggest clubs, before the campaign was cut short. 
The 2021-22 season should start in August with pre-season beginning in July, and Olaoye has been doing everything he can to prepare himself as much as possible, with his long-term goals in mind. 
"I said to myself that I need to do more training to be on top of everyone else," he said. "I've been training throughout, and I have been going on two or three long runs a week. 
"I have been trying to get two sessions a day in. I won't take a break in June, because in my head I am looking forward to being the best I can be next season. 
"I want to get lots more games in and progress in Germany, the standard here is very high and I have a good coach, Peter Herzberg. I want to fulfil my potential and always play to the best of my ability, I like the way I am developing here." 
Olaoye already has experience belying his age. A former Borussia Dortmund II triallist, he joined Pampow from VfR Mannheim, winners of the German top flight over 50 years ago, and before that he played in Greece for OFI Crete and AO Tympakiou, Sweden with Nordvarmlands FF and England's semi-professional ladder for Newham. 
"My long-term goal for my career is to push to a higher level, whether that be in Germany or somewhere else. Eastern Europe is a great place to show yourself off to bigger clubs, and moving back to England has come up a few times.
"I am sure it will come to pass, I need to stay focussed and keep working. I always want to be somewhere challenging for trophies and I want to qualify for and play in European competitions. 
"A common objective is important for any club to have. When a club has structure and a plan, it pushes players to give the best versions of themselves in training and matches." 
Certainly, Olaoye is applying himself in the best ways possible. At 24, with considerable life experience that comes with travelling far and wide behind him, he's got his career ahead of him. His goal to play in European competitions would be no mean feat, but he'll do everything he can to get there.