Maier to Beckenbauer, Beckenbauer to Breitner, Breitner to Hoeneß, Hoeneß to Müller…you know the rest. The 1974 Bayern Munich team sheet reads like a Patheon of German footballing greats. Few European sides, let alone German, can claim to possess such a complete unit from back to front. In the mid 1960's, Bayern were a struggling second tier side, just one of many Bavarian clubs jostling for predominance in the South of Germany. A decade on, arguably the greatest ever generation of German talent was on a mission – a mission that, by the end of their reign, would establish Bayern Munich as a true global footballing powerhouse. Germany had finally arrived at the very top of club football – FCB were here to stay.
In the late summer of 2014, Germany stood atop of the football world. Bayern were all conquering the previous year, while the national side had just swept aside any and all challengers in Brazil – most comprehensively of all, the hosts. Around the globe, German football – its tactical make up and its national teams star players, were spoken of with an air of incongruous admiration. The game's most revered manager, Pep Guardiola, was soon to arrive on German shores, to test his wits against another manager with a cult like following – Jürgen Klopp. Here was the second time in the nations long and storied history, that it could claim to be at the top of the football world. What follows, is the story of German football's first great dynasty, for which the latter probably wouldn't have existed without. In the words of German football expert Raphael Honigstein, "Everything that we know about Bayern today goes back to those years in the 70s – it's importance cannot be overstated".
The rise of Bayern Munich in the early 1970s is as remarkable as it is fortunate. A combination of astute scouting, quality coaching and blind luck, all coalesced, somehow, to create a footballing juggernaut for club and country. Players like Sepp Maier, Gerd Müller, Paul Breitner, and of course, the mercurial Franz Beckenbauer, all emerged from Bayern Munich in the mid 1960's, as if by fate. At a time when Bayern Munich were not the giants that we know today, it seems remarkable that legends of German and world football would emerge from one second division side.
The story of how Franz Beckenbauer ends up at Bayern for instance, implies that fate did mysteriously intervene in forming this historic outfit. After playing in a youth match for his local club, SC 1906, he was involved in a physical confrontation with an over-zealous 1860 Munich centre-half. The incident meant that, after Franz's youth club was dissolved, he turned his back on 1860 – the club he'd supported, to sign for cross city rivals Bayern[1]. In 1964, 'Der Kaiser' made his debut for the Bavarians, and within two years, they were ominously promoted to the Bundesliga.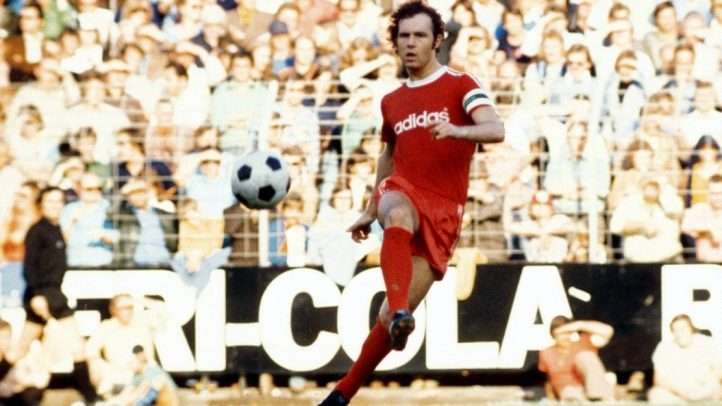 1966 was not only a landmark year for English football. On the contrary, this would be the year that Beckenbauer rose to prominence, becoming one of Europe's best players almost overnight following a spectacular 1966 World Cup campaign. Alongside this however, back in Munich, a group of aspiring youngsters were getting ready to make their Bundesliga bow. Over the coming months, Franz 'The Bull' Roth and Hans-Georg Schwartzenbeck were added to a young Bayern core that already boasted Beckenbauer, as well as a very young Gerd Müller, who arrived from 1861 Nordlingen two year prior. This period transformed Bayern Munich, who within a couple of years of promotion to the Bundesliga, were now on the precipice of achieving major honours. Between the sticks, Sepp Maier was just beginning a run of 442 consecutive Bundesliga matches – still a club record. The youngsters had the makings of a potentially transformative side – all the revolution needed was a spark, a trophy to set the ball rolling.
Early success
In the 65/66 season, Bayern finally got their hands-on silverware in the form of the DFB Pokal. While important, it wasn't the catalyst for the continental domination that Bayern would attain almost a decade later. For that, look no further than the 1967 European Cup Winners Cup final, where a young Franz Roth would first develop a habit for crucial, era defining goals. Roth's strike midway through extra time, secured a 1-0 win over Rangers, and saw Bayern claim their first ever European title. The end of the 60s would forever change German club football. In the 65/66 campaign, Bayern Munich finished a respectable third place, three points behind eventual champions – and city rivals, 1860 Munich. By the time Bayern won their first Bundesliga in 1969, 1860 had slipped to 10th in the league. A year later, they were relegated altogether. The balance of power had shifted, some would say irreversibly. For 1860 Munich, fate proved to be especially cruel. How different things might have turned out, had it not been for that fateful youth match bust-up.
By the early 1970s, Bayern's standing as the new kings of German football was firmly established. Alongside the core of Maier, Beckenbauer, Roth and Müller, new names were added to sure up any perceived weaknesses. In came powerful forward Uli Heoneß, as well as future Ballon d'Or winner Paul Breitner, who would go on to become the most exciting full-back of the age. What had begun life as a rather fortunate amalgamation of promising Bavarian talent, had morphed into a footballing behemoth. The final piece of the jigsaw for Bayern was to bring in a coach, one capable of harnessing the generational talent now at his disposal. Enter, Udo Lattek.
The Manager
Lattek, at the time of his appointment in 1970, was a relatively unknown quantity. He had previously worked in the West German set up, firstly as a youth coach, before becoming Die Mannschaft's assistant manager in 1966. Hired on the recommendation of Franz Beckenbauer, it was a monumental gamble, as he possessed virtually no experience of managing at club level. However, despite some reservations from the Bayern hierarchy, the appointment paid off tremendously. "He was a big motivator" claims former Bayern midfielder Rainer Zobel, "he was informed on tactics, and could get the best out of every player"[2]. Franz Beckenbauer is similarly glowing about his former coach; "Lattek understood how to unite the team"[3].
Success was not immediate under the new boss, but when a league title did arrive under his tutelage, it was won in spectacular fashion. In the 1971-72 season, Bayern played fluid attacking football, scoring 101 goals in 34 league games – emphatically winning the Bundesliga in the process. Gerd Müller, perhaps the purest striker all of time, scored a record 40 league goals, a feat which no other striker has come close to breaking since. Domestic titles were coming think and fast, but the absence of club football's biggest prize still grated on the Bayern hierarchy. Incredibly, the European Cup had yet to be won by a German club – this, despite West Germany's continued success on the international stage.
The 1972 West Germany side had been just as impressive as Bayern that year, dominating England at Wembley to qualify for that summer's European Championship, before brushing the USSR aside 3-0 in the competitions final. Gerd Müller was at his imperious best, scoring two close-range goals, the likes of which have since become synonymous with "Der Bomber". Meanwhile, a back four containing Beckenbauer, Schwartzenbeck and Breitner, did their part to keep the score line down at the other end. 1972, while not yielding top honours for Bayern and West Germany, would in hindsight prove the be another landmark year for German football. Everything was now in place to claim the biggest prizes of all – the last two trophies on the checklist.
https://www.youtube.com/watch?v=PQASKhfs9Cs
Changing of the guard
There are a number of parallels between the two greatest incarnations of FCB. The class of the early 70s, and the 2013 treble winners are near indisputable as Bayern, and perhaps Germany's greatest ever club sides. One of the most notable similarities, is that both generations found success of the back of a legendary footballing dynasty. In 2013, Bayern emerged as the new kings of Europe, succeeding Pep Guardiola's irrepressible Barcelona side. In the early 70s meanwhile, an equally daunting adversary managed to keep Lattek's team at arm's length – for a short while anyway.
In 1973, Johann Cruyff's Ajax were, without question, the best team in Europe, having won the two previous editions of the European Cup. At the Quarter-final stage that year, many thought they had finally met their match, as the old guard faced off against Lattek's young pretenders. What transpired was a landmark game in the history European football. Not only was this a meeting of the eras two great dynasties, it was also a partial dress rehearsal for the 1974 World Cup final, where the key protagonists would do battle once more donning their national colours.
The game itself didn't exactly pan out as you might think. On the contrary, as Raphael Honigstein points out, despite the stereotype of German teams being unattractive to watch, it was Bayern who caught the eye of many that night. "Even in that 4-0 defeat by Ajax in the European Cup of '73, you see Ajax scoring from corners and stuff, and you see Bayern playing some really interesting football – with players turning up all over the pitch. Things were beginning to move around, with Paul Breitner being the symbol of this side – a left back playing in midfield".
For many, Raphael included, German teams were all too often a victim of archaic stereotypes, with Bayern and Germany of the early 1970s both falling foul to this, despite playing innovative football. "From an Anglo-Saxon narrative, the Germans aren't as sexy as the Dutch". Honigstein also has his own theory for why German football is often viewed in such a negative light: "I think what happened too – and this is just my view, is that, as Germans become spoil sports in the 80s, being readily successful, but not always playing that much good football, I think '74 in retrospect also become part of that narrative. That a methodical Germany is kind of winning or getting to finals knocking out these wonderful teams. I don't think that was necessarily true in '74"
The question has long since lingered over whether Bayern's achievements were overshadowed somewhat by the much-lauded football of Ajax and Holland. The Dutch were, as Honigstein describes: "lovable losers" in the 1974 World Cup, pioneering and innovative – everything German teams weren't supposed to be. And yet, take a look at the 1974 European Cup final replay, and you'll see one of the greatest final performances you are likely to come across.
1974 European Cup Final
Bayern's route to the 1974 European Cup final was littered with capable challengers and potential banana skins. An early round skirmish with Swedish side Atvidaberg proved to be tougher than expected, but the tricky tie did have one upside – in that FCB ended up signing their key man, Conny Torstensson, following his impressive second leg performance. These were halcyon days, where Torstensson, far from being cup tied, was able to play a defining role in Bayern's European Cup run. He netted twice in the quarter final against CSKA Sofia, before starring in both legs of the semi, this time against Hungarian outfit Ujpesti. A goal in both legs, as well as a customary late strike from Gerd Müller, sent a jubilant Bayern through to their first European Cup final, where they would meet an impervious looking Atletico Madrid side.
The Spaniards, fresh from a convicting victory over Celtic in the semi's, weren't going to be pushovers. The final itself was cagey and tight, with neither side willing to expose their backline more so than was necessary. Franz Roth describes the tentative approach from the very onset: "Both teams were playing very defensively, nobody wanted to concede a goal so both of us wanted to counter-attack"[4]. It's telling that Atletico took the lead thanks to a freekick, as a goal from open play, at times, appeared to be almost impossible.
After a goalless 90 minutes, up stepped future Spain manager Luis Aragones to net a perfectly executed free-kick. With just six minutes of play remaining, and up against a brick wall of a defence, Bayern's European dream was on its knees. What transpired then, with just seconds remaining, is arguably the most important goal in the clubs long, illustrious history. With Atletico now firmly parking the bus, Bayern's route to goal was markedly limited.
As Hans-Georg Schwarzenbeck collected the ball just inside the Atletico half, he had two choices; pump the ball into the box, or have go at goal from a frankly outrageous distance. This wasn't Beckenbauer shaping up to strike the ball, this was his defensive partner – the man dubbed the "Kaiser's cleaner". There were a couple of Bayern players capable of rattling one in from that distance – but Hans was not one of them. And yet, he had a go. The centre half gave the shot everything he had, and somehow found the corner of Miguel Reina's net. He was the most unlikely of all Bayern's hero's score the clubs first ever goal in a European Cup final. In a team well known for their interchanging of positions and revolutionary use of an attacking Libero, it is perhaps fitting that the crucial goal should have come from a defender – just not perhaps the one you might have expected.
https://www.youtube.com/watch?v=2t8qVFacJNs
It didn't win the game for Bayern, but it may as well have. Schwarzenbeck's effort earned the Bavarian's a replay against a mentally broken Madrid side. It's impossible to know how much the late equaliser affected them in the replay, but with the second game being just 48 hours later, Bayern certainly carried a psychological edge. What transpired at Heysel stadium two days later was, quite simply, one of the most one-sided European Cup finals up until that point. The attacking duo of Uli Hoeneß and Gerd Müller terrorised Atletico's back line, who were unable to recapture their former glories. Hoeneß, a phenomenally powerful and quick forward, was ruthless on the counterattack – handing Bayern a quick-fire lead. Gerd Müller soon put the tie beyond the Spanish outfit with a couple of beautiful goals, before Hoeneßreturned to complete the rout. Comfortable 4-0 winners, in the most important 48 hours of Bayern Munich's history.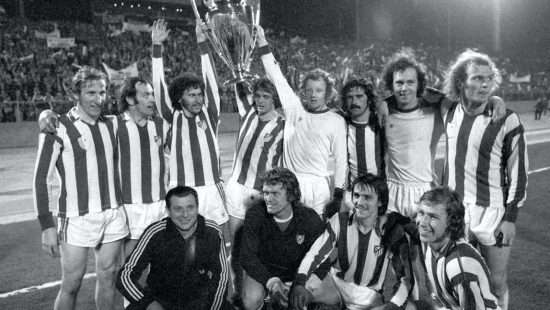 It was the culmination of a project that had begun a decade ago – and it was now culminating in the most dominant fashion possible. The footballing giant that we know today was born on that night in 1974. For better or worse, German football had been forever reshaped. The first German European champions were not the rampant Frankfurt side of the 1950s. Nor were they the infamous Monchengladbach team of the late 70s, who assumed challenger status after Bayern's long European reign. Both clubs fell at the final hurdle – but Bayern, for three consecutive seasons, found a way. As midfielder Reinier Zobel describes, "something was even born that day that still exists at FB Bayern – never giving up, and a winning mentality"[5].
Domestically that season, Bayern won a tight Bundesliga race to complete Germany's first ever league and European Cup double, something they didn't manage to achieve in the following campaigns. They won the league by a single point, after being hammered 5-0 by Borussia Monchengladbach just one day after their European Cup triumph in Belgium. As Zobel describes, most of the players were hardly in a position to go out and play well: "It was the first time a German club had won the European Cup. We partied without sleeping…nobody was completely sober (for the Gladbach match)". This was the brief period where everything clicked for Bayern. Success was forthcoming, and the team, for the time being at least, remained a united unit. Bild journalist Christian Falk maintains that friendships within the squad were vital to their success, with Gerd and Franz forming a particularly close bond; "You have to be 11 friends…Gerd Müller, before he was going to the plane for the matches, he drove his car to the house of Beckenbauer. Beckenbauer was always late, because he needed a little more time in the bathroom. Müller would always get angry because he was afraid of missing the plane. Beckenbauer said 'You don't have to worry, the plane won't go up without us!'"
Bayern after Lattek
As great as the 1974 season was for Bayern, the success – and even the friendships – couldn't last. For many of the Bayern players, every trophy available, including the 1974 World Cup, had now been won. As Hans Gruber humorously ponders in Die Hard – "Alexander wept, seeing as he had no more worlds to conquer". For Bayern, this misattributed quote rang particularly true. Raphael Honigstein points to this phenomenon, claiming that it was hard, beyond 1974, for the players to consistently raise their game; "They could raise themselves for these 5 or 6 games that mattered, but they couldn't do it week in week out anymore. I think by 75/76, Bayern were a spent force". After a sluggish start to the 74/75 season, Lattek was unceremoniously fired from Bayern, only to be hired by rivals Borussia Monchengladbach a few months later. He tasted domestic success with Die Fohlen, but just fell short of winning the European Cup for a second time, famously losing in the 1977 final to Bob Paisley's Liverpool.
Bayern's subsequent triumphs in Europe, in 1975 and 1976, were, more than anything, a reflection of where they stood as a team. With the squad arguably past their peak, the ability to focus on a handful of European games, rather than that of a full Bundesliga campaign, highlights Bayern's perceived lack of motivation beyond the '74 season. Having to prioritise Europe, however, wasn't just a damning indictment of the team's motivation. In a time before large playing squads, clubs were uber reliant on the contributions of star players.
Christian Falk confirms as much, stating that: "If the squad had been a bit bigger in the 70s, it would have been easier for this team to dominate in Germany as well." The European Cup finals against Leeds United and St Etienne were won with a hint of fortune, favourable refereeing decisions, and a fighting spirit born out of the comeback in 1974. Midfielder Franz Roth scored in both finals, cementing his place in Bayern folklore, while Beckenbauer bid farewell to German football not long after the '76 final, choosing to play alongside Pele at New York Cosmos. The final at Hampden Park in May 1976 was the final chapter of a memorable era of Bayern dominance.
Olympiastadion
Amongst the litany of factors that played a key role in Bayern's success, one of the most overlooked is the importance of the Olympiastadion. The futuristic stadium was constructed primarily for the 1972 Munich Olympics, but following the tournament, Bayern and 1860 became co-tenants. Unlike West Ham's recent inheritance of the London Olympic stadium, this tenancy proved to be immensely fruitful for all parties.
In the opinion of Raphael Honigstein, the new stadium played an essential role in helping Bayern to become the global superclub that we know today; "The stadium is a real difference maker for Bayern at a time when gate receipts are everything. If you suddenly have a 78,000-capacity stadium, you go to a whole different level. And that's basically the foundations of Bayern as a superpower being laid in the 70s." The increased revenue and added prestige of playing at the stadium, took the club, which had been firmly entrenched in the second tier until very recently, into a new era. The stadium would go on to host three European Cup finals, with a German club, Borussia Dortmund, poignantly winning the last of those in 1997.
In 2005, Bayern moved into the slick Allianz Arena. Much like its predecessor, the opening of the 70,000 all-seater stadia signalled a new era for the club, who have since gone on to appear in three Champions League finals. With that in mind, however, nobody can doubt the importance of the Olympiastadion – for this is where Bayern really moved through the gears as a football club. During the stadium's 40-year lifespan, Bayern went from being a domestic powerhouse, to a truly global superclub. Its metamorphosis was complete – partly thanks to its former home.
Legacy
As the 70s gave way to the 80s, a new generation of talent began their hunt for honours, including Karl-Heinz Rummenigge, and a reinvigorated Paul Breitner, back at Bayern after an eight-year absence. But, as Christian Falk point out, the biggest legacy of all for Bayern's first golden generation, is that "Every generation after this was compared with it". Raphael Honigstein echo's a similar sentiment, stating that the burden of emulating their success can weigh heavily: "The pressure is immense because there are the Beckenbauer's, there are these people who have won it all – unless you do it you cannot claim to be equals".
There are a number of Bayern generations who have dominated the domestic scene in Germany. From the FCB of today, fresh from winning seven Bundesliga titles in a row, to the Bayern of the mid 1980s, who achieved historic doubles. But for all of their greatness, no side since has come close to dominating in Europe quite like Lattek's men. The 2013 generation, bristling with talent and dominant at home, twice fell at the final hurdle, most notably against Chelsea in their own backyard. Success with Die Mannschaft was also illusive for many of those Bayern players, as a much-fancied side were defeated at the semi-final stage in Euro 2012.
Before their redemption ark, first at Wembley, and then at the Maracanã, this generation of talent was in danger of being dismissed as 'bottlers'. Getting over the finishing line is often the hardest task in football. For Christian Falk, the ability to do so consistently is what separates Bayern's two greatest iterations: "The team of Lahm and Schweinsteiger were really close to it (the achievements of Lattek's side). They had the Champions League finals in 2010, 2012, 2013. But they won just one of those. I think, to win three times in a row in Europe is bigger than everything." And that, arguably, is what most distinguishes the 1974 vintage from subsequent generations – they didn't need a second invitation.
1974 team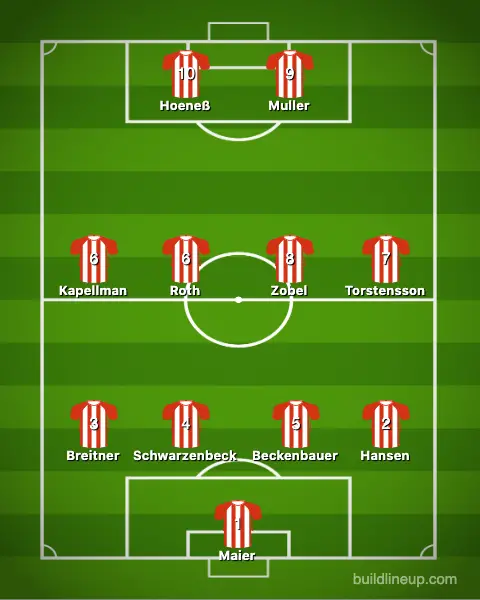 By Tom Fenton.