RB Leipzig hosted Bayer Leverkusen in an interesting Sunday afternoon Bundesliga clash. Bayer Leverkusen have slowly been building momentum as they enter the second half of the season. Peter Bosz has them sitting in 5th place clipping at the heels of Borussia Mönchengladbach and Borussia Dortmund. Kai Havertz has played an important part in their recent form as well, contributing three goals and three assists in Bayer's last four matches.
Meanwhile Julian Nagelsmann's Leipzig have been trying to keep pace with a Bayern Munich side that is on the verge of running away with the title. Leipzig's first step to staying in the midst of the title race: overcome their recent inconsistent performances.
Although the match ended 1-1, Bayer outperformed Leipzig by creating more quality chances, pressing Leipzig's midfield, and exploiting Leipzig's three-man backline. Bosz's side created more goal scoring chances, 1.14 to 0.54 xG, most coming from the right side inside and outside of the 18-yard box. Although Leipzig did get shots off that were patiently created inside the 18-yard box, most were low-quality.
Line-ups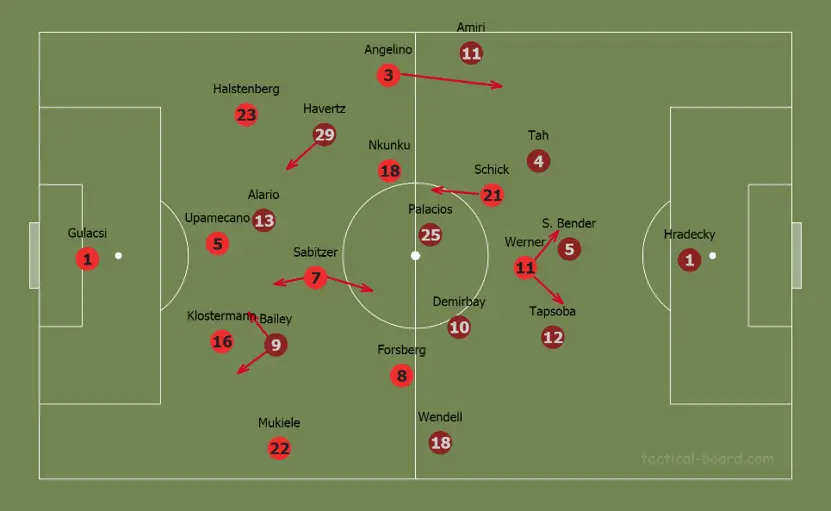 Bosz's side continued to set up in a 5-4-1 with both wingbacks playing support roles for their wingers who looked to push narrow alongside Alario. The central trio of Bender, Tah, and Tapsoba kept a close distance to limit the space between themselves that Timo Werner could exploit. However, most of the game the central trio only had to deal with 1 or 2 strikers from Leipzig, this allowed one of the central defenders to push into the midfield when there was an opportunity to outnumber Leipzig during their build-up play. Alario was Bayer's lone striker but was well supported by Havertz and Bailey, this allowed Alario to either pin back Leipzig's backline or drop into the middle allowing a winger to overlap.
Nagelsmann had his side also in a 5/3 man defence, 5-3-2 overall, but structured differently. Leipzig's Angelino was positioned far up the pitch almost playing as a winger, which allowed Leipzig's backline to go into a traditional 4-man backline with Halstenberg pushed wide. Leipzig's problems in the central areas came as a result of Sabitzer acting as a lone deep lying playmaker while his other midfielders, Nkunku and Forsberg played almost as wingers occupying the half spaces. Leipzig's front two, Schick and Werner, played opposite roles as Werner made countless runs in and behind Bayer's defence, Schick played as a targetman for Leipzig's attack looking to flick on headers and make quick one time passes to on rushing Leipzig players.  
Bayer's Intelligent Pressing
One of the key areas Bayer were able to limit Leipzig's goal scoring chances was their intelligent pressing in the middle third. But Bayer's strategy occurred slightly further up the field. As their opponents began progressing the ball out of their defence, Alario, often with the help of Havertz or Bailey, helped facilitate what part of the pitch Leipzig would move the ball forward through.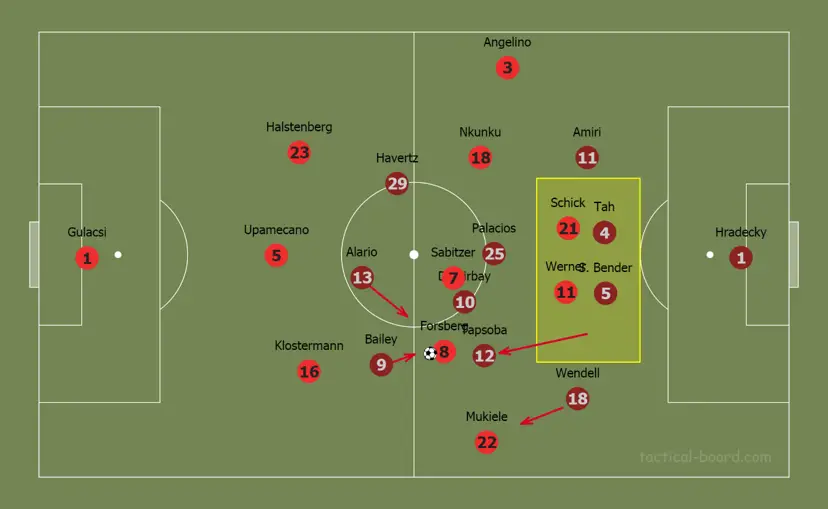 Typically, when sides actively facilitate their opponent's build-up, it is to force them outside where they can utilise the sideline as an additional defender. However, with Leipzig already outnumbering Bayer in wide areas and Sabitzer as an unfamiliar lone central midfielder, Bayer allowed played into the central areas. Below we can see exactly why Bayer allowed this.
We can see above around the 28th minute, Upamecano plays to Forsberg who is has his back to Bayer's goal. Bayer's trio of central defenders gives them a 3v2 advantage allowing Tapsoba, in this scenario, to abandon his spot in the backline and pressure Forsberg from behind. Forsberg, now unable to turn into space like he was expecting, is forced to play a safe ball backwards while Alario and Baily press him from his own goal side. In this scenario, Bayer's players are able to outnumber Leipzig in the area and win back the ball.
Sabitzer's Midfield Role
In addition to struggling under Bayer's intelligent pressing in the middle third of the pitch, Leipzig's creativity coming from the midfield was further hindered by Sabitzer's lone deep lying playmaker role. After the first 15 minutes of the match Sabitzer began to find space to help progress the ball out of Leipzig's defence. Even so, further up the pitch, Leipzig struggled to advance the ball with Mukiele often being well marked by Wendell, Schick struggling to flick on lofted passes that resulted in 50/50s, and Havertz dropping back to track Nkunku.
Leipzig's only outlet was on the left-hand side, which we can see from Sabitzer's pass map for all of his forward passes. This is a result of the well positioned Angelino on the left side who pushed high enough to be considered a winger when Leipzig were in position. This allowed Nkunku more freedom to move into space.
As Nkunku's positioning became more fluid, Bayer often found themselves numerically disadvantaged in certain areas. This became another reason as to why Leipzig's goal scoring chances came from their left side of the pitch as well.
Conclusion
Leipzig are likely the side happier with the one point each as Bayer were able to press effectively in the middle of the pitch utilising their 5/3-man backline slightly differently than Leipzig. Bosz will hope his side continue their progression as they face fixtures in all three competitions. Nagelsmann will likely look to reshuffle his middle in order to gain aspects of unpredictability back into his side as they venture into their opponents final third.
By Daniel McDermott.