André Silva's football career has already witnessed a fair share of high and lows at the age of 25, almost like a balloon which has either been held back or it has been let go to soar. And over the years, Silva has acquired varying name tags – sometimes unfairly so. He's gone from being a wonderkid to being a flop but it is only now that the Portuguese forward is an efficient source of goals in the top flight.      
While breaking through at Porto, the Gondomar born marksman emerged as one of the most promising talents in Portuguese football and became a feature of the national team as well. It all reached a rather dismaying position when things didn't go his way at Milan and after an encouraging start to life at Eintracht Frankfurt, the 25-year-old seems to be finally fulfilling his promise.
It wasn't smooth sailing for him at the Rossoneri at all as the €38 million fee did him no favours and neither did Milan's famous number nine curse. In a summer transfer window where Milan had spent in haphazard fashion in 2017, Silva was never the reserved starting striker. The likes of Nikola Kalinić and Patrick Cutrone were above him in the pecking order, despite the amount of fee that was spent on the Portugal international. Vincenzo Montella had left after a few months and things didn't improve too much under Gennaro Gattuso either – a hat-trick against Austria Wien early on in the season only proved to be a false dawn.
A loan move followed in the summer of 2018, as Sevilla came calling. And again, despite starting with a hat-trick against Rayo Vallecano, things petered out for Silva as injuries piled up towards the end of the campaign. He scored only nine league goals. On his return to Milan in 2019, Marco Giampaolo handed him a league start against Brescia but it was far from convincing. Rafael Leão had come in and Milan decided to swap Silva and former Fiorentina man Ante Rebić in 2019 in an attempt to upgrade on the Portuguese.
Eintracht Frankfurt, under Adi Hütter, had already lost Luka Jović and Sébastien Haller – albeit while roping in big money for both. Losing the last bit of the special trio from the 2017/18 season may not have gone down well with fans, but they were getting a player in return who perhaps just needed some confidence and game time to thrive. He needed a new start, away from the pressures and burdens of the San Siro and play under a manager who's known to bring the best out of strikers and get them to step up a level.
Fast forward to today, Silva is one of the most exceptional forwards in Europe. Whilst he has scored 21 Bundesliga goals, the 25-year-old's Expected Goals metric stands at 17, which is the sixth best in Europe and it's suggestive of how he's plying his trade in a team which is geared towards his success as a forward. He scored 12 times in the league last season, but he's come leaps and bounds in the current campaign, aided substantially by constant service from width.
After all, Hütter's 3-4-3 system is generally meant to have a lot of service and creation for the forward players. It's a system which looks to create spaces for the advanced players between the lines and using third-man runs from wing-backs. Silva is tasked with holding the ball up while dropping deeper, laying it off and then usually scoring off crosses from the mercurial Filip Kostić or Erik Durm. Silva's reading of space and ability to run in-behind opposition defences suits this system, as Frankfurt generally have as many as four men inside the box when a wing-back is in a crossing position. In cases like these, it is important for a striker to pick out spaces in the final third to get shots away. Silva is adept at that.
As per FBRef, no other striker has been the target of a pass more times than Silva and he has received the second-most number of progressive passes in the league, only behind Thomas Müller. Frankfurt are sixth in the league for the highest percentage of possession in the league, which is pretty much suggestive of the fact that they generally like to keep the ball and a lot of times, it revolves around Silva's hold-up and sharpness of movement.
Hütter's men are only behind Bayern Munich in terms of most crosses per 90 minutes and since a lot of their shots come from central areas, Frankfurt have a non-penalty xG per shot of 0.11, which is the third-best tally of the Bundesliga. This helps them score from high value positions and as a result, they have scored the third most number of goals in the division.
Certainly, that taps into Silva's ability to mark sharp runs inside the box, find space to get shots away with his preferred right foot or with his head. Because of that, it is barely a surprise that every single goal from André Silva has come from inside the box, with four coming from inside the six-yard area.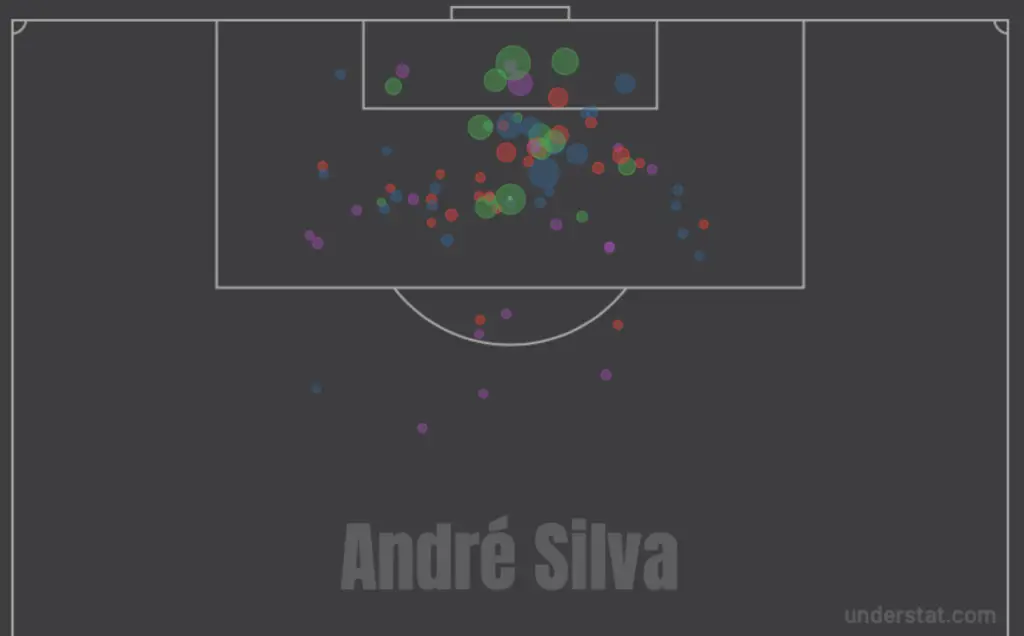 Shooting from high value positions has certainly helped him, considering that he's overperformed on xG by a good 3.0 – the most in his career post-Porto. He had overperformed on the metric even last season, but more minutes as the sole forward has complemented him in increasing his output. He's also scored more penalties, firing in all six that he has taken. As much as that has bumped up his tally, Silva is tied with Erling Haaland in terms of league goals already.
In a social media environment when venom is sprayed about whenever a forward scores penalties, Silva has been praised for his spot-kick taking abilities by Hütter himself. The Frankfurt boss compared him to Robert Lewandowski and his penalty taking skills.
After Eintracht's 2-0 win at Mainz 05, Hutter said: "André Silva is the solo forward up top, but he does it really well. He wasn't rewarded against Leverkusen, today he was. His composure on penalties reminds me of Robert Lewandowski, who always turns ice cold."
Indeed, Silva's goal scoring sense and the nose for getting into the right positions has been compared to the Polish great even otherwise. Apart from their traits, what is common between them is the service they get from teammates and that they've scored six penalties each. More than that, both benefit a lot from having a large amount of touches inside the penalty area.
Lewandowski's tally stands at 8.41 touches inside the penalty area per 90 minutes but for Silva, it stands at 6.48. While the Portuguese forward does get a high number of touches in the penalty area, he's also shooting more than ever. That number stands at 3.48 per 90 minutes- Silva's best tally since his Porto days. In many ways, more input has just increased his output.
Not all the strikers can consistently outperform their xG on a regular basis after one huge season (Andrea Belotti is a prime example) and Silva can certainly look at Luka Jović and learn that. The Serbian's tally of 17 goals under Hütter in the 2018/19 season was an overperformance on the xG of 13.9. Even Haller had overperformed on the metric that season – a fair reflection of how Hütter's system is best designed for helping strikers improve and score more goals than might will elsewhere.
The historical context, especially with Jović, should trouble Silva considering how he's performed in Hütter's system over the last two years. But it could well be about the sample size involved in these cases. Jović had one astounding season at the Deutsche Bank Park, while Silva is now in his second consecutive impressive campaign. So, there's a higher sample size for the Portuguese than there was for the Serbian, making Silva less of a gamble for potential suitors than Jović was.
Talking of potential suitors, there isn't any shortage of them. Diego Simeone's Atlético Madrid have been linked with a move for the 25-year-old and the same applies for Ole Gunnar Solskjaer's Manchester United, who could lose Edinson Cavani soon and their attacking plan is chaotic, volatile and highly unpredictable. What they demand in a striker is close to what Silva can offer – someone who can find spaces in behind or in advanced areas and link up play with those around him. Frankfurt's approach has brought out these qualities in him already, considering how he drops into spaces, combines with others and runs into the final third to score from the box.
As much as a big move might be coming up soon, that blockbuster transfer would deserve to be overshadowed by the classic redemption story of how the once-failed Milanese experiment is turning into gold standard once again.
All stats taken from FBRef/Image via Understat