Here we'll look over the most unlikely results of this Bundelisga season.
We'll start with the most against-the-odds victories: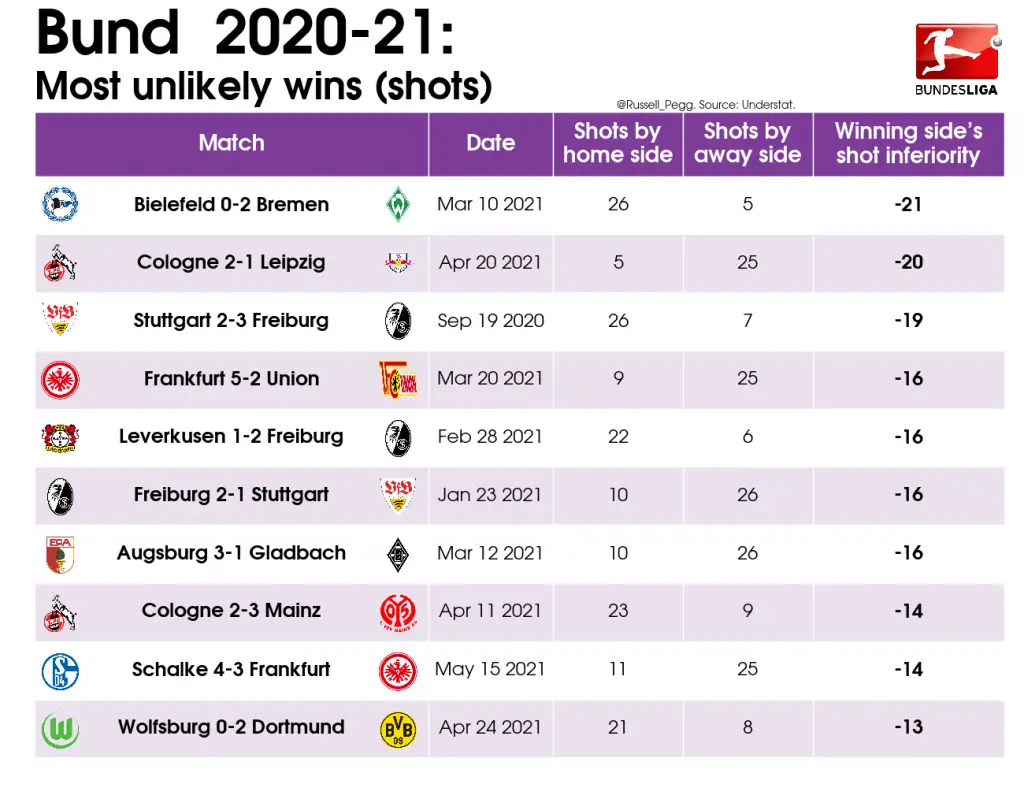 Even on the rare occasions when they managed to win, Bremen and Schalke still weren't necessarily good.
Leipzig certainly had some against-the-odds defeats.
Bielfeld and Freiburg certainly had some unlikely victories.
The latter's games against Stuttgart were remarkable – over the two matches, Pellegrino Matarazzo's side managed 52 shots to Freiburg's 17, but lost both of them.
Something that really stands out is that undeserved/freak wins – especially in xG terms – were far less of a feature in the Bundesliga than in the other big five European leagues.
No German game ranked in the top 20 overall for xG upsets. The most against-the-odds victory xG-wise in the Bundesliga, Freiburg's 2-1 win over Stuttgart in January, was only ranked 22nd.
Next, we'll look at the season's most unlikely draws:
Even on the occasions when they managed to draw, Schalke still weren't necessarily good.
A win in any of those unfortunate draws with Bielefeld, Bremen and Stuttgart would have put Frankfurt in the Champions League.
Those flattering draws and victories were what kept Bielefeld out of the relegation zone.
Finally, here are the Bundesliga's most unlikely clean sheets:
Wolfsburg took an extraordinary 42 shots against Dortmund in the league without scoring once.