The last time these two clubs met in the Champions League it was the 2012 final at the Allianz Arena. Chelsea won the match on penalties and lifted the title in Bayern Munich's home. Now Chelsea head coach Frank Lampard will have great memories of that night, but would be faced with another big battle against FC Bayern this time from the dugout. The club has changed a lot since that 2012 final, his side come into the match winless in their last four knockout stage matches and the opposing German champions entered the knockout stages for a 12th consecutive season, a record only beaten by Real Madrid and Barcelona.
In this tactical analysis, we will see how Hansi Flick's tactics beat Chelsea's press and dominated the midfield, as well as detailing Lampard's approach to attack Bayern. 
Lineup
Chelsea continued with a 3-4-3 variant and the exact same lineup as they used in their 2-1 against Jose Mourinho's Tottenham Hotspur. Veteran keeper Willy Caballero continued in goal with Kepa dropped. Tammy Abraham would not start despite being Chelsea's top goalscorer this season.
Hansi Flick opted to return to his favoured 4-2-3-1 formation after using a 3-4-3 variant of his own in their previous match against Paderborn. Jerome Boateng, Serge Gnarby, Benjamin Pavard and Kingsley Coman came into the team. Bayern's bench was jam-packed with quality as it featured Lucas Hernandez, Leon Goretzka, Corentin Tolisso, and Philippe Coutinho. The matchday squad had six World Cup winners in it. 
Bayern dominate in possession
Bayern Munich head coach Hansi Flick got his tactics spot-on as he picked apart Chelsea's 3-4-3 formation. Chelsea has particularly excelled in a man-oriented press this season out of possession. Against Bayern, they would press in their 3-4-3 shape. Through this, their goal was to prevent the German Champions from playing vertical passes which is what they prefer to do in their play. But Flick's impressive and creative attacking structure would make multiple solutions against this pressing scheme.
Joshua Kimmich would drop into the defensive line creating a back four with Alaba, Boateng, and Pavard. This would create a numerical advantage against Chelsea's three-man first line of pressure and Chelsea's left wing-back would not press Pavard which would leave him open in space. So, the ball would be moved to Pavard out wide or more directly into the midfield. Midfield was made a possibility despite the press attempting to prevent central progression because of Flick's tactics.
Serge Gnarby would move inside and Thomas Müller would drop into the midfield which created a midfield three and another numerical advantage this time in midfield against Chelsea's double pivot. The fullbacks would come forward providing the width as you can see in the analysis below with Alphonso Davies. This created multiple solutions and passing angles for Bayern when progressing the ball into the attacking third. They completed 610 passes and had 63% possession, showing how easy it was for them to move the ball around. It was truly a tactical masterstroke from the Bayern boss. 
Once the ball was moved into the attacking third, Chelsea's team dropped back into a narrow 5-4-1 with the attacking midfielders coming inside to make the midfield four. As the ball progressed the fullbacks marauded forward to provide width and balance in the attacking structure. The blue's narrow defensive shape resulted in space being made on the flanks, 70% of the Barvarian attacks came through either side. Below you can see how this was executed as Kingsley Coman and Pavard have space to exploit in a 2v1 against Chelsea's wingback, whose positioning is too narrow and the sequence ends with Pavard making a penalty area entry. They attempted 20 crosses in total and scored from one.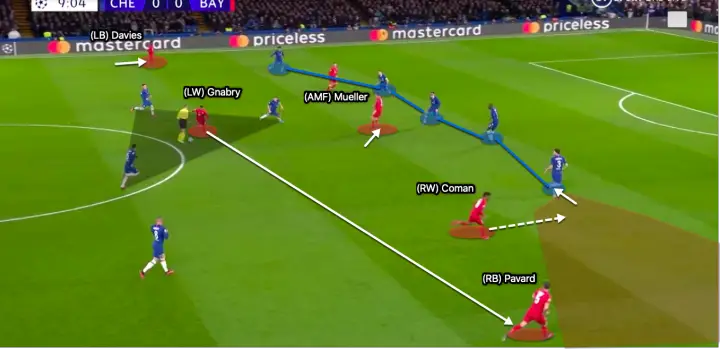 Chelsea defence disconnected 
As we detailed in the last section, Flick's tactics made a huge difference especially during ball progression. Chelsea players struggled to defend their defensive third due to the movements of Bayern player's in-between the lines. This caused immense confusion within the back three, players would be pulled and shifted out of position causing disconnection in their defensive shape and resulted in numerous chances created for the opposition. 
In the image below Coman makes a movement inside when Chelsea's midfielders press forward, this drags the Chelsea centre-back Antonio Rüdiger out to follow him into the midfield. The French forward then plays a simple 1-2 with Thomas Müller into the newly space created in-behind Rüdiger and it leads to a shooting opportunity.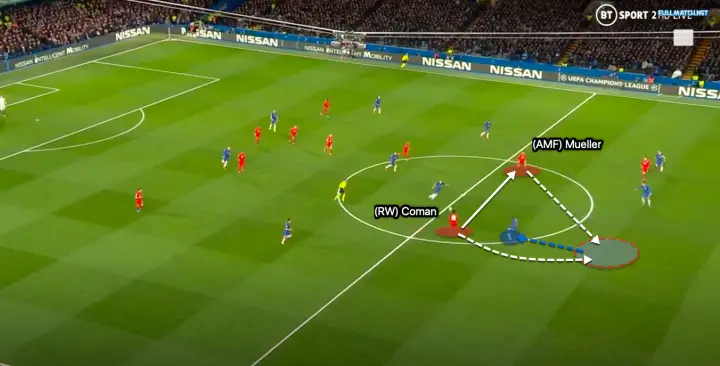 They got away with that sequence without conceding but would not later in the match. Philippe Coutinho came on to replace Gnabry and occupied the left-wing. In this sequence for their third goal, he receives the ball in the left half-space and it drags the right-sided centre-back Cesar Azpilicueta out of position. Again, this makes space in-behind and Davies had the pace to carry the ball forward to leave Chelsea in a 2v2 situation against Robert Lewandowski and the marauding fullback and it was only going to end in one way as Bayern extended their lead.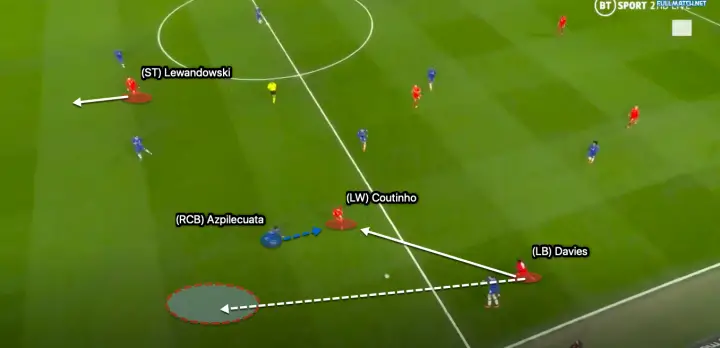 Chelsea's approach in attack lacklustre
Bayern Munich has become a well-drilled pressing side this season. They only allow 7.26 passes per defensive action, the best in Germany. So, Lampard would opt to not attempt to play through their press during the build-up phases. Cleverly the team would set up to play out the back, drawing pressure onto them, but goalkeeper Willy Caballero would launch the ball long to target-man Olivier Giroud. The Argentine keeper attempted 19 long passes. This way they would bypass opposition lines of pressure removing the risk of turning the ball over in their own half. There were some successful sequences with this as you can see below. 
Giroud wins the aerial duel nodding it on for Mason Mount. Mount and Ross Barkley are now in a 2v2 against Bayern's two centre backs, a very favourable position for them. However, they are unable to score from the situation because of the electric Alphonso Davies making a recovery run. The Canadian fullback made four ball recoveries in his own half.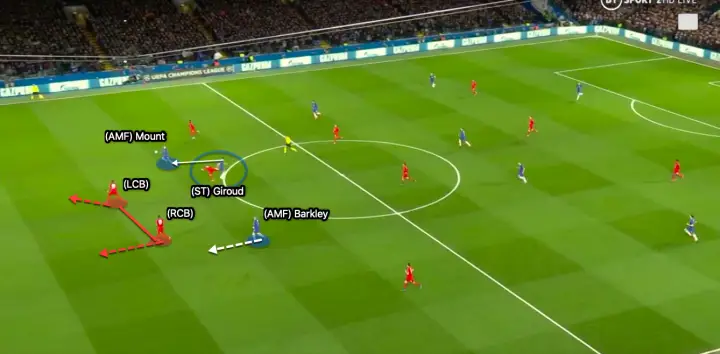 Despite this being a clever part of the home side's tactics it would lead to a goal conceded. In the next section, we can see Thiago is surrounded by three Chelsea players, two of which are looking to win the second ball from the long-ball. Thiago through his immense technical quality dinks the ball over the Chelsea players into Gnabry. The 3-4-3 shape in possession is completely exposed here as the two midfielders moving to win the second ball leaves immense space to exploit. Bayern has a 2v3 advantage as they attack their two centre backs and score.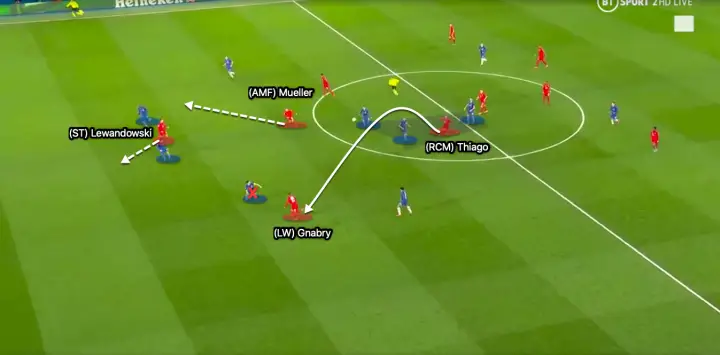 Wing-backs Marcos Alonso and Reece James have proven to be great assets in the attacking third for Chelsea but they rarely got the chance to showcase their talent in this area of the pitch. They completed one cross between them and created one chance. Chelsea could not make space in wide areas as they were always kept at a numerical disadvantage in these zones as Bayern's defensive shape would shift to where the ball was. There was also a clear disconnect between the attacking midfielders and wing-backs. Barkley only completed three passes to Reece James and one to Mount. When Lampard introduced a traditional wide player in Willian he completed more passes than both combined to James in 29 minutes played.
Conclusion: Lampard fails to adjust
Following the second goal, Chelsea began to play out the back more as they needed to control the game more to attempt to create chances. Lampard also brought off Giroud and Barkley for Abraham and Willian but nothing changed in his tactics and approach. Allowing Bayern to play with the ball and not taking control of the game themselves, it was a poor initial approach and one that would not change.
Hansi Flick had a great game as we saw in this tactical analysis, his tactics were spot on as they have been since taking the helm at the Allianz Arena. Karl-Heinz Rummenigge said after the match that he offered Flick a pen and said, "With a pen, it's good to sign papers at FC Bayern".
By Craig Moniz.