September 25 2016, Schalke slip to their fifth defeat in as many games after a 2-1 loss to Hoffenheim. Fast forward two years to September 25 2018 and it's groundhog day for the Royal Blues as Freiburg consign them to their fifth consecutive defeat of this Bundesliga season.
Two years ago Schalke recovered to take seventeen points from their next seven games and eventually finished the season in 10th place without ever seriously being relegation threatened. They made it to the quarter-finals of the DFB Pokal and the Europa League. The season wasn't a disaster but more of a wasted opportunity.
Schalke fans will remember that season all too vividly and will be suffering from a very bad case of déjà vu watching their team struggle through the start of this year. Bad starts from the so called "big teams" haven't been uncommon in Germany recently. Jürgen Klopp's infamous last year at Borussia Dortmund began with seven defeats in ten with relegation fears only completely extinguished by a run of four wins in a row in February. Borussia Mönchengladbach started the 2015/16 season by losing five in a row before righting ways with a six game winning streak.
The reasoning behind these fairly regular poor starts is difficult to understand. No other league has seen their presumptive best teams suffer such poor runs to open a campaign so frequently. One thesis is that the Bundesliga – outside of Bayern Munich – is so evenly matched that some bad luck can easily overcome the small talent gap between teams like Schalke and Freiburg. In England for example, the quality different between the top six and the rest is so large that even a team suffering from bad luck or a lack of confidence can beat up on 75% of the league without too much worry.
Whatever the overarching reasoning behind the trend of poor starts, Dominico Tedesco needs to find out Schalke's specific reason and fix it fast. This weekend's home game against Mainz has huge significance now for Tedesco given what is to come after it. Away trips to Düsseldorf, Leipzig and Frankfurt follow before we reach December with high flying Werder Bremen making a trip to Gelsenkirchen sandwiched in-between. Winnable home games against the aforementioned Mainz along with Hannover and Nurnberg take on massive importance and with it massive pressure, especially if the trickier games go array. It's unlikely that Schalke will copy FC Köln from last season and fail to win any of their first 17 matches but a run like that was unforeseen by Effzeh as well this time 12 months ago.
Schalke fans shouldn't panic yet but there is definite cause for concern beyond the end results. They've managed just two goals this season, one a penalty on opening day in Wolfsburg and the other a consolation goal against Borussia Mönchengladbach when the game was already lost. Schalke have yet to take the lead in a game and once falling behind they've been level again for just nine minutes all year.
Since coming in, Tedesco has made Schalke into a solid defensive team that relies on set pieces and counter-attacks for goals. Playing practical football rather than expansive football led Schalke to second last season but despite the impressive finishing position there were already warning signs.  Schalke won a lot of games by a single goal with a lot of those goals coming from set pieces. A sign of a well coached team but also an unsustainable model for a team looking to finish high in the table.
A lack of attacking reinforcements in the summer was a surprise given that Schalke scored fewer goals than the other top six teams. To most people, Schalke needed more attacking firepower in the starting XI but the club instead looked to focus on improving the depth in the squad. A move so far that has backfired.
Non-shot xG (expected goals given everything in a football match except shots) paints a worrying picture for Schalke. It shows they were outplayed in multiple games last season that they took three points from. Non-shot xG and indeed traditional xG are both stats with flaws and they are by no mean irrefutable proof that Schalke were destined to start this season as badly as they have. They are however, another piece to the puzzle and prove what a lot of people thought, Schalke were living dangerously last season.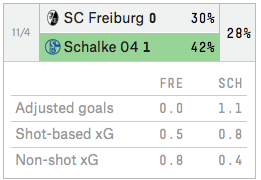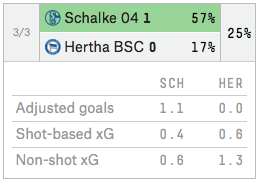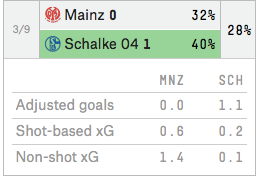 Images courtesy of fivethirtyeight.com
Schalke also over performed their xG last season by scoring six more goals and conceding two goals less than the starts suggest they should have. Not alarming but another piece to the puzzle as to how a side can slip from finishing second to being bottom in just a few months.
This season Schalke have underperformed their xG and also underperformed using the old way of judging a team – actually watching them. Schalke's xG thus far is 5.33 and their xP (expected points) is 5.98 – which would have them 12th.
Fivethirtyeight also look more favourably on Schalke suggesting they will finish the season mid-table.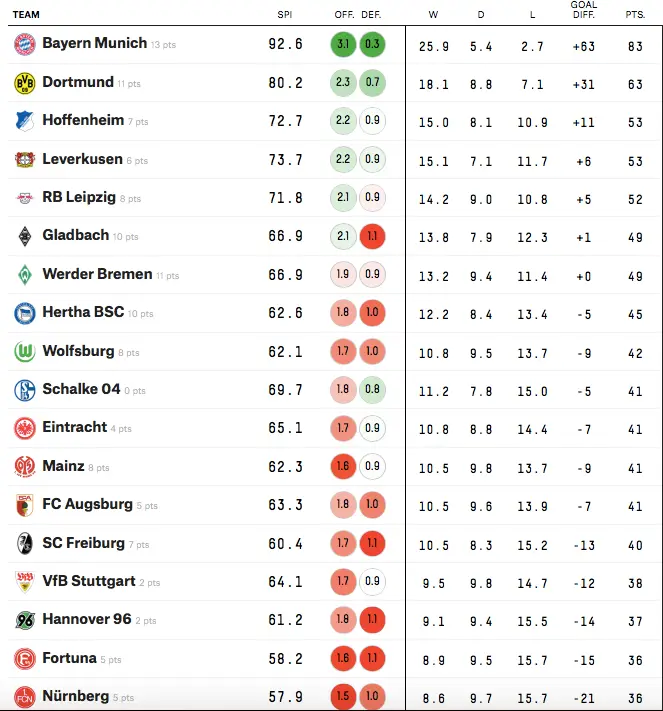 Image courtesy of fivethirtyeight.com
Schalke were objectively unlucky in their opening game against Wolfsburg – Wolfsburg's goals coming courtesy of a header from a corner and then a late winner after Ralf Fährmann's saved rebounded straight to Daniel Ginczek. Defeats to Hertha BSC, Gladbach and then Bayern Munich were more understandable, although still troubling, given the nature of those three teams. Then against Freiburg they hit the post twice and had a goal correctly disallowed for offside. Bad luck for sure but in football luck will always even out and Schalke had a lot of it last season.
Few people expect Schalke to be in this position for long and even fewer expect them to be in any relegation danger come May. On the other hand, it is now unlikely that Schalke will qualify for the Champions League and for a club who thought they had taken a big step forwards under Tedesco that will be a massive disappointment. Schalke will probably beat Mainz at the weekend and be clear of danger by the end of the Hinründe. Defeat to the zero-fivers on Saturday however will significantly increase the pressure on Tedesco and everyone in Gelsenkirchen. It isn't time for Schalke fans to panic… yet.
By Thomas Pain.