The cost of football has recently hit the headlines in the UK, which looked at the overall price of match and season tickets, programmes and food. As we all know, attending a single game in the English Premier League can be an expensive day out.
So how does the Bundesliga compare in terms of fan experience?
Ticket Price/Value for Money
I was in Munich recently with my better half and it so happened that FC Bayern were entertaining Bayer Leverkusen while I was there. Luckily, I am a member of FCB and I managed to get a ticket for myself relatively easily. However, at a cost of 70 euro, it certainly was not cheap, but the view and location of my seat was worth it. I was sitting in the bottom tier, row 23 and halfway between the penalty box and halfway line.
Nevertheless, 70 euro is what anyone can expect to pay at a top English Premier League game for these seats and it is well known that the cheap tickets in German stadiums are often with the Ultras behind the goals. As much as I would have love to joined the guys in the Südkurve, unfortunately it is close to impossible to get a ticket for in here, unless you happen to know a member of the Ultras!
Personally, I did not mind paying 70 euro for a ticket, as going to a FC Bayern game is a novelty for me, but I would be hesitant to pay that on a regular basis, especially considering that the cost of a season ticket for my local Northern Irish Premier League club which I go watch every week is £150. Clearly, the gulf in terms of the standard of football is enormous, it is still interesting to compare. However, the price of the season ticket in the Südkurve is in the same ballpark as a season ticket for a club in Northern Ireland.
Getting to the stadium
Getting to the Allianz Arena was very much a painless experience. Anyone who has been in Munich will know how easy it is to navigate round the city in the extensive transport network. A simple U-Bahn journey from Sendlinger Tor to Fröttmaning, which takes you directly to the stadium was inexpensive and very straight-forward. I could really sense the buzz from the fans on the way to the Allianz Arena and once we disembarked the U-Bahn, the thousands of FC Bayern fans draped in rot und weiss as well as the beautifully lit Arena, I could really sense the excitement of the coming game.
Going through the inevitable security search and computerised turnstiles caused no hassle at all and once I was through this, the walking area around the stadium was spacious and if you wanted, you could walk around the whole arena and go through the large metal doors to take in every angle of an incredibly impressive modern football colosseum.
Helpful staff showed me to my seat, as I was on my own they maybe thought I was lost!
Atmosphere
I have heard many good things about the atmosphere at a Bundesliga game, and as this was my first experience at a top flight German game, it was this aspect that I was looking forward to the most. I was at the Northern Ireland v Germany game on Paris during Euro 2016 and I must admit I was quite disappointed with the lack of noise in the stadium coming from those in Weiss und Schwarz. I was confident that this was not a reflection on the clubs. I was greeted with the vociferous Schickeria complete with waving flags and banner in tribute to Uli Hoeneß and as they rattled through their songs during the course of the game, I was quite impressed. Although the standing section at the Allianz is not as big as other top clubs in Germany, the guys and girls in the Südkurve made a good noise. Also impressive were the travelling support from the Leverkusen faithful. Even though they were stuck up in the top tier of the arena, they were nearly as loud. As they were at opposite ends of the arena, coupled with the shape of the stadium, aided the general atmosphere of the game.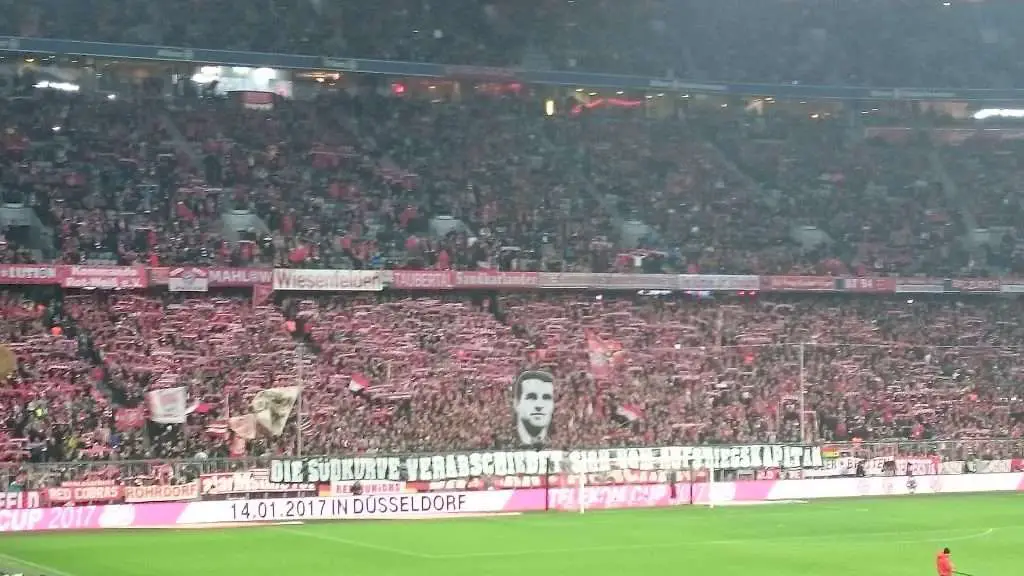 However, the fans sitting around me certainly were not the singing type and seemed to prefer to let others do that on their behalf, preferring to sit back and to enjoy what was an enjoyable game.
Match Experience
As for the game itself, I thoroughly enjoyed it. I was very impressed with the standard of play from both teams and I clearly caught the inconsistent Leverkusen on a good day as I was very impressed by them and I thought they were deserving of at least a point. There seemed to be a feeling that when Thiago but FCB in front, that Bayern would stroll to a much needed 3 points. However, a smart finish by Hakan Çalhanoğlu shortly after certainly dulled this particular feeling. Not long after the start of the second half, a powerful Mats Hummels header eventually won the game for Bayern. Unfortunately for Leverkusen, for all their pressure could not fashion a second equaliser.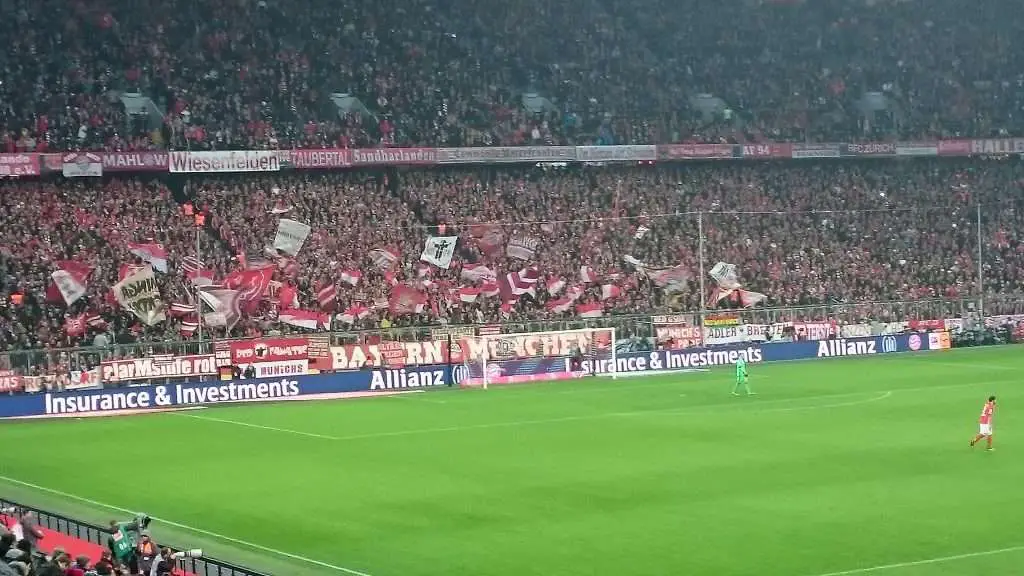 As someone who has been to many games in many different stadiums across Northern Ireland, England, Scotland and a few in Spain I thought this was the best of the lot. I always have the feeling that the Bundesliga is what the English Premier League could be if it had not have been spoilt by money. I follow the top 2 divisions in Germany closely and even though I knew it was of a high standard, seeing it with my own eyes confirmed that.
Overall Feelings
My first trip to a Bundesliga came was long, long overdue and my only regret is that I did not do it sooner. Although I would favour FC Bayern (I have my reasons!), I want to experience other stadiums and games across Germany and I feel that the atmosphere in a smaller stadium would be even better. I have earmarked Dynamo Dresden as my next destination, but I have many on my list including Schalke, Union Berlin amongst others.
I would highly recommend to anyone to take in a German game if they can. If you are thinking about it, go do it!! You will not regret it. It is everything that football should be, brilliant fans, great football, nice grub and pretty cheap!
Mia San Mia.