Both sides lined up for der Klassiker ready for a physical and feisty encounter. Dortmund named Ginter, Sokratis and Bartra as the 3 centre backs as part of their 3-3-2-2 formation, with Piszczek and Schmelzer providing width as the wing backs either side of Julian Weigl. Mario Götze and Andre Schürrle defended as central midfielders, but ventured forwards to support the two strikers, where Adrian Ramos was deployed alongside Pierre-Emerick Aubameyang to provide pace and a strong physical presence against Bayern's stout defence.
The Bavarians set-up in their usual 4-3-3 formation. In front of the usual defensive personnel, the increasingly impressive and maturing Joshua Kimmich was handed the start in central midfield alongside Thiago and Xabi Alonso. Frank Ribery returned to the side on the left wing, with Thomas Müller on the opposite flank playing in behind former BVB striker Robert Lewandowski.
Marco Reus, Sebastian Rode and Raphaël Guerreiro were absent for Dortmund, with Arturo Vidal, Arjen Robben and Kingsley Coman also missing out for the visitors.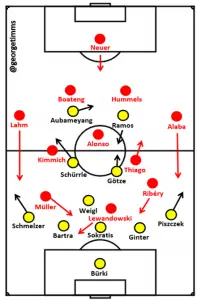 Early Stages
The match began at a high tempo, with neither side being able to consolidate possession in midfield. By the 10th minute, both teams had possessed a relatively even share of the ball (45.6%-54.4%) and no clear-cut chances had been created thus far. However, Dortmund were looking more energetic than Bayern in the early stages of the match and were quicker to second balls. As a result, Dortmund were first to a loose ball in Bayern's box in the 11th minute of the match, which followed by Mario Götze's excellent off-ball roaming movement creating space for himself in the box to pick out Aubameyang, the hosts found themselves with a 1-0 lead.
Following the goal, Bayern enjoyed an increasing percentage of possession (63.1% for the remainder of the first half) and were playing in a more attacking manner. Dortmund defended with a 5-man defensive line, with Weigl, and then Götze and Schürrle tracking back to restrict space in front of Dortmund's penalty box. The defensive line positioned themselves very high up the pitch, compressing the space for Bayern to play in when they were in their own half. They advanced up to the half-way line, leaving space in behind for Muller and Lewandowski to run in behind, though they were caught offside numerous times.
Dortmund were successful in forcing Bayern into wide areas during the initial phases of their build-up play by playing two strikers. Ramos and Aubameyang man-marked Hummels and Boateng, which alongside either Götze or Schürrle following Alonso's movements forced Bayern to build-up through their full backs. During Bayern's ball circulation across the defensive line, both of Dortmund's strikers angled their pressing movements well to force Bayern to play into wide areas.
In order to overcome this, Alonso dropped deeper and split Hummels and Boateng. Götze or Schürrle would often follow, leaving vacated space in the middle of Bayern's half primarily for Thiago to exploit. This drop in positioning from Bayern's central midfield allowed Ramos and Aubameyang to be outnumbered, easing ball progression through the centre. As the half progressed, Bayern established themselves within Dortmund's half, with the home side struggling to progress out of it.
Bayern Gain a Foothold
With Bayern looking to impose themselves further when attacking, Hummels and Boateng were frequently the only Bayern players to hold defensive positions. Whilst the midfield-trio of Kimmich, Alonso and Thiago remained relatively stable, Ribery and particularly Müller drifted inside into the half space to support Lewandowski in central areas. Ribery was a menace, constantly putting pressure on Dortmund's penalty area, where as Müller positioned himself more as a second-striker as the half went on, leaving Kimmich to pick up Schmelzer's forward runs on the left wing. To complement these movements inside, Alaba and Lahm regularly overlapped the wingers to stretch Dortmund's compact 5-man defensive line, creating a 2-3-4-1 formation.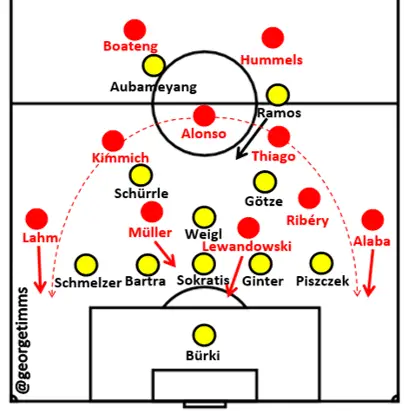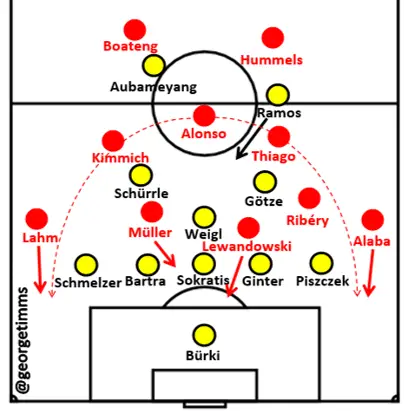 After Bayern's earlier failed attempts to beat Dortmund's high offside trap, they were increasingly able to run in behind the high line as the half proceeded, especially in wide areas. Although Müller and Lewandowski aren't the fastest attackers, the momentum they carried forwards by being able to run directly at the Dortmund goal compared to BVB's defenders having to adjust their body positions from facing away from their goal before running allowed them to enter the space, gain control of the ball and run at the retreating defence. Ribery and Alaba were useful in providing staggered overlapping and underlapping runs to complement Müller and Lewandowski's movements in these situations. The home side's defence looked progressively vulnerable as the waves of Bayern attacks mounted pressure, but The Bavarians were unable to test Bürki. The lack of space available in and around Dortmund's penalty area meant Bayern were unable to penetrate areas where high quality chances could be constructed.
Xabi Alonso often looked to spray passes into the wide space behind Dortmund's full backs to Alaba and Lahm in an effort to get in behind the defence. Although these passes were often able to be completed due to the space Lahm and Alaba found themselves in, they were unable to successfully create goal-scoring opportunities from these wide areas. Adrian Ramos sporadically dropped to reduce the time and space Alonso had on the ball, however he usually had several short passing options available to him, allowing possession to be retained.
When Dortmund managed to gain possession, they looked to play in a counter-attacking manner by quickly searching for Ramos and Aubameyang through long forwards passes, yet they were often outnumbered and unable to retain possession. In these situations when Hummels or Boateng had possession, Thiago, and occasionally Ribery, would fill in at left back to provide a passing option in build-up, whilst also allowing Alaba to remain in an advanced position to keep Dortmund's defence stretched.
When Dortmund were in possession, Schürrle and Götze were eager to move forwards through the half spaces and support Ramos and Aubameyang. However, this often left them disconnected from Weigl and difficulties in advancing play were established, leading to possession being lost more often than not (Dortmund's pass completion percentage was only 68% after the goal). This was especially the case when Ribery and Müller were defensively positioned in central areas when Dortmund's defence had the ball, as their cover shadows denied access to Götze and Schürrle. Due to Muller's tendency to act as a second striker, he would also assist Lewandowski in preventing connections to Weigl being made, encouraging Dortmund to build through their full backs, minimalizing Dortmund's ability to progress play and create chances for the remainder of the half.
Second Half Adjustments
Both teams, particularly the hosts, were reinvigorated with energy following the interval, leading to an end-to-end pattern of play. Tuchel instructed Schürrle to adopt a more advanced position in an attempt to provide better support to Ramos and Aubameyang by moving to a 3-4-3 system. Despite the change in shape, Bayern were capable of maintaining their ball dominance, forcing Dortmund to move back to 3-3-2-2. Douglas Costa's introduction to the game in the 58th minute in place of Joshua Kimmich was a sign of clear attacking intent from Ancelotti, whose side had now moved from 4-3-3 to 4-2-2-2, with Costa playing on the right wing, shifting Muller up front alongside Lewandowski. Erik Durm was introduced in place of Schürrle for his first appearance of the season in order to provide more balance and stability to Dortmund's central midfield. Rafinha and Renato Sanches were then subbed on shortly after in place of Phillip Lahm and Xabi Alonso in an effort to produce increased dynamism in attack to break down Dortmund's block.
Possession v Control of Space
Bayern enjoyed 71.9% of the ball in the second half, but despite the one-way traffic, were still unable to generate the clear-cut chances they required to equalise. Their attacks were still forcibly wing-orientated, with the lack of penetration being highlighted by Dortmund's defenders blocking 16 Bayern crosses throughout the match, leading to 9 corners.
Endeavouring to devise central attacking moves, Lewandowski and Müller would periodically drop into the 'number 10' position in an attempt to find space in front of the 5-man defensive line, however Weigl, Durm and Götze compressed space in this area well.
The possession stat is regularly misunderstood as the team with the higher percentage of the ball dominating a match. It is often useful to compare possession stats of one team in relation to the opponent's control of space. Control of the ball compared to where the ball is played. Not all teams attempt to maximise possession, such as Dortmund in this match. If possession is not enjoyed in areas that threaten the opposition and create goal-scoring opportunities e.g. inside the penalty area, then possession dominance in this manner may not be beneficial.
The image below, courtesy of FourFourTwoStatsZone, shows Bayern's passes in the final third of the pitch throughout the match, as well as how Dortmund flooded the space in and around their penalty area. By recognising that the blue arrows indicate successful passes, and the red arrows indicate incomplete passes, it is evident that Bayern struggled to access central areas, and were instead forced to pass in deeper and wide channels to extend their attacking play, lowering the threat on Roman Bürki's goal.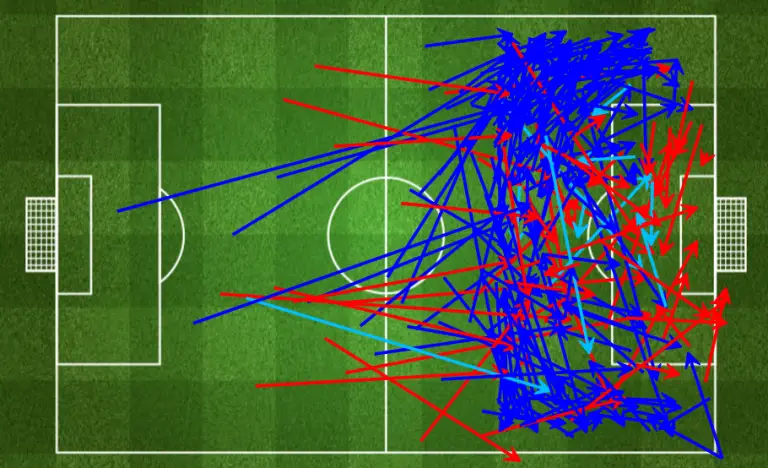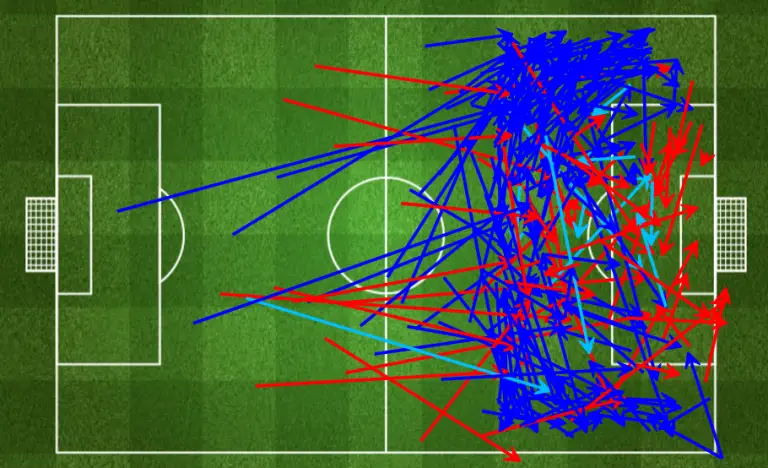 Dortmund were able to maintain their dominance of space, leading to Bayern's lack of threat on goal enduring. Over the last 10 minutes of the match, the home side lowered the tempo of play in possession, managing to see out a magnificent 1-0 victory at the Westfalenstadion.
Conclusion
In what was a gritty and intense derby with 28 total fouls, Dortmund ended their run of 7 matches without a win against Bayern by controlling space rather than possession, handing the Bavarians their first loss in the Bundesliga so far under Carlo Ancelotti. Following this result and another fine addition to Thomas Tuchel's CV, it will be intriguing to see if Dortmund can push on in the league following a relatively mediocre start to the 2016/17 season.