From a high pressing, intense matchup to a calculated tactical duel: a short story which saw Borussia Dortmund win by fine margins. This is a tactical analysis which highlights the challenges both teams faced, how they were solved and the mechanics behind it all. What seemed like unorganised chaos on the eye, was an orchestrated battle between two of Bundesliga's best.
Tactical Mechanics
Last weekend, we witnessed an intense encounter between Borussia Dortmund and Marco Rose's 4-3-3 (black) vs Hoffenheim's 3-4-1-2 (blue).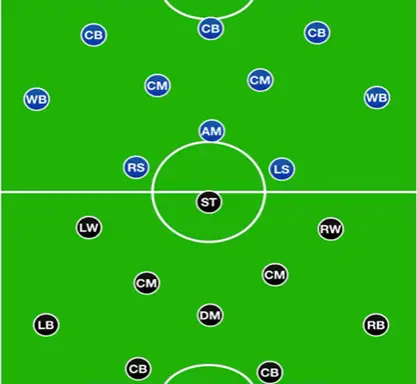 From the get-go, Hoffenheim set the tone of the game implementing an aggressive press using a 5-2-3 shape as such (left). Here, a central overload was created (right), eliminating BVB's CMs from the build-up, forcing play to be built through wide area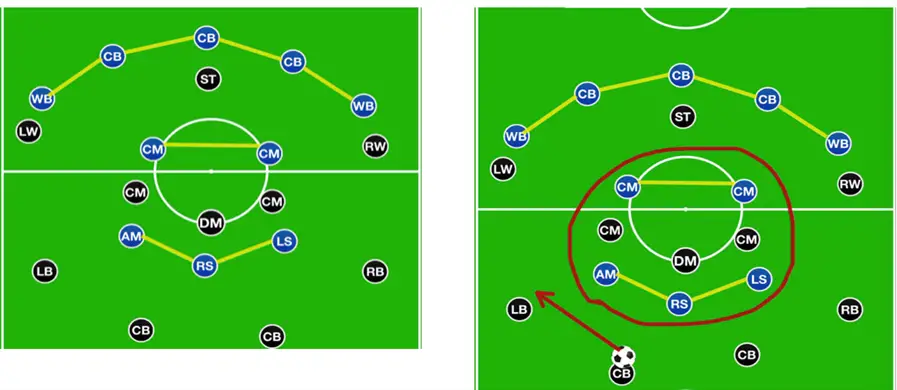 At this point, BVB was lured into Hoffenheim's pressing-trap (below left), where they maintained their 5-man press in wide areas. Here, their aim was to win possession high up the pitch and release it unto their forwards in behind (below right).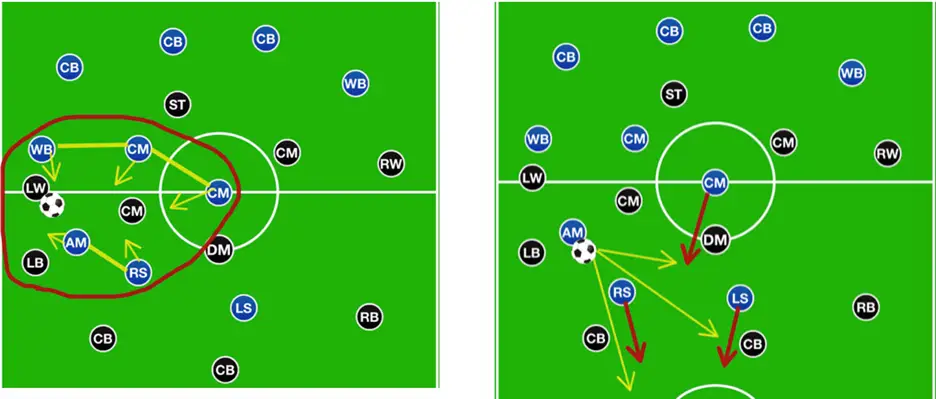 Despite that, BVB was still able to get in behind from time to time. This was facilitated by their swift combination play, using the following wide-overload diamond. Seeing players like Donyell Malen and Marco Reus get in behind quite often. 
In defence, BVB used an identical approach to Hoffenheim's. Here, their 4-3-3 shape was used in to create a central overload which forced play to be built from wide areas instead (A). To do so, Hoffenheim's back 3 created the following angle/shape, seeing their wide CB operate as a fullback while their WB operated as a wide-winger (B).
As play was built via Hoffenheim's wide-CB, BVB pressed aggressively (C) implementing the following shape (D) in efforts to win the ball in advanced areas and release it into their forwards (below).
Despite being an identical approach to Hoffenheim, BVB's back 4 instead of a 5 made the difference. Here, as BVB's RB pressed forward, their back line became exposed, creating a 2v1 situation against Hoffenheim's wide "forwards" as such (E). This is why, during the first half Hoffenheim's LWB (David Raum) got in behind and caused numerous problems for BVB (F).
To rectify this, BVB completely halted their "high-press" in the 2nd half. Instead, they invited the forward pass from Hoffenheim's wide-CB to wingback, where they then implemented a "low-press" (left), aggressively closing down Hoffenheim's wide forwards with a 4v2 advantage (right).
Here, the intention was to retain possession and counter-attack using the following narrow, central overload (below). It is this narrowness which facilitates quick, 1-touch passing/interchanges within a counter attack; something that BVB did successfully during this game.
That being said, there was only one down-side to this set up. It allowed too many space for play to be switched via Hoffenheim's midfield to their wingback. Here, Bebou (RWB) became Hoffenheim's main attacking threat in behind, making up for Raum's (LWB) now neutered impact.
To fix this, BVB changed formation to a 5-3-2 set up (below), bringing in Dan-Axel Zagadou (CB), Axel Witsel (CM) and Thorgan Hazard (RWB).
Here, Borussia Dortmund were able to:
Close Raum down (top left)
Reduce space in midfield (top right)
Close Bebou down (bottom left) whilst keeping a narrow, central overload to facilitate counters (bottom right)
A change which saw them see out an important result in the end.
All in all, both teams were separated by unstoppable team moves by BVB which saw them score more goals. With that, it did not stop this match from being a tactical spectacle which saw both teams repeatedly try to get the better off each other.
By Ryan Gunness.