It has been a decade of inconsistency for a Borussia Mönchengladbach side floating between midtable and top four finishes for many of the past seasons. After Marco Rose's reign, Gladbach have slipped to the lower end of this trend finishing 10th in the season just gone – a poor outcome for a team who have a proud history and should have ambitions to be European regulars at the very least.
Despite the disappoint of recent seasons, Gladbach still possess a squad littered with genuine talent. The current shining light in the squad is French-Ivorian midfielder Emmanuel Kouadio Koné (better known as Manu Koné). The 21-year-old has held down immensely impressive midfield displays, sparking attention across Europe when he scored and put in an excellent performance in Gladbach's shock 5-0 DFB Pokal win over giants and rivals Bayern Munich in October of last year.
Throughout the transfer window, Koné has reportedly drawn interest from multiple sides, with Newcastle United holding the most concrete interest, allegedly bidding around €35m for the tenacious French U21 international.
Who is Manu Koné?
Koné began his career in Southern France with Toulouse, progressing through the youth ranks and making several B team appearances before being embedded into the first team. Koné played 13 times in Ligue 1 for Toulouse as they fell victim to relegation. This was however a blessing in disguise for Koné as relegation provided a chance for the then 19-year-old to start more games and make his mark on the first team. Gladbach recognised Koné's potential and acquired the youngster for around €10m, loaning Koné back out enabling him to finish the season with Toulouse where he ended up racking up over 2,000 minutes, providing four goal contributions – typically playing deeper in midfield.
Koné made his Bundesliga debut at home in a 1-0 home victory against Borussia Dortmund and then turned out one of the best performances of his career so far, opening the scoring and looking incredibly composed and belonging at the elite level, in a memorable 5-0 victory over Bayern Munich, who were only a couple of months fresh off winning their sixth Champions league title. Koné added two more league goals and an assist to his name, featuring regularly making 29 appearances, for a side who were a bit disjointed and generally out of sorts for much of Adi Hütter's tenure.  26 of Koné's 29 appearances last season were starts, highlighting the mark he made on the team and just how vital he is in midfield. He finished the season starting in strong victories against RB Leipzig and Hoffenheim at home.
The French youth international has started every game so far this season, and game by game seems to be more and more of a star player for his side, ranking as one of the best ball carriers and progressive midfielders in the league while still maintaining plenty of defensive and physical impotence in his game.
Style of play
Earlier on in his career Koné was capable of playing more advanced as an eight and even as an attacking-midfielder at times, however he has found his best form when playing deeper as a defensive midfielder, which allows him to get the best out of his best attributes.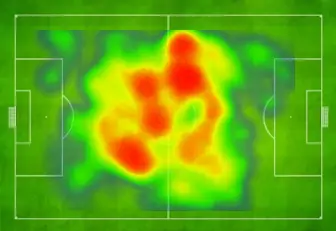 Koné's heatmap from his last five games shows that he absolutely dominates the centre of the pitch. In the opening day 3-1 victory over Hoffenheim Koné produced another competent performance, picking up directly where he left off from his breakout season. Koné constantly offered himself and collected the ball from deep, tirelessly recycling possessions and kept things simple but effective. Koné is always comfortable receiving and combines this with being naturally strong on the turn and having a creative desire to always want to play forward and take responsibility to progress the ball forward.
In Gladbach's recent 1-1 draw against Bayern Munich, where they earned a very respectable point at the Allianz Arena, Koné again excelled against the champions of Germany, going toe-to-toe with Joshua Kimmich. Koné showed excellent balance and composure on the ball and was regularly drawing fouls. Koné is a highly desirable archetypal modern press resistant midfielder. Koné carries the ball brilliantly and completes a good volume of dribbles, he protects the ball well and likes to go short, but it would be nice to see him demonstrate a wider passing range.
The only true flaw/concern is Koné's discipline on the pitch. While displaying maturity and real care on the ball, Koné is slightly reckless off the ball picking up 10 yellow cards last season. Thankfully this is a trait which he can easily be coached out of, and something you would presume to halt as Koné only grows in experience.
The numbers behind Koné's performance
As already mentioned, Koné is a defensive midfielder who has the perfect blend of being able to keep the ball and play progressive passes, while also maintaining a strong physical presence and the ability to overpower opponents in midfield. Last season Koné averaged 5.2 dribbles per game with a 70% success rate and has started this season with almost 3 dribbles attempted per game with a 73% success rate.
Aerially Koné has won 60% of his duels this season and has averaged a mightily impressive 7 tackles per game this season, with a 70% success rate. Despite primarily a defensive-midfielder, Koné averaged 1 shot per game last season and tallied four goals in all competitions and is so far averaging 0.3 key passes per match this season, further highlighting how he is not just a typical destroyer in midfield and is far from a reserved midfielder. Across the past year Koné has averaged 5.2 progressive carries and 4.87 progressive passes per 90, for context that's more progressive passes than Jude Bellingham has averaged and almost 0.5 carries more than fellow French midfield prodigy Eduardo Camavinga has managed over the past 365 days.
What does the future hold for Koné
Clubs simply must act fast to on Koné. Newcastle United missed their chance this summer and Manchester United did not make an official bid, despite Koné being the exact type of midfielder they are crying out for. With another season under his belt, potentially playing a more dynamic and intense style under Daniel Farke, Koné's profile will only rise. Consistent performances against Bayern further prove that Koné belongs at a Champions league club, and with his specialised midfield role expect some of the elite names across Europe to be battling over Koné's signature in the not-too-distant future, but for now securing a slightly overdue return to the champions league for Gladbach will be top priority for Koné.