Here we take a look at the Bundesliga season's stand-out player performances in individual matches.
Perhaps inevitably, the highest xG total for a player in a single game belonged to Robert Lewandowski in Bayern Munich's 4-3 win over Hertha Berlin in October. On his way to a record-breaking 41 league goals, Lewandowski had 13 shots that day.
A player scoring more goals than their xG total (or "xG over-achievement") is usually a sign a brilliant efficiency in front of goal, while scoring fewer (or "xG under-achievement") tends be an indication of wastefulness and Erling Haaland managed to come out with the biggest totals in both metrics.
Joel Pohjanpalo doesn't play often, but he tends to make those minutes count. That hat-trick for Union Berlin was his second in just 1,152 Bundesliga minutes. His other Dreierpack came back in the 2016-17 season against Hamburg, after he'd come on as a 72nd-minute substitute for Bayer Leverkusen. The Finland international had a track record for this even before he arrived in Germany, having previously scored a 162-second hat-trick for HJK in his native Finland.
Going back to Haaland, we'll start with his good day, which came against Hertha in November – the same team that'd been Lewandowski's victims a month earlier. When he's on form, the Norwegian's a force of nature – but as we saw against Union in April, he's still human.
Haaland's woes that day began in earnest with a saved first-half penalty, even if that particular mishap ended well after the ball was eventually put into the net by Marco Reus. Gio Reyna later put Haaland in seven yards from goal, only for the Norwegian to hit the ball straight at Union keeper Andreas Luthe. And things then actually went downhill for Haaland in the second half.
Moving on to creators rather than finishers, expected assists (xA) measures how likely the chances created by a player were to result in an assist, by comparing those openings to a large number of similar previous opportunities.
So these players owed their team-mates a debt of gratitude.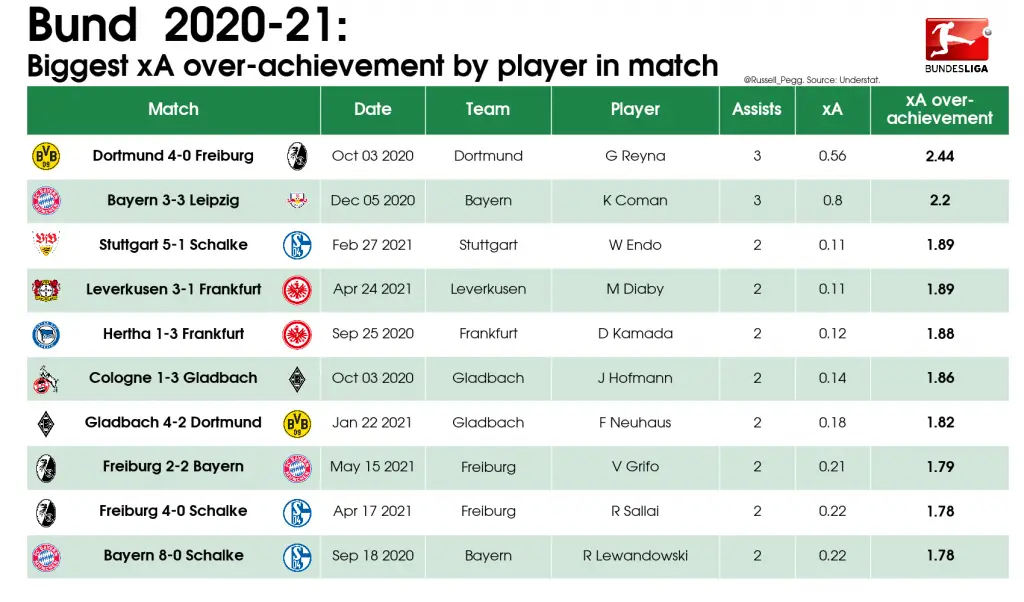 … but these players were owed a few apologies.
In terms of volume of chances, Eintracht Frankfurt's Filip Kostić led the way with ten against Stuttgart – not that his side made much use of them.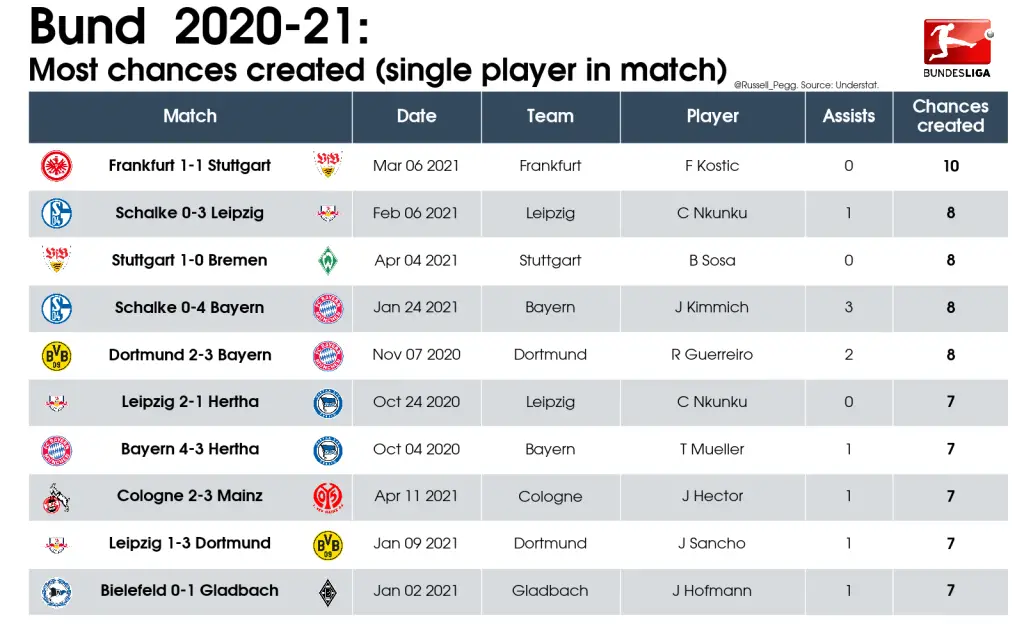 If we look instead at which player created the highest quality of chances in a single game, then Thomas Müller – who was back to his very wonderful best this season – comes out well in front.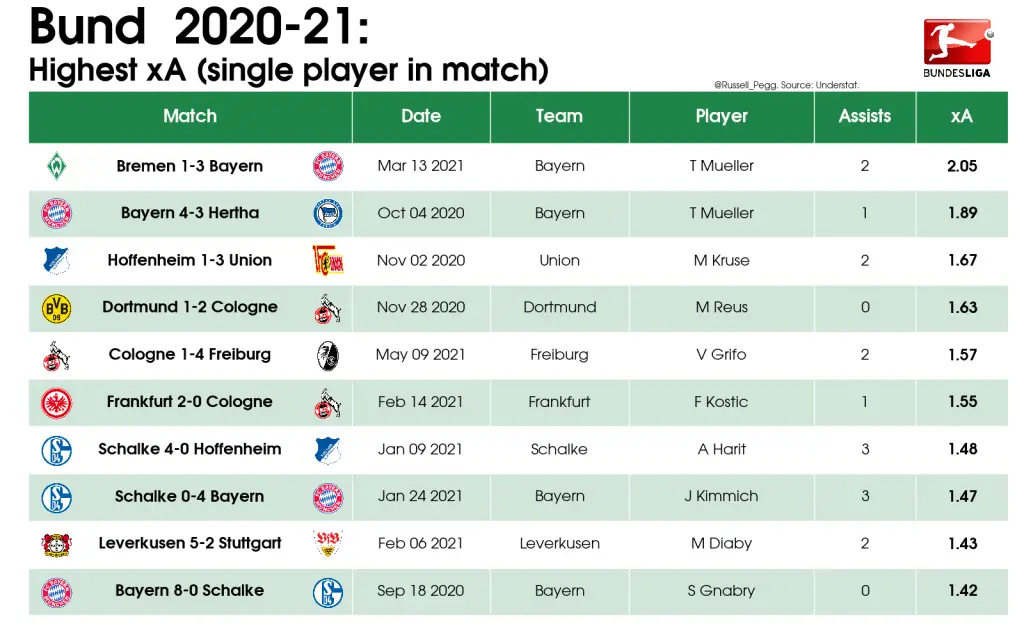 But in terms of the most shot involvements – shots plus chances created – his team-mate Robert Lewandowski's again first. And second. Müller himself wasn't that far behind, though.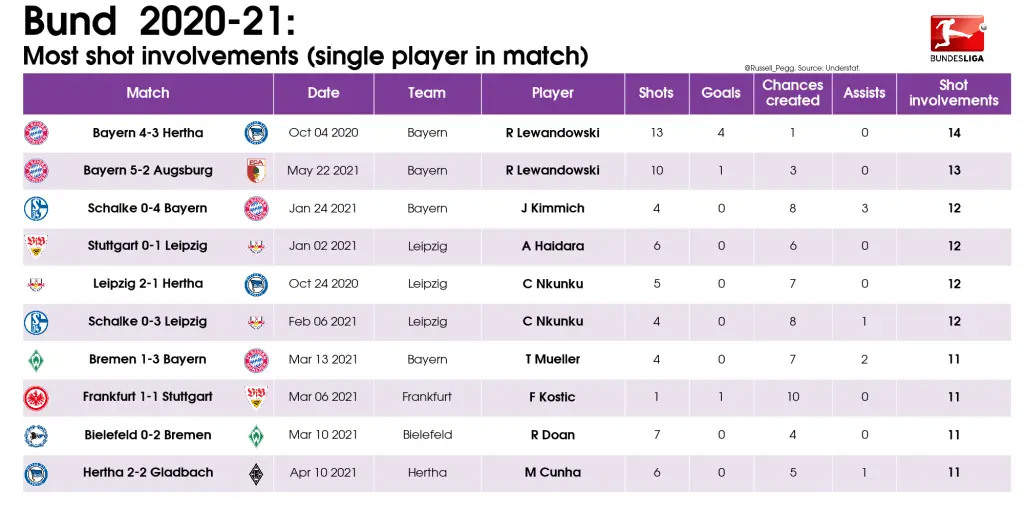 Finally, we'll look at goalkeeper performances.
The best way to do this is via post-shot expected goals (PSxG). Whereas standard xG looks at where a shot was taken from, PSxG focuses on where on the goal-frame the ball ended up. This means that shots nearer to the posts or crossbar are given a higher value, as they're harder to save, while off-target attempts are discounted. So by subtracting the PSxG from the actual number of goals that a goalkeeper conceded, we can gauge how well they played.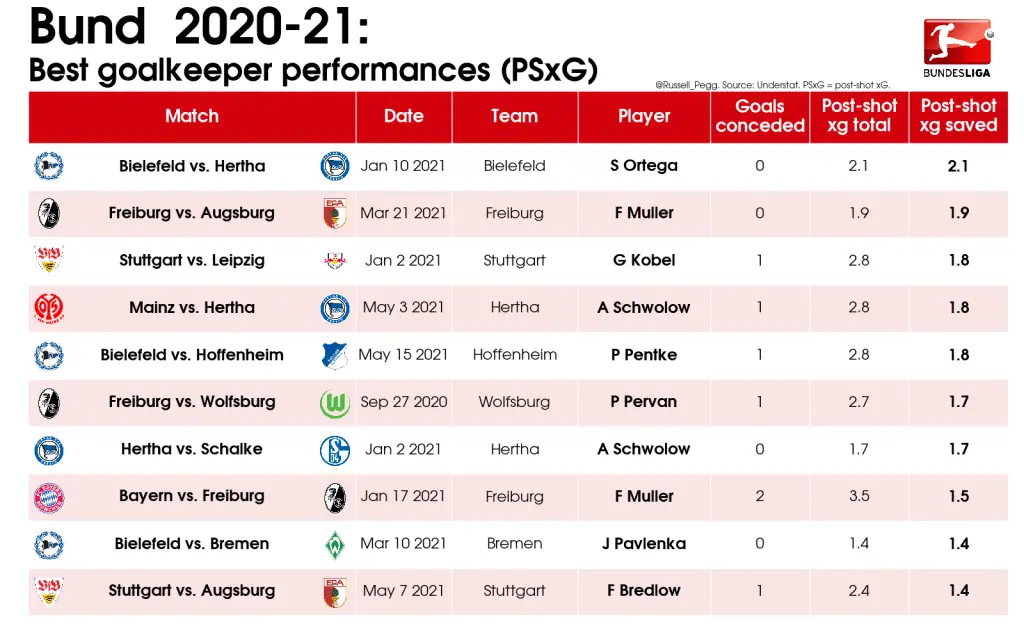 Bielefeld's Stefan Ortega comes out on top, one of many reasons he's made it onto Jogi Loew's reserve list for Euro 2020.