The Bundesliga's the only major European league to provide us with detailed running stats for its players. Here we'll take a look at what these numbers tell us about Germany's biggest teams.
First, a quick primer:
The basic tables should be self-explanatory.
The red-and-blue heatmaps compare each player to all other players with 400 or more Bundesliga minutes this season. That amounts to 467 players in total.
Red indicates a high top speed/distance covered/number of sprints/number of intensive runs for the league.
Blue denotes a low top speed/distance covered/number of sprints/number of intensive runs.
There are separate heatmaps for each team showing per-90 and total numbers for its players respectively.
Next, some obvious general themes:
The p90 numbers suggest that you don't have to both run quickly and run far – in relative terms, of course – to play for a top side. It's actually rare for players to post high distance-p90 stats and high top-speed numbers.
You can play regularly in central defence for a title-challenger without:

being quick
running far
sprinting often.

You can play regularly in central midfield at a big club without being fast – but if you lack pace, then you'll have to cover a lot of ground.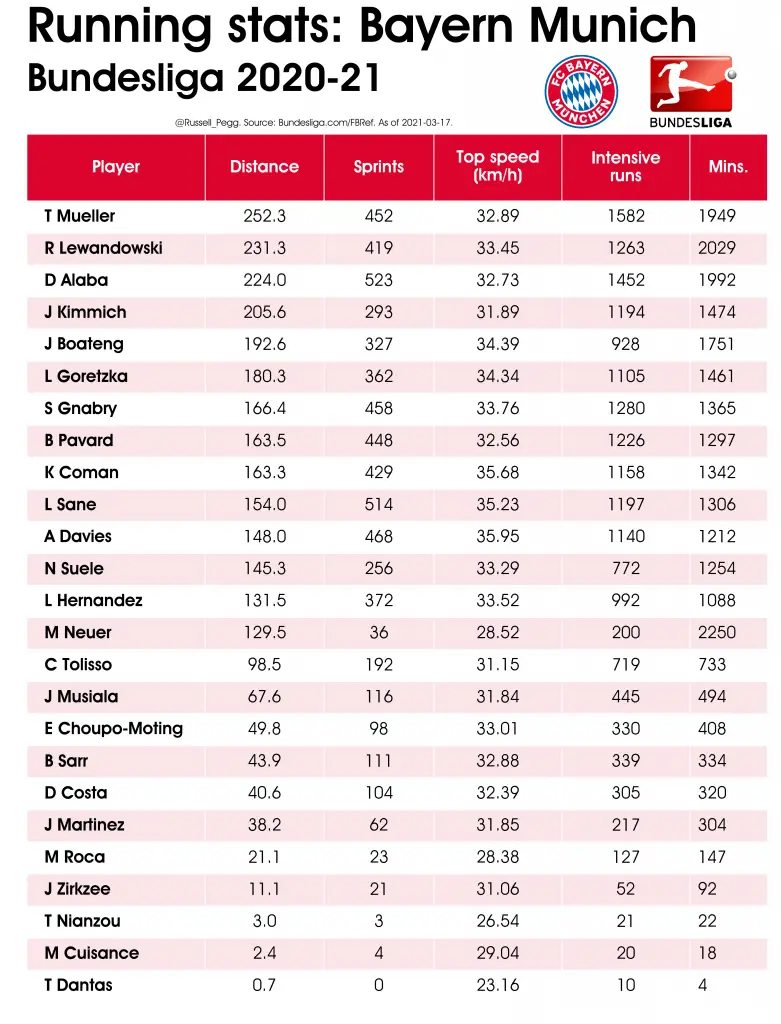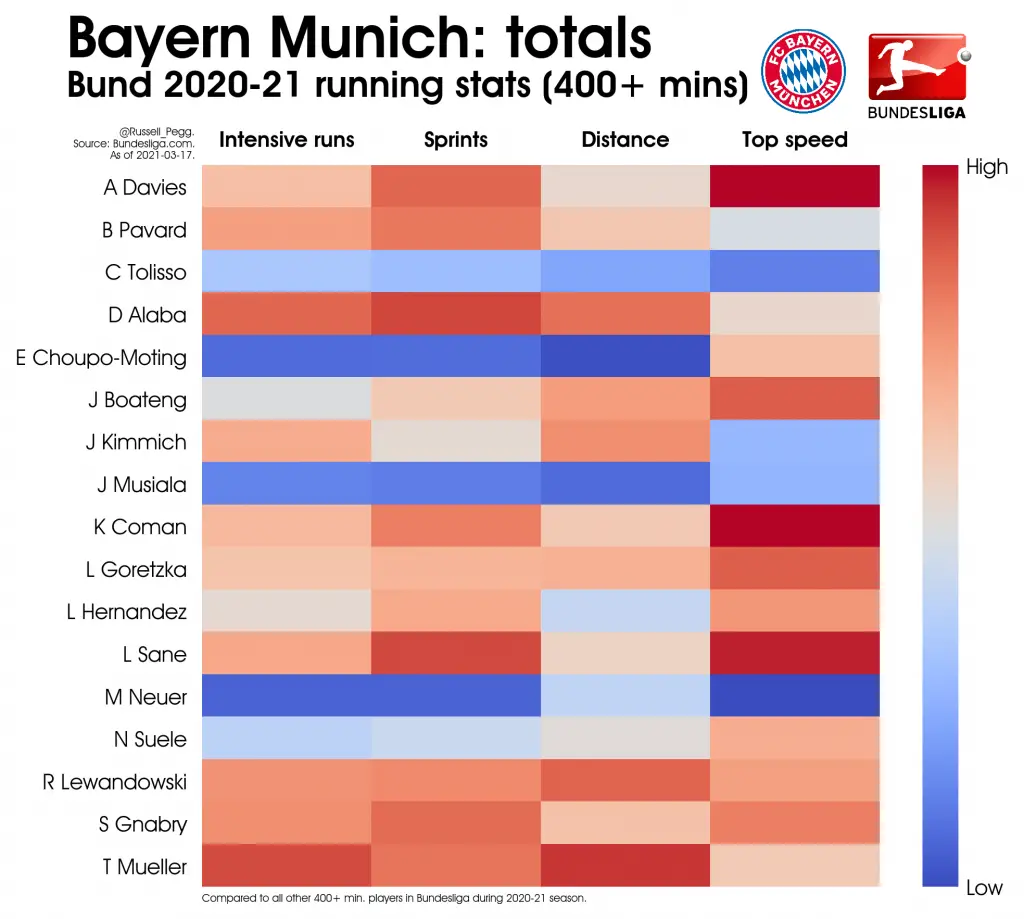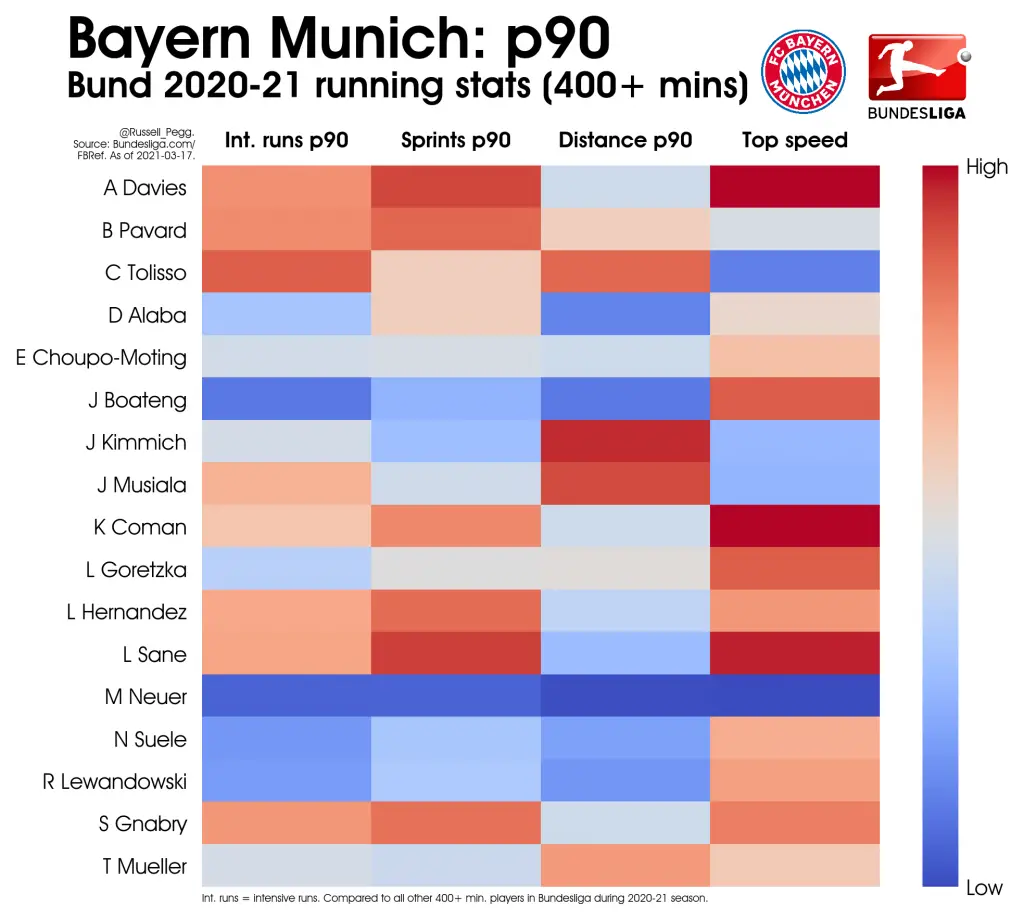 Bayern Munich
Fittingly for someone who often makes the game look so effortless, Robert Lewandowski seemingly doesn't have to work too hard for his goals, at least on a p90 basis.
Leon Goretzka has pace but seldom needs to use it.
The season totals show that Thomas Mueller is an exquisitely talented machine, albeit one that moves at a fairly glacial speed for a world-class attacking player.
They also demonstrate that the departing David Alaba, who has similar numbers to Mueller, will be missed.
Eric Maxim Choupo-Moting appears to be remarkably immobile for a forward, though admittedly this is a small sample size of 408 minutes.
Bayern lining up with Alphonso Davies plus one of Kingsley Coman or Leroy Sané on the left must be the stuff nightmares for opposition right-backs.
Niklas Süle seems to saunter through games, which is especially striking as he's spent much of this season at full-back.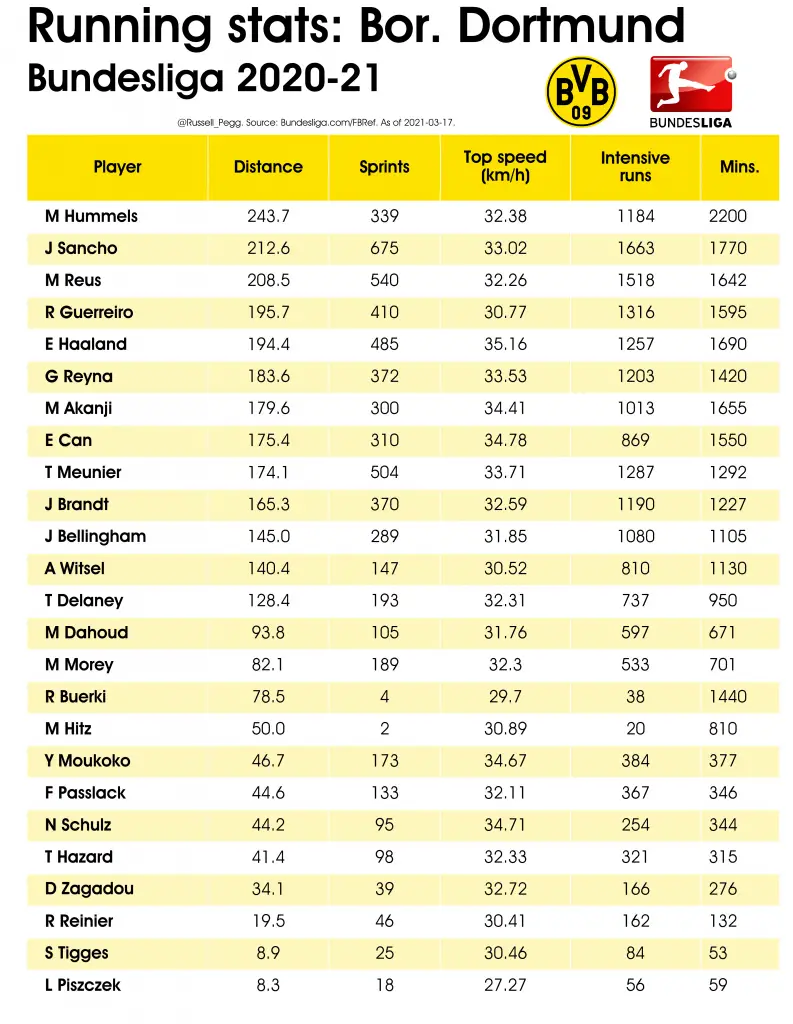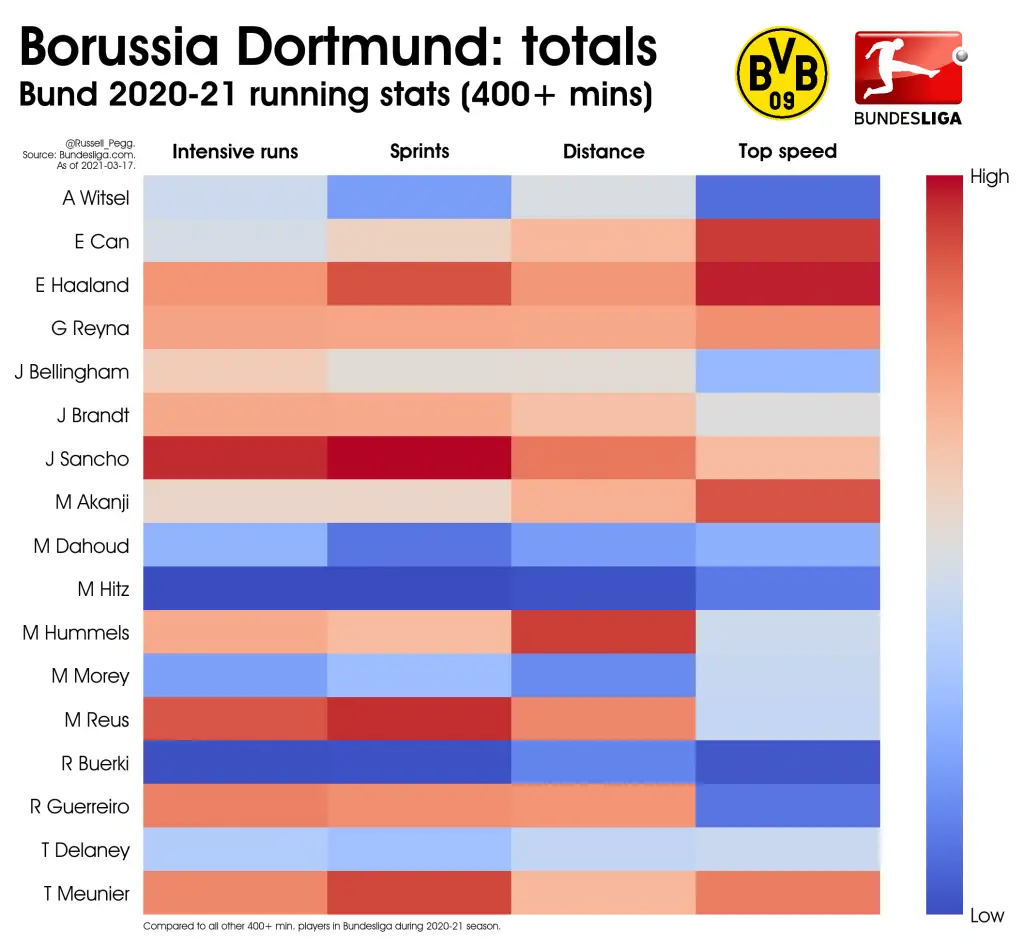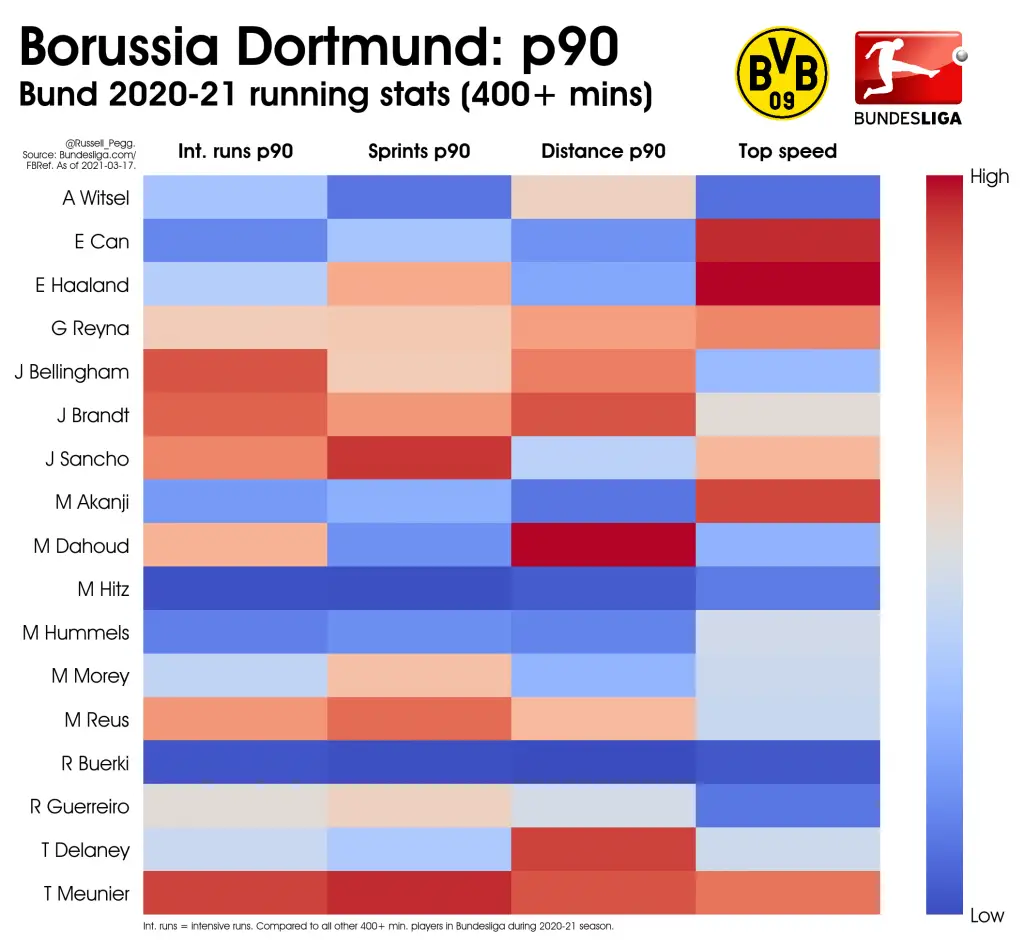 Borussia Dortmund
That midfield is horribly lacking in speed. Any combination of Witsel/Dahoud/Delaney/Bellingham can seemingly be outpaced with relative ease.
The poor form of Jadon Sancho and Marco Reus during parts of this season hasn't been due to a lack of effort.
Emre Can is deceptively fast.
Rapha Guerreiro is deceptively slow.
For such a "busy" player, Thomas Delaney moves at a very genteel pace.
The often maligned Thomas Meunier and Julian Brandt both have excellent work ethics.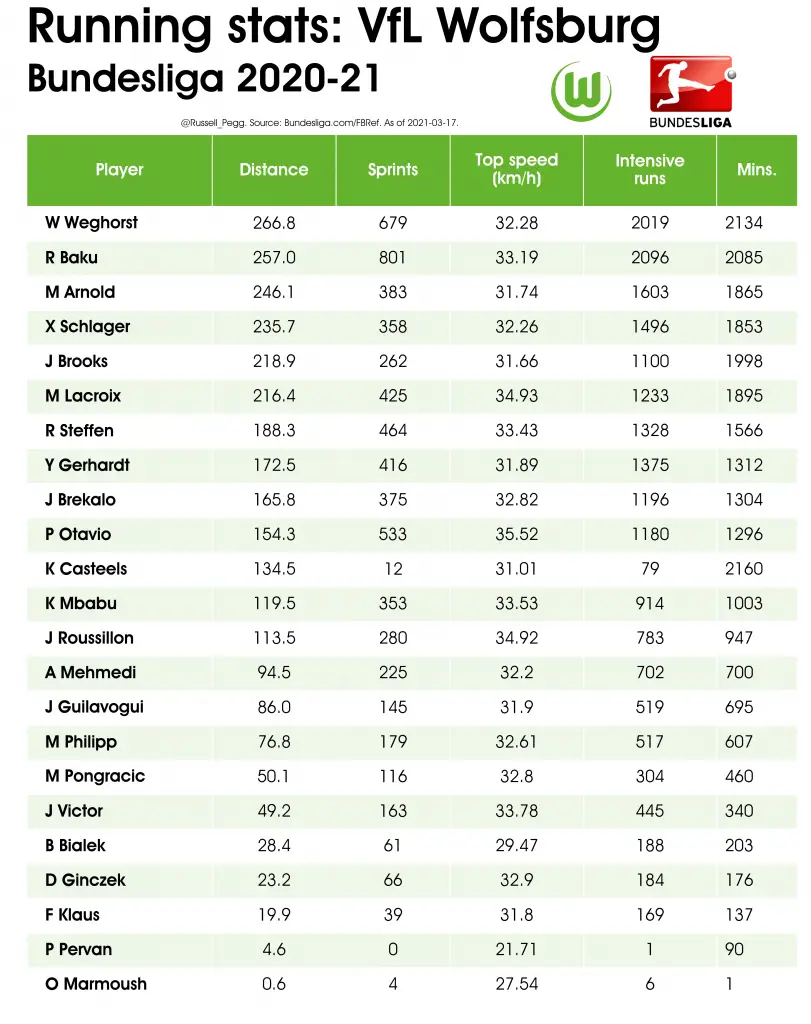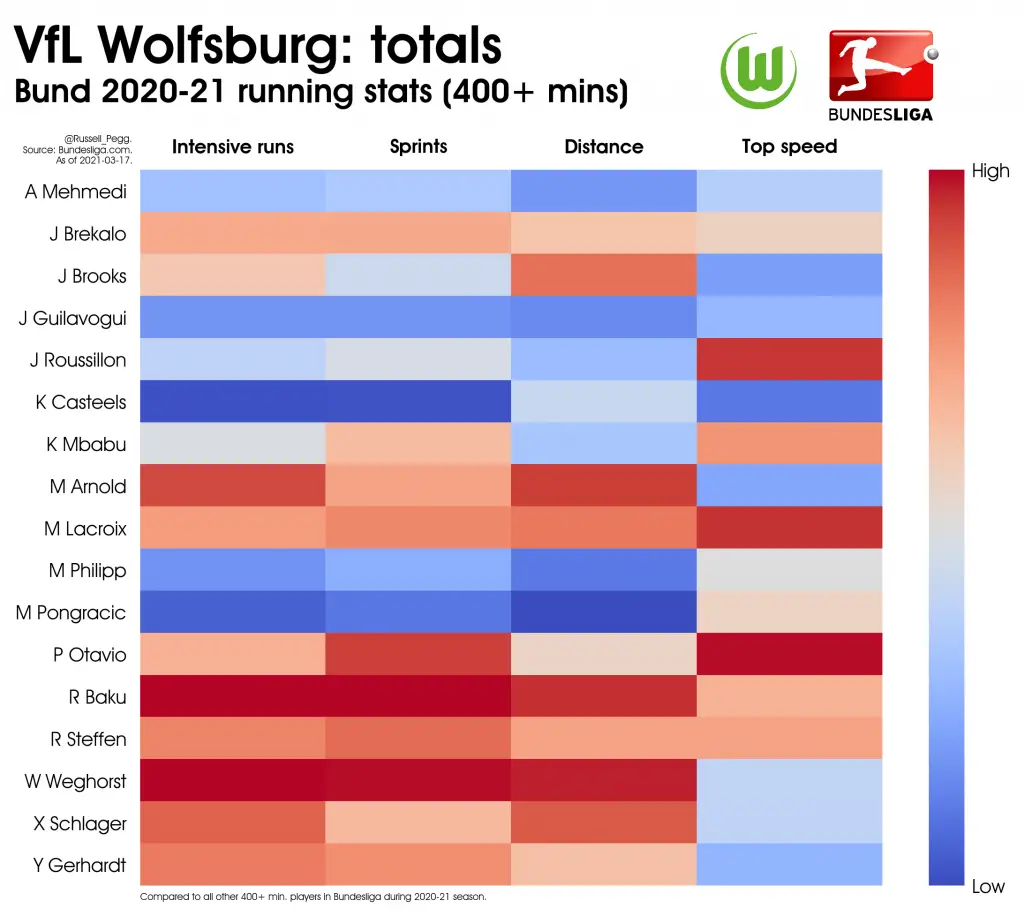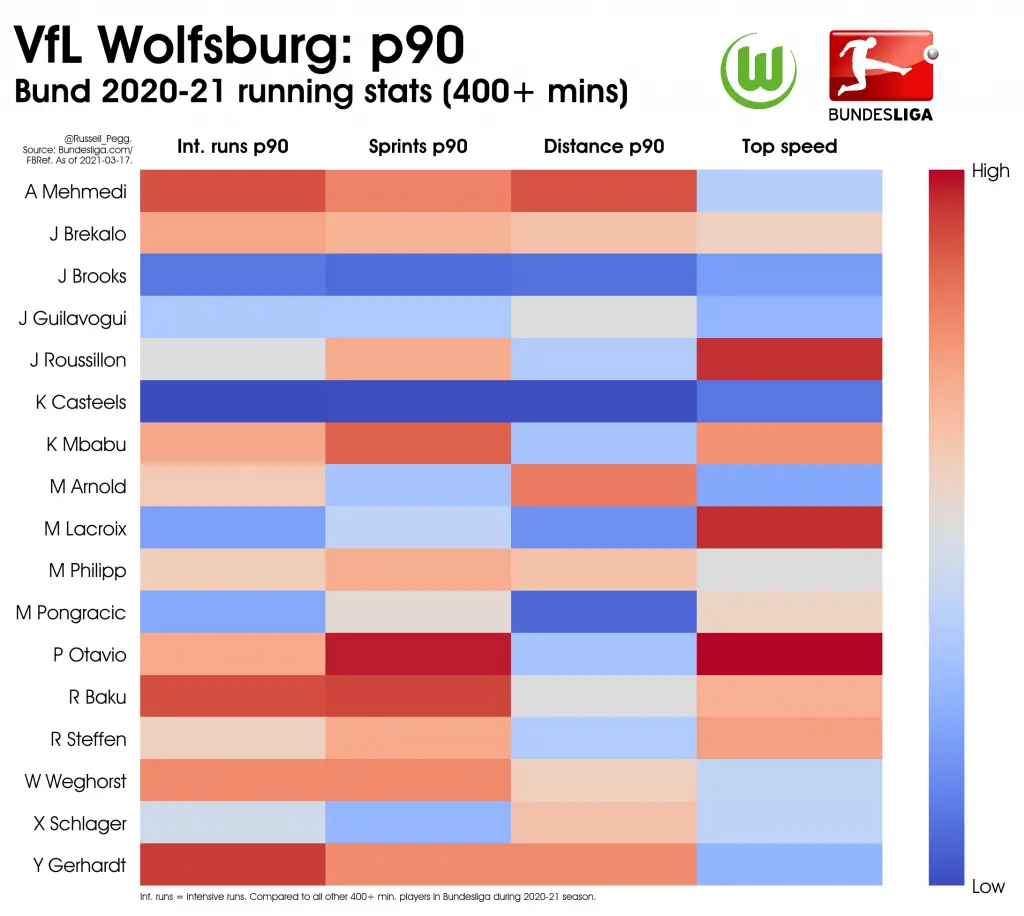 Wolfsburg
Wout Weghorst is often described as the kind of big-lug target man who'd be well suited to the EPL. The numbers show that in truth he's a very mobile striker. The Dutchman's also incredibly durable, having played 2,142 of a possible 2,250 Bundesliga minutes this season.
Ridle Baku, who made his debut appearance for the German national team in November, offers similar characteristics to Weghorst from deeper areas on Wolfsburg's right.
Admir Mehmedi has worked like a Trojan during his limited on-pitch minutes.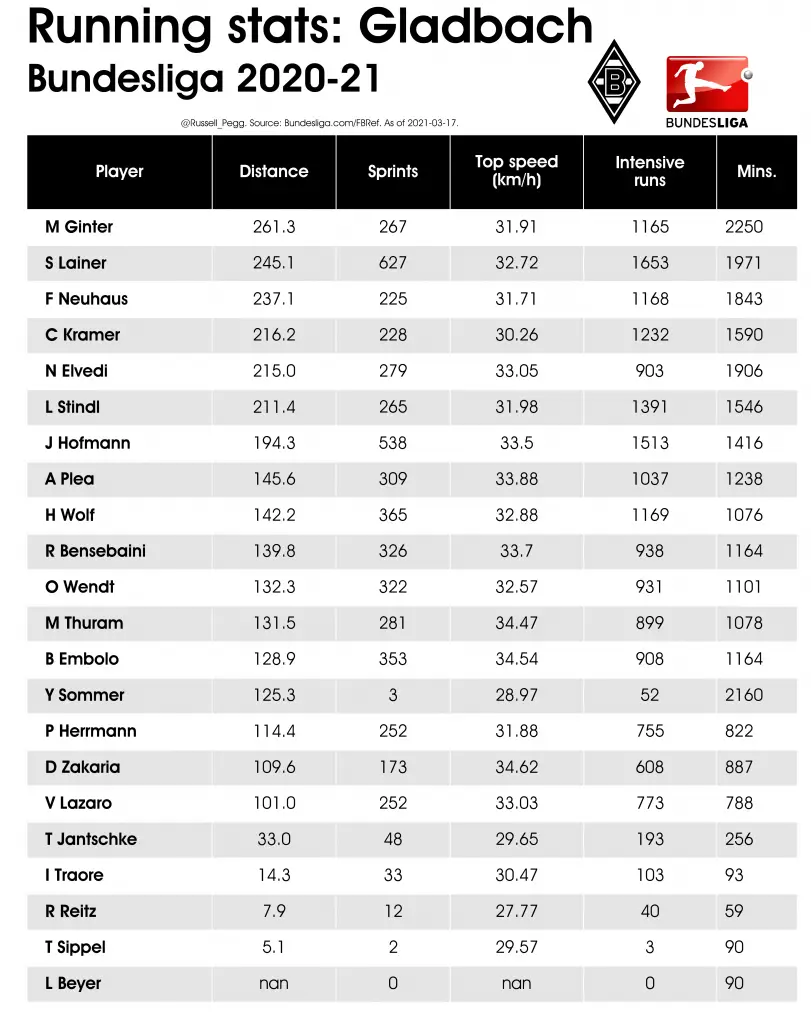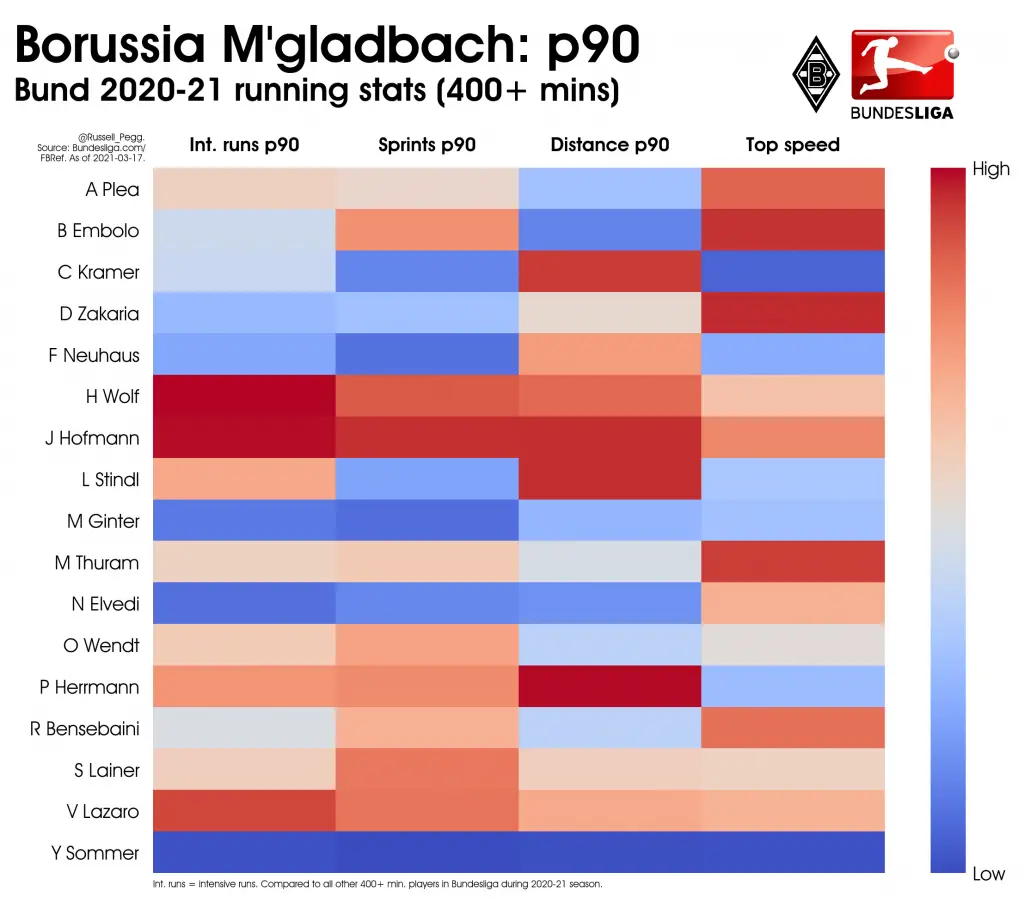 Gladbach
Hannes Wolf and Jonas Hofmann are examples of that rare player who has both a good top speed and high distance-p90 numbers.
Breel Embolo doesn't seem either to cover enough ground or to make good use of his speed.
The Kramer-Neuhaus double pivot works hard but sorely lacks pace.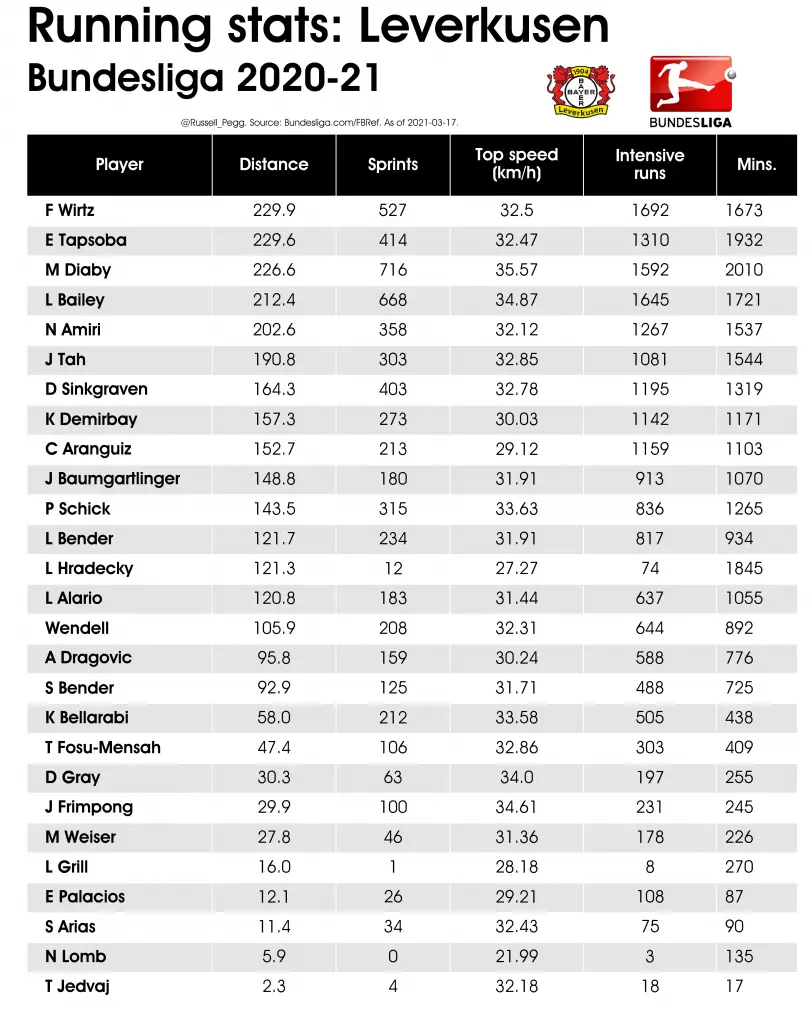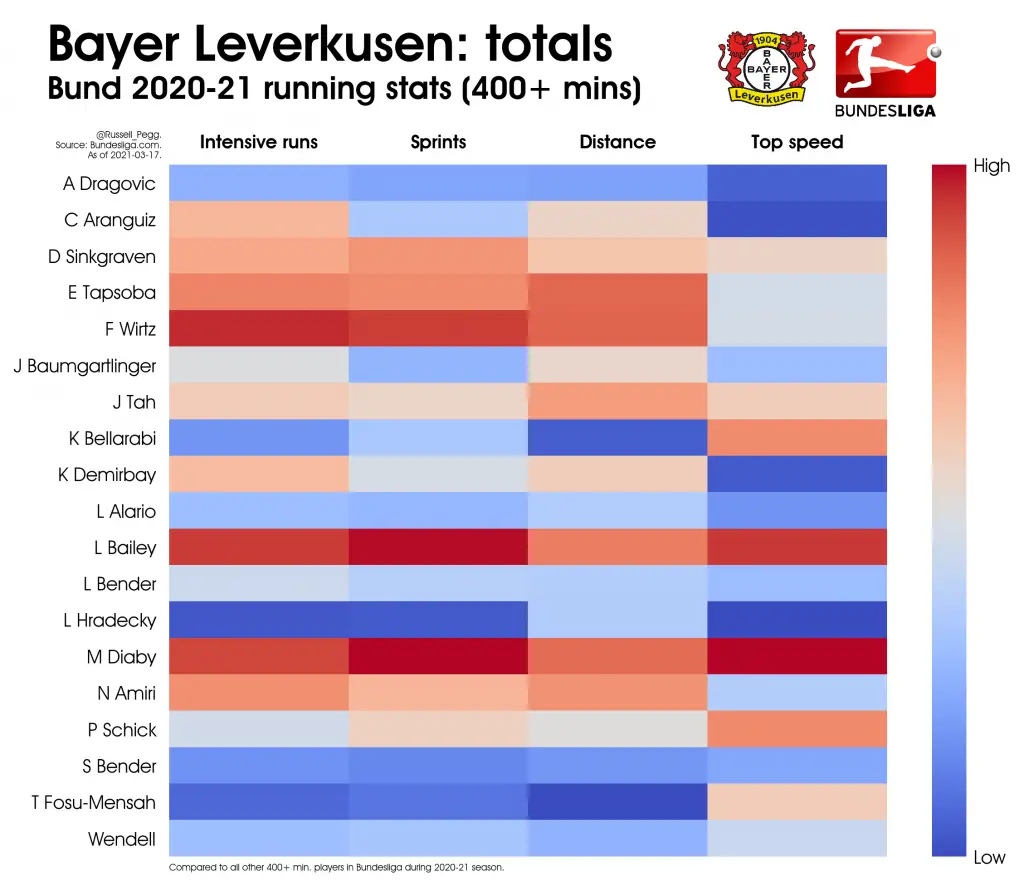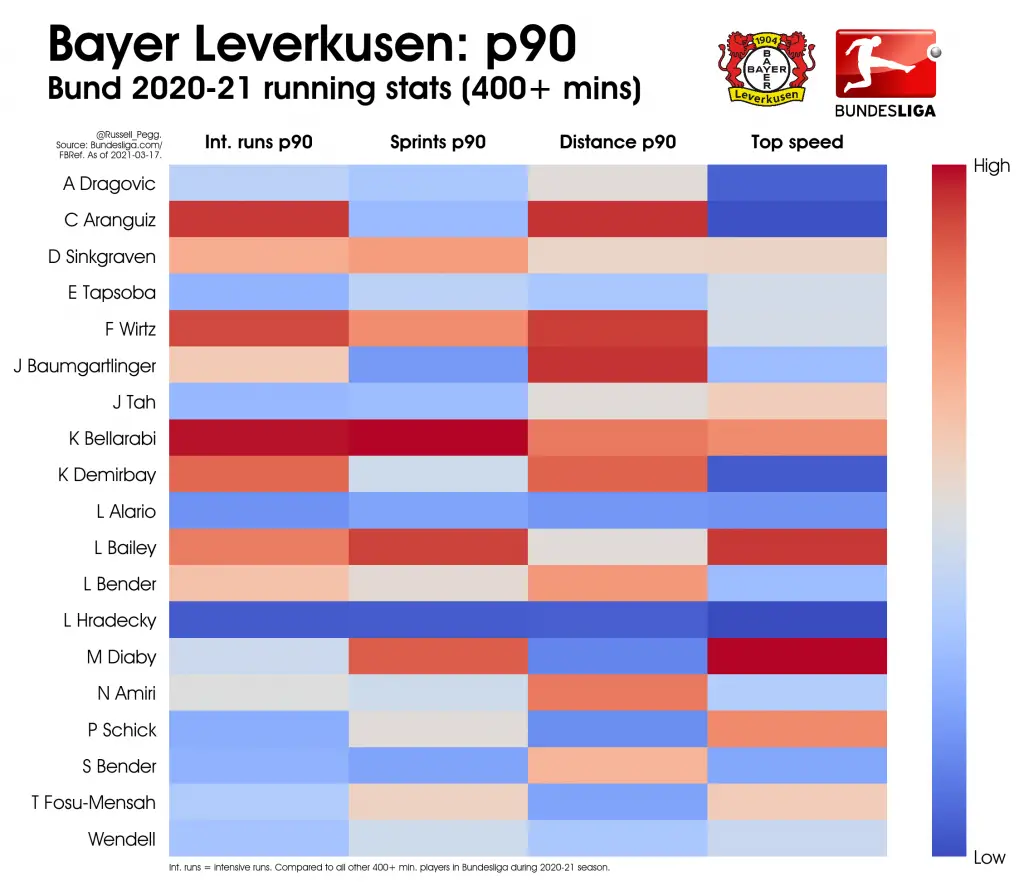 Leverkusen
Both players who are vying to lead Leverkusen's frontline – Lucas Alario and Patrik Schick – lack mobility.
Despite being a side associated with breakneck attacks – only Stuttgart and Mainz have had more shots on the counter this season – Leverkusen actually seem to be short of pace overall.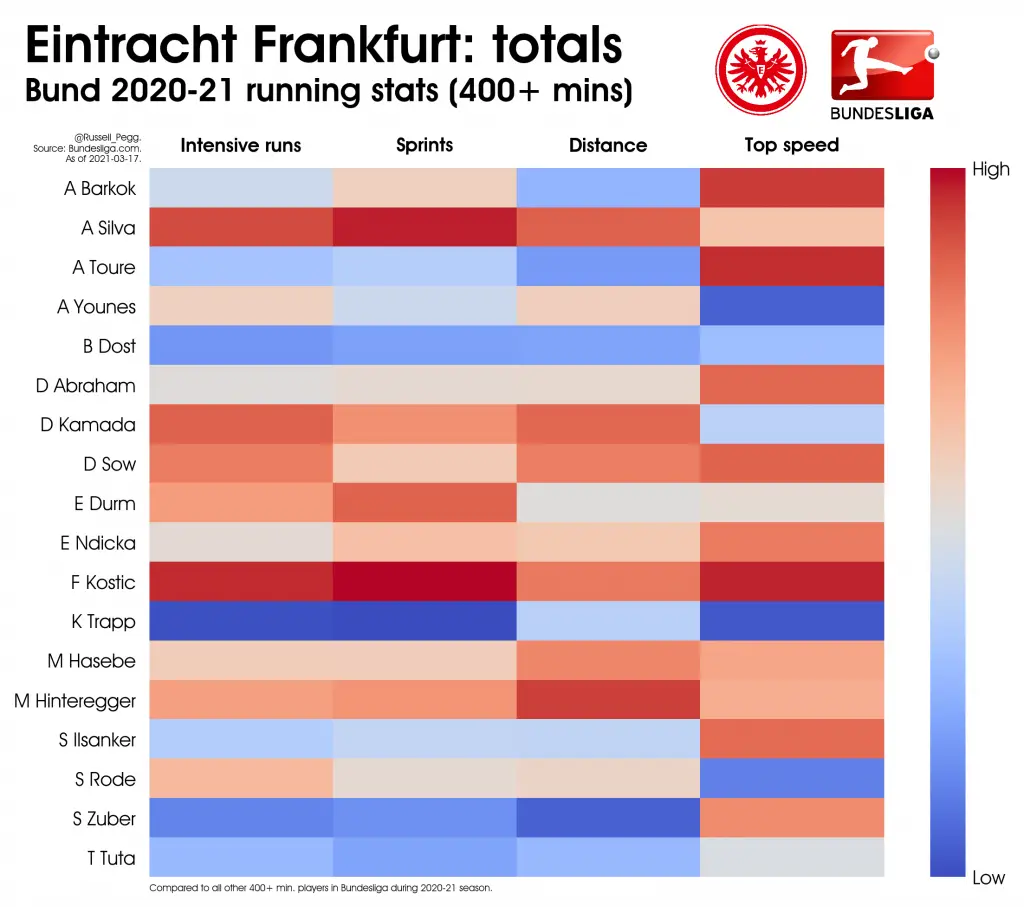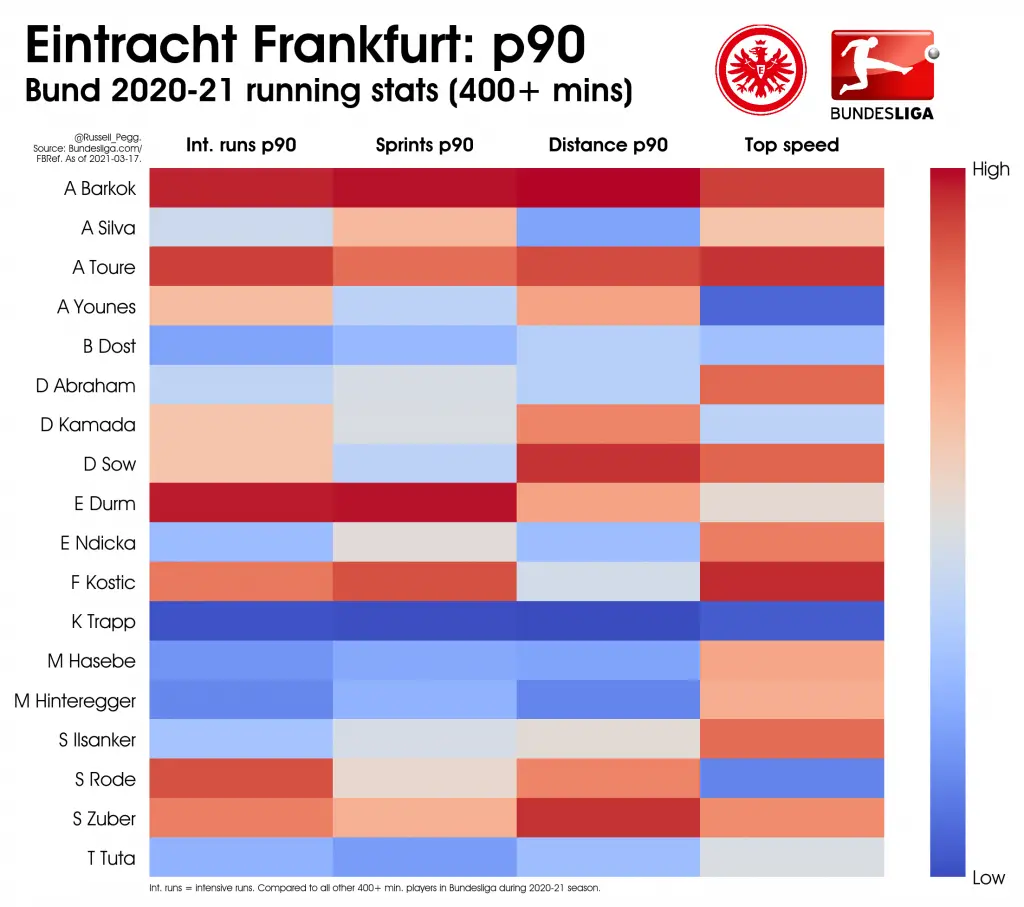 Frankfurt
It's clear that charging wing-backs – Almamy Touré or Erik Durm on the right, with one of Steven Zuber or Filip Kostić on the left – are a big part of Frankfurt's game.
Adi Hütter's side has pace all over the pitch.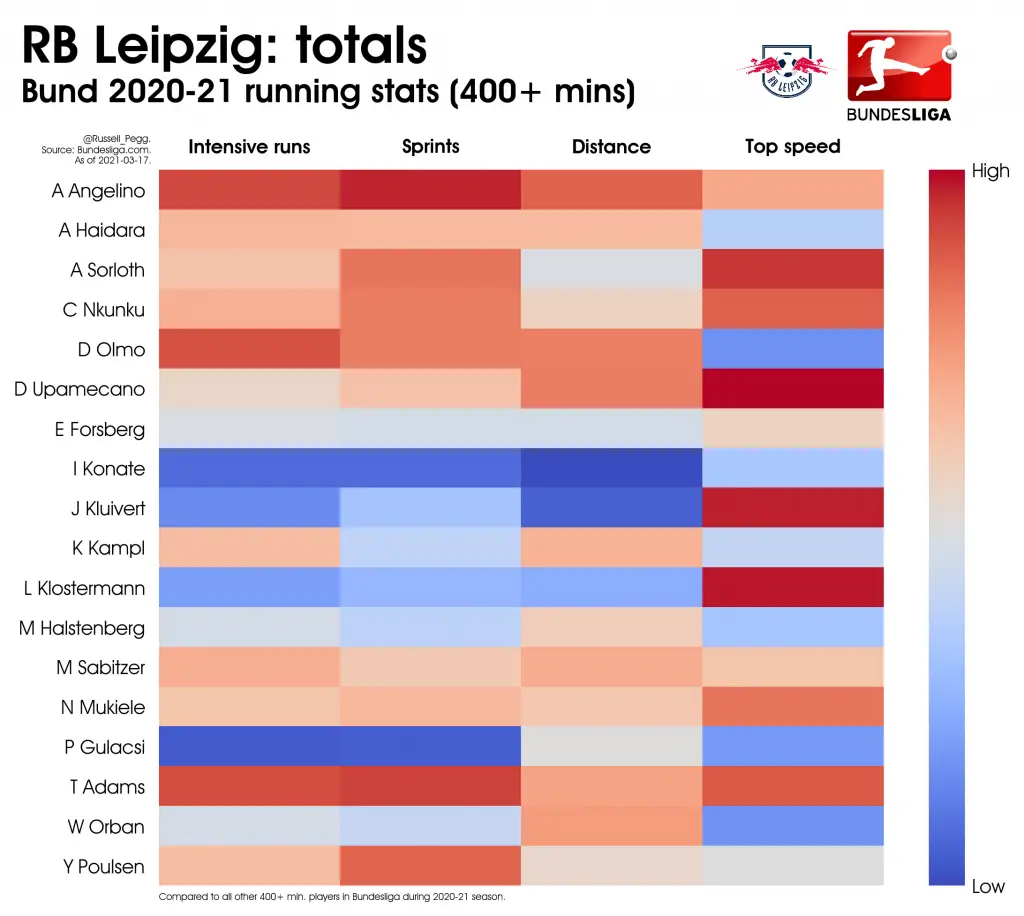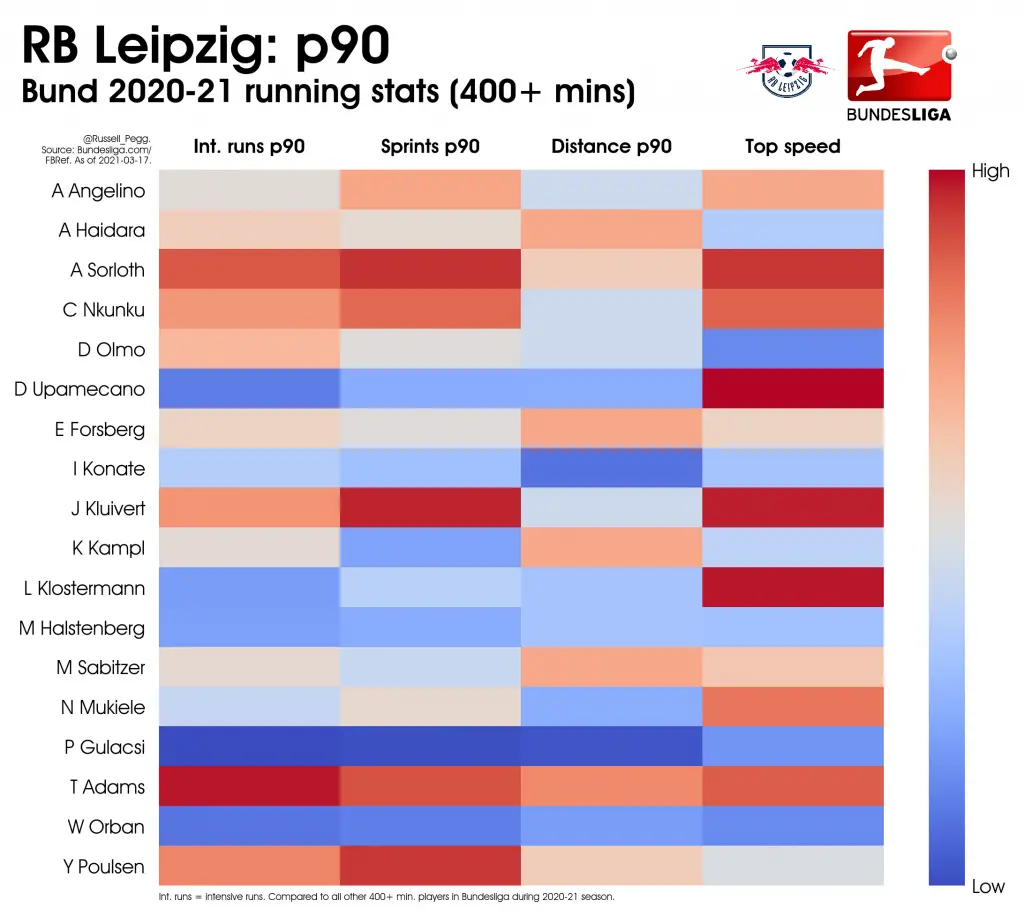 RB Leipzig
Dayot Upamecano's departure this summer will leave Lukas Klostermann as Leipzig's only defender with notable pace.