In the analysis of the first leg we saw how Thomas Tuchel's tactical decisions lead to a defeat against his former club, Borussia Dortmund. Coming to Paris now, Dortmund have won three and lost three Champions League matches in France. However, Paris Saint-Germain would be without their home crowd in the stands due to factors outside of football. Furthermore, PSG has never progressed into the next round of the Champions League following a loss in the first leg. 
In this analysis, we will see Thomas Tuchel's 4-2-2-2 formation, his 4-4-2 asymmetric press, and what went wrong for Borussia Dortmund.
Lineups
Thomas Tuchel had a lot of changes to make, some were forced. Kylian Mbappe missed out on the starting XI through illness but was on the bench. Marco Verratti and Thomas Meunier were suspended from yellow card accumulation, and Thiago Silva had a thigh injury. This lead to five changes from the first leg, including a change in formation as he went to a 4-2-2-2 variant. Edinson Cavani was the lone striker, Pablo Sarabia and Leandro Parades were deployed into midfield, Juan Bernat and Thilo Kehrer filled in at fullback. 
Lucien Favre once again went for his 3-4-3 formation. Following a good result in Germany, there would be no changes to his side. Julian Brandt was now available for him off the bench. Axel Witsel made his 100th appearance in European competitions. 
Tuchel's 4-2-2-2 formation
In the first leg, many were confused with Thomas Tuchel's choice to try and match Favre's 3-4-3 formation. He struggled to get the fine details correct as we saw in my analysis of the first leg. They lacked balance in width when in possession, forward players were disconnected, and they struggled in defensive transition. 
So not only was the PSG head coach faced with personnel changes but a tactical one as well. He moved formations to a 4-4-2 variant that can be best described as a 4-2-2-2. Neymar and Di Maria would move inside and Sarabia acted as another striker alongside Cavani. This solved their issue of their striker being isolated in the first leg. The two strikers would position themselves in-between Dortmund's wingback and centre-back which is a place of vulnerability in a defensive line. Furthermore, their issue of balance in width was solved as Kehrer and Bernat would always stay in line with each other, in the image below you can even see Kehrer looking across for Bernat's positioning. 
The movements in-between the lines by Di Maria and Neymar would cause problems. In the sequence below it results in one of their best chances of the match. Di Maria receives the ball from Gueye in the right-sided half space. From here he has the space to turn and quality to execute a pass to Cavani making a run in-behind the defence. 
Dortmund's 5-4-1 midblock 
How did Favre look to combat Tuchel's 4-2-2-2? In the first leg, Dortmund's 3-4-3 formation maintained its distinction in shape when they pressed PSG. As detailed they were able to prevent central ball progression and create turnovers during the French sides build-up phases. 
But this time he would opt for a 5-4-1 midblock. It was a much more passive approach as the PSG centre-backs would be allowed to play with the ball. Tuchel reintroduced a diamond pattern in the build-up that has been prevalent throughout their season. This diamond included both midfielders and centre-backs. As we see below it created a 4v1 against Erling Braut Haaland, the midfielders could not support the press because of the forwards making movements in-between the lines.
Juan Bernat made the most passes in the match with 70 from left-back. Dortmund's attacking three only combined for a total of six ball recoveries, Angel Di Maria made more on his own for PSG.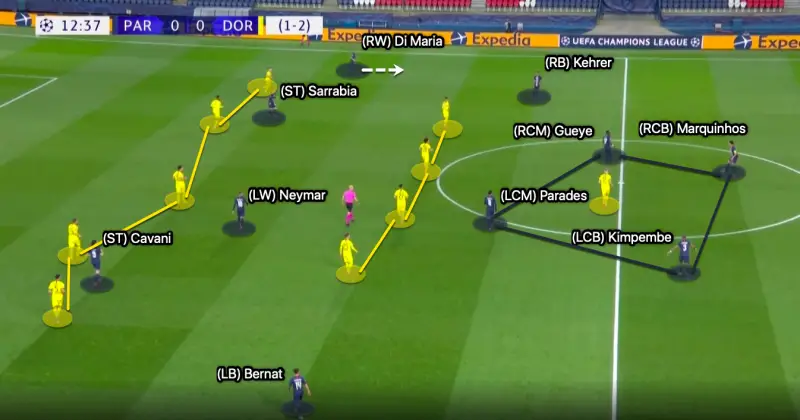 PSG's 4-4-2 asymmetric press
Although PSG had the luxury of calmly moving the ball during their backline, Dortmund did not initially. In the first half, they only completed 81% of their passes, and not even one of their players were in the top five for completed passes. These results were produced through the tactics implemented by Tuchel out of possession. 
They moved into a 4-4-2 out of possession and it would become an asymmetric shape as the ball would be moved. As you can see below, Sarabia occupies the right sided centre-back and presses him at an angle where he must pass to Mats Hummels who is then going to be pressed by Cavani who has no other option than to continue to pass towards to the left where Di Maria is now initiated to enter the first line of pressure as he presses Zagadou making it a front three against Dortmund's back three.
Kehrer would then pick up the incoming wingback as well to ensure he had no passing option. This prevented quick switches of play and rotation through the back three. PSG players intelligently would always know when and where to press, it was a perfectly executed scheme. It would also keep Dortmund in a 2v2 in midfield. 
Dortmund's attack nullified 
Borussia Dortmund for the last decade have always had a reputation for being one of Europe's most formidable goal scoring forces. Individually in their attacking personnel and tactically they have always been a huge threat in the attacking third. Jadon Sancho carries 29 league goal involvements himself. On the night in Paris they would be held to a staggering 0.4 xG and zero big chances created. 
A huge key to this would be PSG's attacking structure and how it accounted for defensive transition. This phase of play is where Dortmund would lose the majority of the tactical battle. As PSG's double pivot never fully committed to attacking the opposition box, they would maintain numerical superiority against the sometimes isolated Dortmund forwards when PSG would give the ball away they could not connect with each other especially in central zones.
Tuchel's midfield had every blade of grass covered, they could engage with the ball carrier immediately winning the ball back, prevent passing angles, or cover space in-behind. This can be seen in Gueye's statistics as he made the most tackles in the match with eight.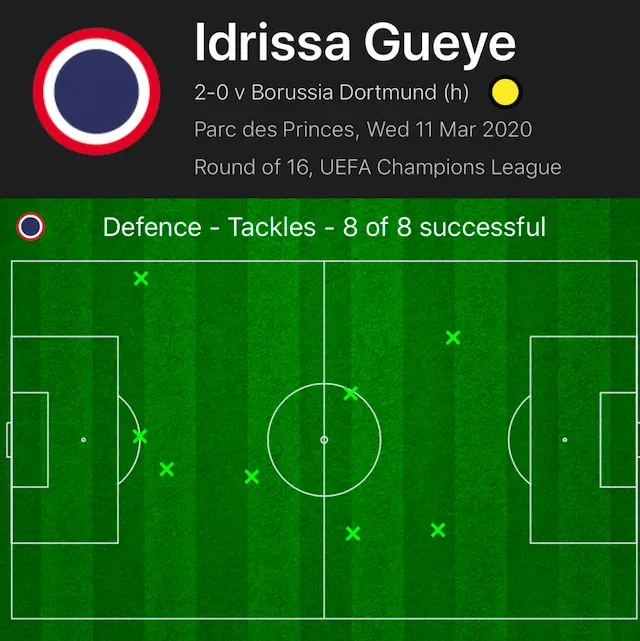 Tuchel goes on lockdown
With 20 minutes left, Dortmund were down 3-2. PSG would not want another shock late collapse as they saw last season against Manchester United. 
Dortmund did not look like scoring for a large period of the match so drastic change was needed. Favre decided to swap personnel rather than the system. He brought on Julian Brandt and Giovanni Reyna. Brandt entered the double pivot in place of Witsel, he moved the ball quicker and had the passing range to execute longer passes which allowed them to progress the ball against the press. In the attacking third he looked to create passing patterns in wide zones but Dortmund were at a constantly numerical disadvantage in these areas of the pitch due to Thomas Tuchel's own change of tactics during this period. 
He elected to drop back into a 4-4-2 deep block. All eleven players would be moved behind the ball once it progressed into PSG's half. As aforementioned they constantly had numerical superiority in the wide zones, the strikers would assist in preventing wide overloads and tracking runs into the space whether it be Mbappe on the right or Cavani on the left. During this period, they had zero attempted penalty entries from wide positions.
This would open up space at the top of the box however Dortmund would not conjure anything from these positions with Brandt and Can missing shots from these areas.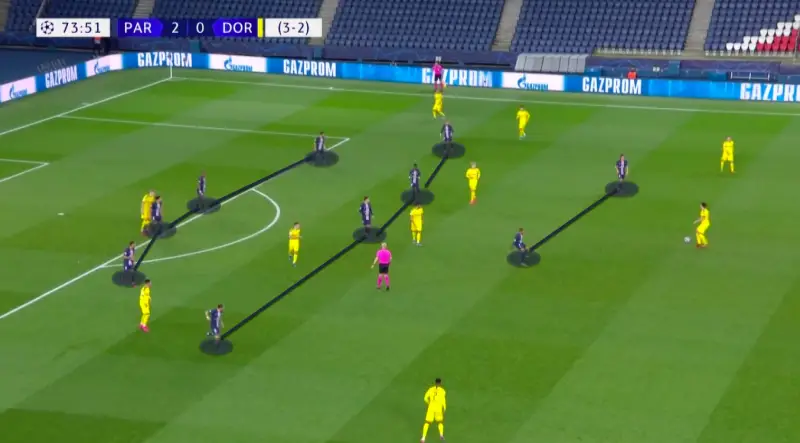 Conclusion
In the first leg analysis, we were left with many questions for Tuchel and his choices in tactics in the match. But in this match it was as if a different coach was in the technical area.
Thomas Tuchel's 4-2-2-2 formation created many problems for the Black and Yellow that may have not been expected in Lucien Favre's pre match preparations and were not worked-out through in-game management. The same could also be said for the 4-4-2 asymmetric press that was deployed that maybe did not produce a direct result but certainly a massively determinantal one.  
The lack of a consistent attacking pattern to look for a solution against PSG's 4-4-2 shape out of possession and disconnected forwards during attacking transition would ultimately see Dortmund's exit from the Champions League.
By Craig Moniz.