| | |
| --- | --- |
| Nickname | Die Eisernen |
| Head coach | Urs Fischer |
| Stadium | Stadion An der Alten Försterei |
| Bundesliga 2019/20 finish | 11th |
Whilst 1. FC Union Berlin were seen as a welcome addition to the 2019/20 Bundesliga, this was mainly attributed to the much-heralded atmosphere created by their loyal fans and the prospect of a top-flight Berlin derby. Little was expected of Union from a footballing perspective, with relegation widely predicted.
However, they performed admirably on the pitch. Even the most optimistic Union supporters could not have anticipated an 11th place finish with memorable victories over Borussia Dortmund, Borussia Mönchengladbach and city rivals Hertha Berlin along the way.
The real challenge for Urs Fischer is to maintain this over-achievement. Union have made some astute signings over the summer to try and further improve the squad, but they will no longer be a surprise package after earning the respect of other Bundesliga teams who will have greater awareness of their style of play.
Likely starting XI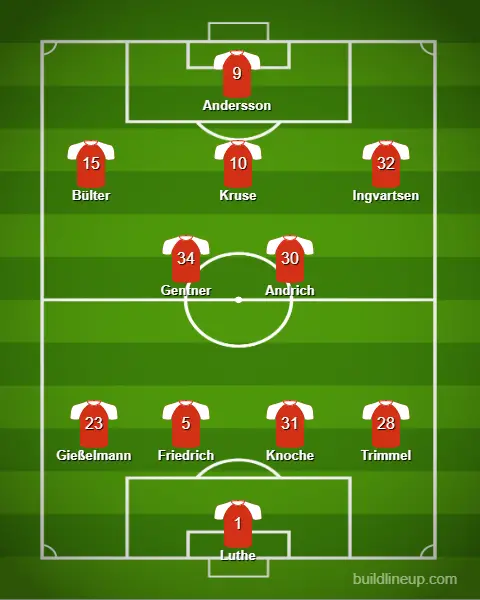 Key Man
Christopher Trimmel – Defender
It may be unusual for a team's key player to be a 33 year-old right back, but Christopher Trimmel is indispensable to the way that Union Berlin play.
The team are heavily reliant on set pieces as a source of goals and Trimmel provides accurate delivery from both corners and free kicks, usually with striker Sebastian Andersson as his target. The Austrian international contributed a vital 11 assists in the Bundesliga last season.
Union also benefit from Trimmel's leadership qualities with Fischer designating him as captain for the last two seasons. He has been a mainstay in the side since his arrival from Rapid Wien in 2014. Trimmel is vital as both a player on the pitch and as a figurehead in the dressing room.
Signing to Watch
Max Kruse – Attacker
The return of Max Kruse to Germany is a welcome sight for Bundesliga fans and represents an impressive coup by Union. He had in the past been a key man in Werder Bremen's side, who sorely missed the enigmatic forward last season and without coincidence finished in 16th place. Now it is Union who will benefit from Kruse's talents after his acrimonious departure from Fenerbahçe.
At 32, Kruse still has plenty to offer, being able to both score and create goals. His link-up play between midfield and attack may be of benefit in particular for Union Berlin, as his creativity should give die Eisernen a different dimension to their play. The main challenge for Fischer will be how best to fit him into the side alongside main goalscorer Andersson.
Strengths
Set Pieces
As previously alluded to, Union's real strength comes from their ability to score from set pieces. Making the most of crosses from corners and free kicks with the aerial prowess of players such as Andersson, they netted 15 times last season from dead ball situations.
The Köpenick side also found strength in playing at the Stadion An der Alten Försterei, where they had a particularly strong defensive record. Only conceding 20 goals, Union collected 27 points in their own stadium and boasted the eighth-best home record in the league.
Weaknesses
Reliant on set pieces
Union's set piece prowess may ultimately become their downfall. Relying so heavily on this scoring method makes the side seem slightly one-dimensional. Not having the same quality as other Bundesliga sides, Union often struggle to create and finish chances from open play.
If their set piece threat becomes nullified, Fischer will have to find some way to create more of a cutting edge. The hope is that Max Kruse will be able to inject much-needed creativity into the team.
The club will also have to deal with the departure of goalkeeper Rafal Gikiewicz, whose 115 saves played a large part in Union's impressive defensive record. Replacement Andreas Luthe will hope to replicate this form in goal.
Verdict
Replicating last season's comfortable mid-table finish will be extremely difficult for Union Berlin and a repeat of this performance will not be expected from the club or its supporters.
It is likely that they will be involved in a relegation battle this season. This may represent something of a new challenge for the squad, who last year spent little time in grave danger having collected a number of points in the first half of the season. Their placing next year may be dependent on how other sides near the bottom perform, but they will accept survival by any means. A third season in the Bundesliga would be a remarkable accomplishment and this will be the aim.
By Colin Moore.