| | |
| --- | --- |
| Nickname | Die Bayern |
| Manager | Hansi Flick |
| Stadium | Allianz Arena |
| Bundesliga 2019/20 finish | 1st (Champions) |
For Bayern Munich, the 2019/20 season could hardly have gone any better. Few organisations on planet earth can boast of emerging from lockdown in a better position than when they went entered it – but the Bavarian giants certainly can. When the Bundesliga was temporarily halted in March of this year, Hansi Flick's men were just four points ahead of high-flying Dortmund, with crucial away tests to come. However, as the football world began to re-emerge from hibernation this summer, Bayern managed to string together a remarkable unbeaten run; defeating Dortmund away from home in the league, Eintracht Frankfurt in the DFB Pokal final, before blowing away the best Europe had to offer in the Champions League.
Given where Bayern started from at the beginning of last season, the achievements and records broken make for even more striking reading. A season that started with Niko Kovac and a humiliating 4-1 defeat away at Eintracht, ends with Hansi Flick at the helm, and one of Bayern's greatest ever campaigns in the club's illustrious history. Therefore, the only question ahead of next season is…how do they manage to top that?
Likely starting XI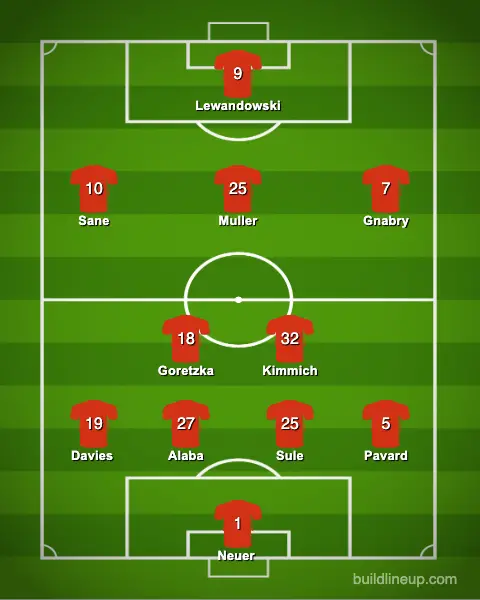 Key Man
Joshua Kimmich – Midfielder
Tricky to pick just one, as Bayern's recent success largely derives from the fact that it's an effective, cohesive unit – where the sum of the parts outweighs the contribution of just one man. However, if there is a single player who embodies all that is good and great about this current Bayern Munich side, it is surely Joshua Kimmich. The former Stuttgart youngster has gone from strength to strength in recent years, with his ever-dependable consistency and versatility key to the club's recent success.
At home at right back, or in the holding role in midfield, it is hard not to draw a comparison to Phillip Lahm, with the former German World Cup winning captain just as dependable in both positions. But Kimmich is a future club legend in his own right, with exceptional crossing, defensive discipline, and Lasor accurate passing. Alongside the obvious traits are his less celebrated strengths, like his subtly smart defensive positioning, or his leadership in midfield, in spite of his youth. It's very easy to forget sometimes, partly due to his burgeoning trophy collection, that the Rottweil native is still just 25-years-old.
Signing to Watch
Leroy Sané – Winger
Bayern Munich's summer transfer window has been remarkably quiet, with one notable exception – Leroy Sané. The former Schalke man returns to Germany following a mixed spell with Manchester City, where strained relations with manager Pep Guardiola led to a high-profile transfer. In the absence of 'Robbery', Bayern have long been searching for the heirs to their magnificent throne. In Serge Gnabry, they appear to be halfway there, while the contributions of Kingsley Coman and Ivan Perisic last season also shouldn't be ignored. However, neither have truly managed to nail down a starting berth, opening the door for a player of Sané's quality to feature on a regular basis. On his day, the 24-year-old German international is almost unplayable – a frightening prospect indeed for Bayern's domestic opponents this season.
If he can successfully stay fit – an ever-elusive feat while at Manchester City – then the Bundesliga could be looking at the perfect man to become the new face of the league – once Jadon Sancho inevitably departs. He has every attribute needed to succeed in Bavaria, including the requisite amount potential to leave the club with a similar legacy to that of Arjen Robben or Frank Ribery one day.
Strengths
Consistent and strength in depth
The treble winners are a remarkably consistent, managing to excel in many different departments of the pitch. With that being said, perhaps the most impressive facet of their game is their ability to hurt opponents in a variety of different ways. They possess pace, physicality, and can pass you off the pitch, rendering most opponents helpless. Under Flick, they have seamlessly morphed into a side that simply knows how to win, regardless of the circumstances. And this, in part, derives from the fact that they are so impenetrable and hard to stop in their tracks. The squad is beautifully balanced, with exiting prospects such as Joshua Zirkzee and Tanguy Nianzou offering strength in depth. Bayern's biggest pitfall this year could well be complacency, given that they convincingly toppled all before them last season. However, much like Jurgen Klopp's Liverpool side, Bayern are true mentality monsters – meaning that standards are unlikely to slip in the upcoming campaign.
Weaknesses
Potential for complacency to creep in
On paper, you could point to a handful of perceived flaws in the way that Bayern like to play. The problem is that, no matter the quality of the opposition, nobody has thus far found a way to exploit such 'weaknesses'. As was previously mentioned, there is the possibility for complacency to creep in, but that is by no means certain to take place. Throughout the sides Champions League run last season, one area of concern for onlookers was the nature of Bayern's high defensive line. At times, opponents such as Lyon and Barcelona exploited it, beating the offside trap, only to squander great opportunities at goal. Against a more clinical attack, Bayern could struggle to operate as they like to, as the current system is to squeeze opponents as high up the pitch as possible. It's a dangerous game, one that they have mastered thus far. But if opponents do begin to formulate a plan to bypass the press, it may prove to be jarring frailty for Flick's famously infallible squad.
Verdict
Seemingly, the only thing that can stop Bayern next season, is Bayern themselves. Dortmund, buoyed by Erling Braut Haaland and Jadon Sancho (until January at the earliest) will likely be there main contenders once more. But short on defensive cover, and without the incredibly talented Achraf Hakimi, BVB will have to significantly improve on last season's showing if they wish to go one better. Bayern, meanwhile, are far more likely to improve rather than regress, as with Leroy Sané onboard, anything is possible over the coming months and years.
The only potential source of turmoil for the hierarchy and coaching staff could be the Thiago standoff, with the Spanish playmaker reportedly keen to leave the club. His absence could have sizable ramifications, as the 29-year-old has been one of the most important figures at club since his arrival in 2013 – both on and indeed off the pitch. While Joshua Kimmich and Leon Goretzka have the ability to deputize with aplomb, there are few players in world football with the technical ability of Thiago. In my humble opinion, Bayern will once again triumph in the Bundesliga title race, with Dortmund keeping them modest all the way. In other news, the sky is blue…