Following Red Bull co-founder Dietrich Mateschitz' investment in 2009 and four promotions in quick succession, Bundesliga newcomers RasenBallsport Leipzig find themselves unbeaten in the league after six games (3 wins, 3 draws).
In what has been a rapid yet dazzling rise through the divisions, Leipzig have not only cemented themselves immediately as a competitive outfit in Germany's elite division, they are already pushing towards the upper echelons of the league, with the prospect of European football in the near future on the horizon. The ever-increasing realism of this prospect begrudges the majority of German football fans, awarding RB Leipzig the label of Germany's 'most hated team'.
This criticism has been formed on the basis that RB Leipzig was founded as a 'marketing tool' for energy drink powerhouse Red Bull, whilst additionally taking commercialisation of football in Germany to levels that go against common practice. Yet, as Ralph Hasenhüttl's side continue to deliver results on the pitch in what looks to be a sustainable recipe for success, the fact that RB Leipzig are here to stay is beginning to settle in with the footballing universe.
The financial backing as a result of Red Bull's investment has allowed Leipzig to invest heavily into their facilities and personnel. This mainly comprises of the ongoing development and expansion of the Red Bull Arena's capacity to over 40,000, 30 million Euros investment into a training centre comprising six pitches, offices and an elite youth academy; and providing Ralf Rangnick (who currently is being linked with the England managerial position) with sizeable transfer budgets to spend on his '24 or younger' transfer policy following his appointment as the club's sporting director in 2011.
As a result, the club have acquired some fine young players at very reasonable prices. Rani Khedira, the younger brother of Sami, who failed to make an impact at Stuttgart has been at Leipzig since 2014. Exciting German prospect Timo Werner was poached from relegated Stuttgart this summer, adding to the club's fairly raw, yet pacey strike-force of Yussuf Poulson and Davie Selke, who managed to fire Leipzig to Bundesliga promotion last season.
Austrian Marcel Sabitzer has been plying his trade in Leipzig for 2 seasons, and appeared in all three of his country's Euro 2016 matches. Kyriakos Papadopoulos has been brought in on a season long loan from Bayer Leverkusen to provide experience and security in defence, with Swedish midfielder Emil Forsberg signing for the club in 2015, who was voted best player in 2. Bundesliga last season. The decision to bring Naby Keita to East Germany from RB Salzburg this summer is looking to be an exceptional piece of business, as the Guinean midfielder is consistently delivering complete central midfield performances in the early stages of the season. Though most notably of all, 19-year-old Scot Oliver Burke became the club's record signing for £13 million from Nottingham Forest in August, who has been dubbed by some as the 'Scottish Gareth Bale'.
All of the above mentioned players have a combined average age of 21.7.
Despite this exemplary transfer activity, the players can't win matches by themselves. They need to be implemented into an effective and appropriate tactical system to allow them to be successful in the Bundesliga, and coach Ralph Hasenhüttl is providing just that.
The System
This is RB Leipzig's base structure, 4-2-2-2, a slight variation of 4-4-2. The players displayed made up the starting line-up for Leipzig's last match against Augsburg. The defence has been kept consistent for the duration of the Bundesliga season so far, with the midfield and attack being rotated regularly thus far. This is a similar system to that of Roger Schmidt and Bayer Leverkusen's 4-2-2-2.
The team is compact defensively, allowing minimal central penetration by positioning themselves within close proximity of the centre of the pitch. This means that against teams that are attempting to build up possession out of defence, they are forced into wide areas, as this is where the only space available resides. Once the ball circulates to these wide areas, Leipzig initiate an aggressive press. Their ball-orientated shifts towards either side of the pitch immediately close the space that was just moments previously available. This really limits the opposition player's options on the ball. Not only are they in a wide channel of the pitch (which limits passing angles and options due to pitch boundaries), they also have no time to make a thoughtful decision on the ball as a consequence of Leipzig's onrushing pressers. This usually results in being directly tackled, having their attempted pass to a teammate intercepted, or being forced into playing a long pass towards their forwards, which is inefficient and results in the Leipzig defence regaining possession and starting an attack for themselves.
This can really disrupt possession-orientated opponent's attacking rhythm, especially those who focus on occupying and penetrating central areas. This was the case on September 10th against Borussia Dortmund, where Leipzig were able to shock the German giants by beating them 1-0 at the Red Bull Arena, largely because of Leipzig's defensive scheme. This is illustrated below.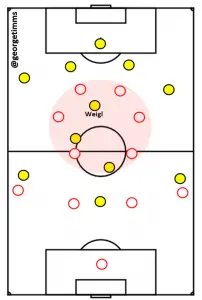 BVB's build-up play is predominantly focused around defensive midfielder Julian Weigl, who generally displays excellent positioning, vision and passing ability, operating as Dortmund's key central outlet in the defensive phase of the field. However, Leipzig's compact defence, orientation of players high up the pitch and resulting numerical superiority meant that Weigl could not be accessed at the frequency the away side desired. Passing angles and space to pick out the young German were extremely limited, forcing BVB to build-up through their full backs, spurring the Leipzig press.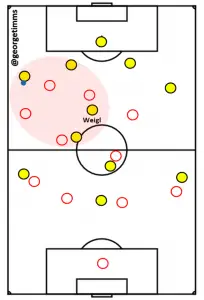 As the ball has been played to BVB's right back, Leipzig have aggressively shifted to his side of the pitch, limiting the space that was available in this area moments ago (as seen in the previous image). It is almost impossible to access Weigl in the centre of the pitch. The right back has limited, if any, passing angles to his teammates available, whilst his time on the ball to make a decision is minimal.
This was a common occurrence throughout the match, meaning Dortmund's attacking rhythm was inconsistent, and they weren't able to muster up a shot on target throughout the whole match. (As previously stated, Leipzig's 4-2-2-2 is similar to that of Bayer Leverkusen's, who were also victorious against BVB in a 2-0 victory on October 1st).
On the occasion that the opponent's central midfielder is accessed, the compact 4-2-2-2 allows Leipzig to close his space with great speed.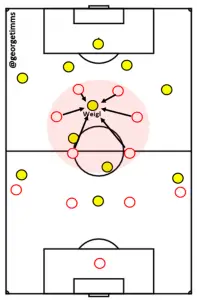 4-2-2-2 is normally more effective to press opponents than a 4-4-2 due to the increased layers within the formation, which allows direct access to a higher number of areas of the pitch. This improves initial positioning to mark opponents, whilst also being in closer proximity to press them. Leipzig's 4-2-2-2, crucially, allows the wingers to access the opponent full backs to greater effect than a 4-4-2 would as they are positioned higher up the pitch in a 4-2-2-2. This is illustrated below, where it is clear that a 4-2-2-2 sets Leipzig up to execute their wing-orientated press to greater effect, whilst also aiding the team to close off central passing lanes for the opponent to exploit.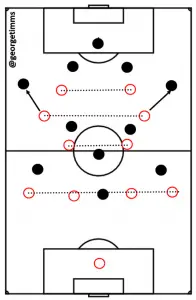 Counter Attacking Style
The Bundesliga is a counter-attacking orientated league. The majority of teams deploy a 'reactive' style of play, allowing their opponents to take the initiative and control the ball. However, having possession is not necessarily having the initiative. E.g. controlling the space in the defensive third is likely to be essential to the reactive team's game, so they may be able to get the same benefits from possession through controlling space. If the reactive team are successful in flooding lines just outside their box and the opposition are forced to pass in deeper areas and down the channels, then it's a job well done for the reactive team. Statistically, chance creation percentages are not as high for wing-orientated attacks than central. Therefore, possession stats of one team may need to be compared against where the passes were in relation to the reactive team's controlling of space. Control of the ball compared to where the ball is played.
This is how Leipzig's strategy against opponents, such as against Dortmund as discussed earlier, is deemed to be effective. Their compact 4-2-2-2 forces the opposition to play around the centre of the pitch, not through it.
This reactive style goes hand in hand with counter-attacking football. Whilst defending in deep banks of four, Leipzig are well equipped to break forwards and threaten the opposition goal whilst they are in a state of defensive transition and disorganisation. This danger is established by Leipzig due to the type of players they possess. Players such as Poulson, Selke and Werner possess great pace which can be used to expose the opposition's disorganisation in this transitional phase of the game.
Furthermore, when settled into possession in the opposition half, Leipzig are also capable of controlling the tempo of the game. Individual isolations of the wingers and forwards along with through balls from deep areas allow them to create numerical scoring chances. This often demonstrates that Leipzig's system is adaptable, displaying various characteristics depending on different situations within the match, and on the different opponents they come up against. This allows them to be unpredictable and more of a challenge to defend against.
Conclusion
The future is very bright for Die Bullen. It is certainly a refreshing change for a competitive team to reside in East Germany. Of the country's World Cup winning side of 2014, only Toni Kroos was from East Germany. The club's financial power accompanied by their young core is bound to generate continual growth of the club as a whole, which may see them challenging Bayern Munich and Borussia Dortmund for league titles sooner than you think. In regards to the immediate future and this season, things are looking on the bright-side too. According to @Goalimpact's 'expected points' model, RB Leipzig are expected to finish in 6th place, with a 54% chance of playing European football next season. The model also gives RB a 24% chance to be playing in the final stages of Champions League group stage qualification. The last team to be promoted to the Bundesliga and qualify for European football the following season was Kaiserslautern in 1997/98, who actually ended up winning the league. Though this unprecedented achievement may be out of reach for Leipzig, the odds are in their favour to be playing in Europe next season, and it will surely be fascinating to see where the Bundesliga newcomers finish come May.