Let's take a look at the kind of chances that Bundesliga sides are creating this season.
The types are:
Situation (open-play, corner, direct free-kick etc)
Open play (six-yard box, outside penalty area etc)
Game state (scores level, trailing by one goal etc)
Timing (0-15 mins, 15-30 mins etc)



As most readers will no doubt already be well aware, expected goals (xG) metrics assess the quality of a chance by comparing it to large numbers of similar previous goal-scoring opportunities.
The "xG totals" heat-maps used here show us the sum xG of each type of chance created by a side.
Red indicates a high total compared to the other teams, blue denotes a low number.
These convey areas of relative strengths and weaknesses of teams in terms of chance creation.
So if we look at the situation xG totals below for the 2019-20 season, for example, we can see that:
Bayern created an incredibly high amount of xG from open play, but they generated very little from set pieces.
Conversely, Union created a large amount of xG for the league from set pieces, but they produced very little from open play.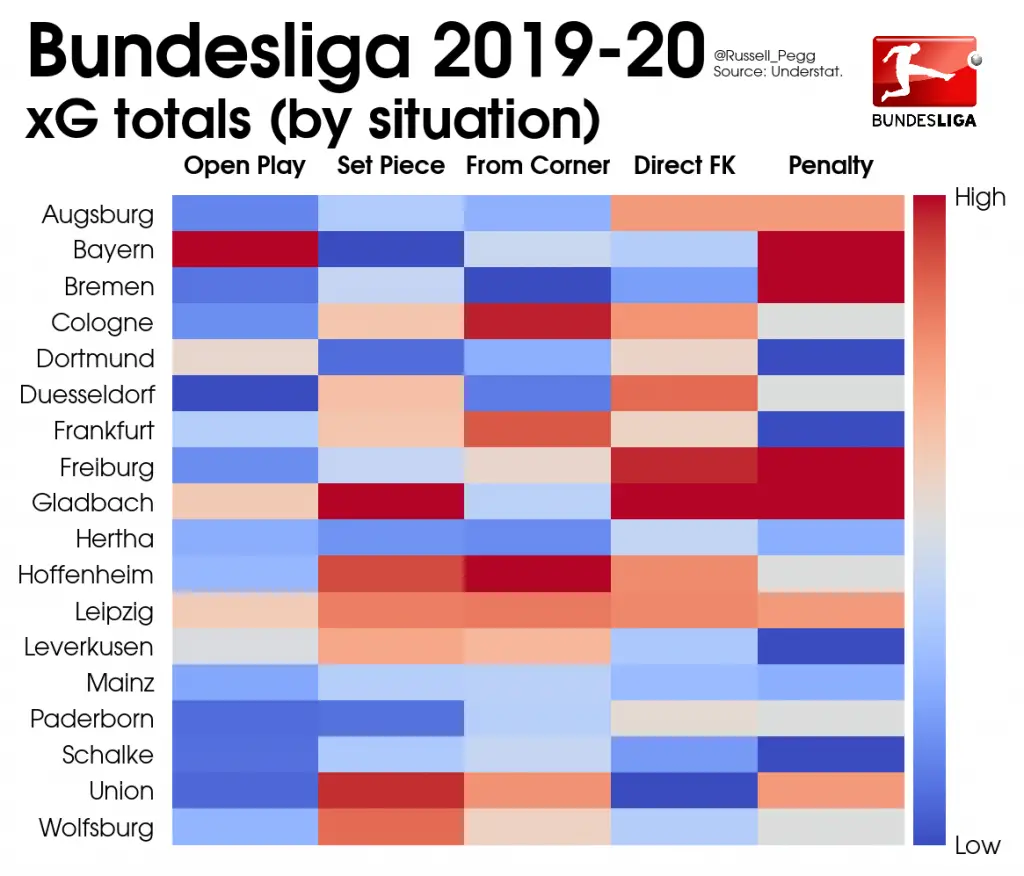 The "xG percentages" heat-maps show us the proportion of a team's overall xG generated for each stat. Again, red indicates a high proportion and blue means a low percentage.
These depict what types of chances teams rely upon generally, which can differ markedly from a side's xG totals. That in turn allows us to assess the (in)efficiencies of a team's approach.
For example, if we look at the situation xG percentages heat-maps below for the same 2019-20 season, we can see that:
Dortmund generated an extremely high proportion of their overall xG from open play, even though the xG totals heatmap above shows that Dortmund didn't actually produce a very high total xG from open play. So that may well have been an area of inefficiency for BVB.
Similarly, Dusseldorf created a very high proportion of their overall xG from set pieces, even though the totals heatmap above shows that Dusseldorf didn't produce a particularly high total xG from set pieces. Again, that looks like an area of inefficiency.
Conversely, Gladbach generated a low proportion of their overall xG from set pieces, even though the totals heatmap above shows us that Gladbach produced a league-high total xG from set pieces. That's a sign of high efficiency in this kind of chance creation.
There are of course instances when the two metrics do tally: for example, Cologne produced both a very high total xG and a very high proportion of their xG from corners.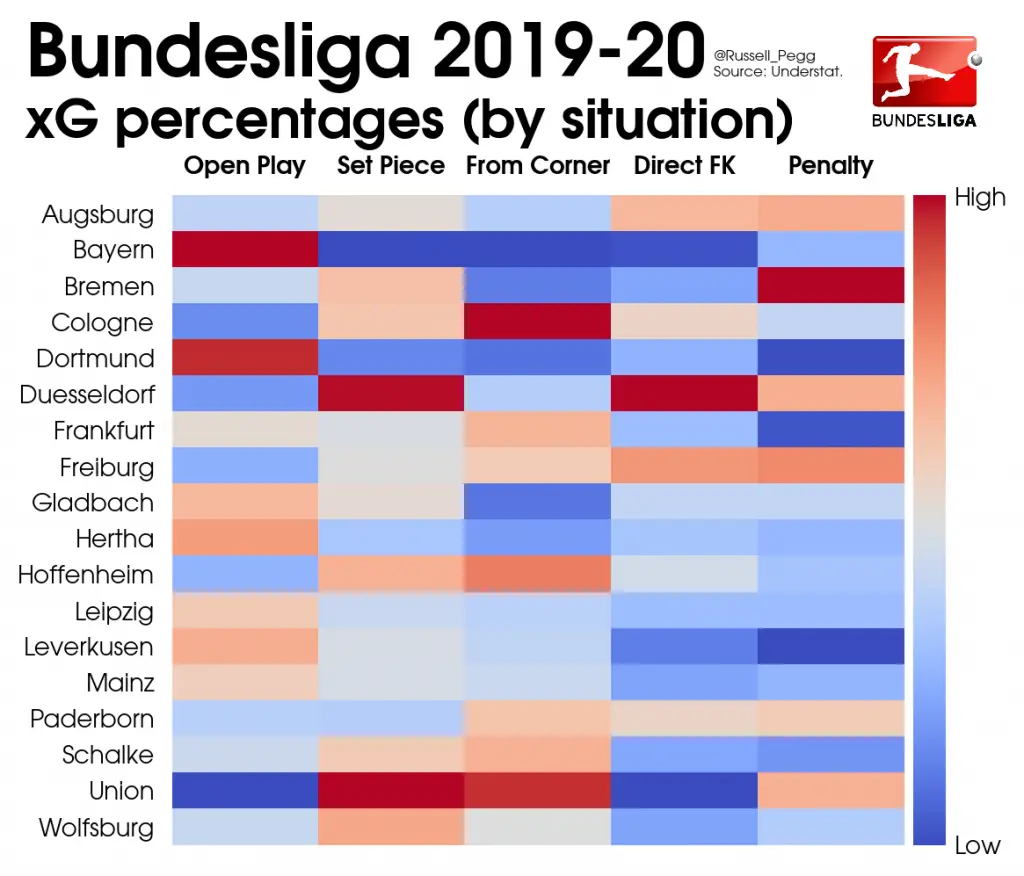 Finally, the "net xG" charts show whether teams are posting a positive or negative overall xG for each type of chance.
While the xG totals heatmaps only assess teams' chance creation, these net xG graphs reflect both a side's chance prevention and chance creation.
Situations
Moving on to the current Bundesliga campaign, we'll start with shot situations.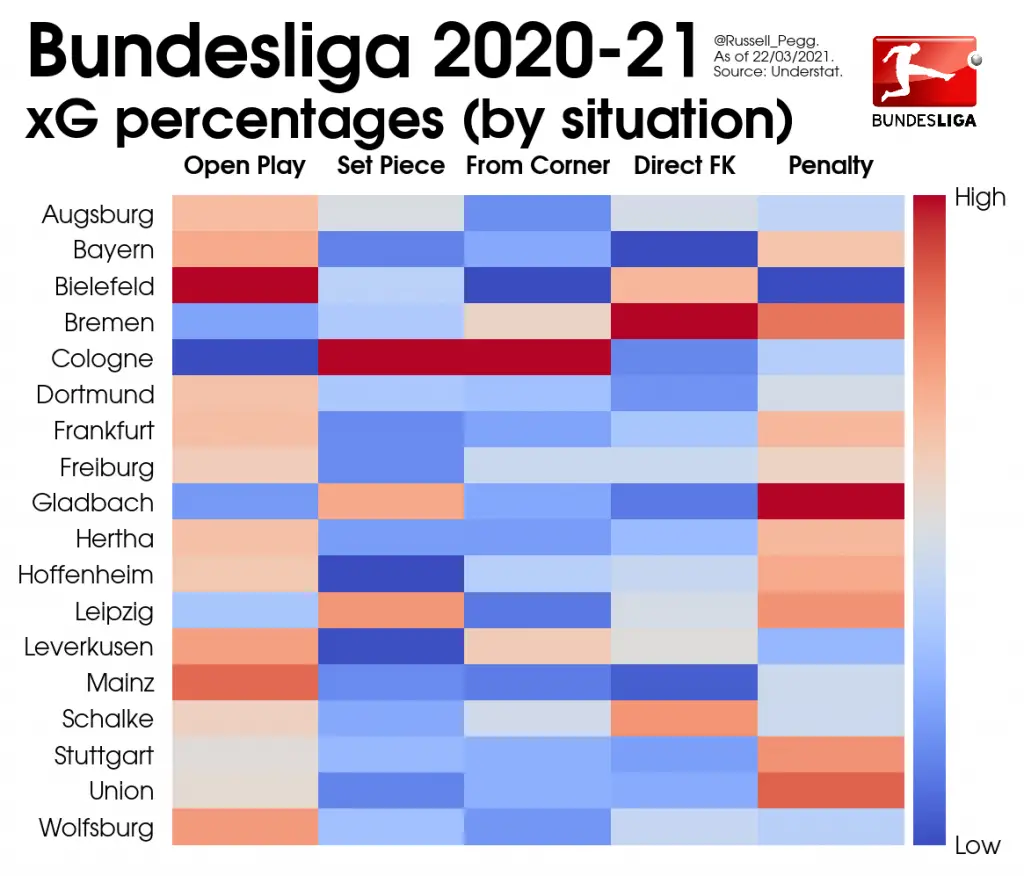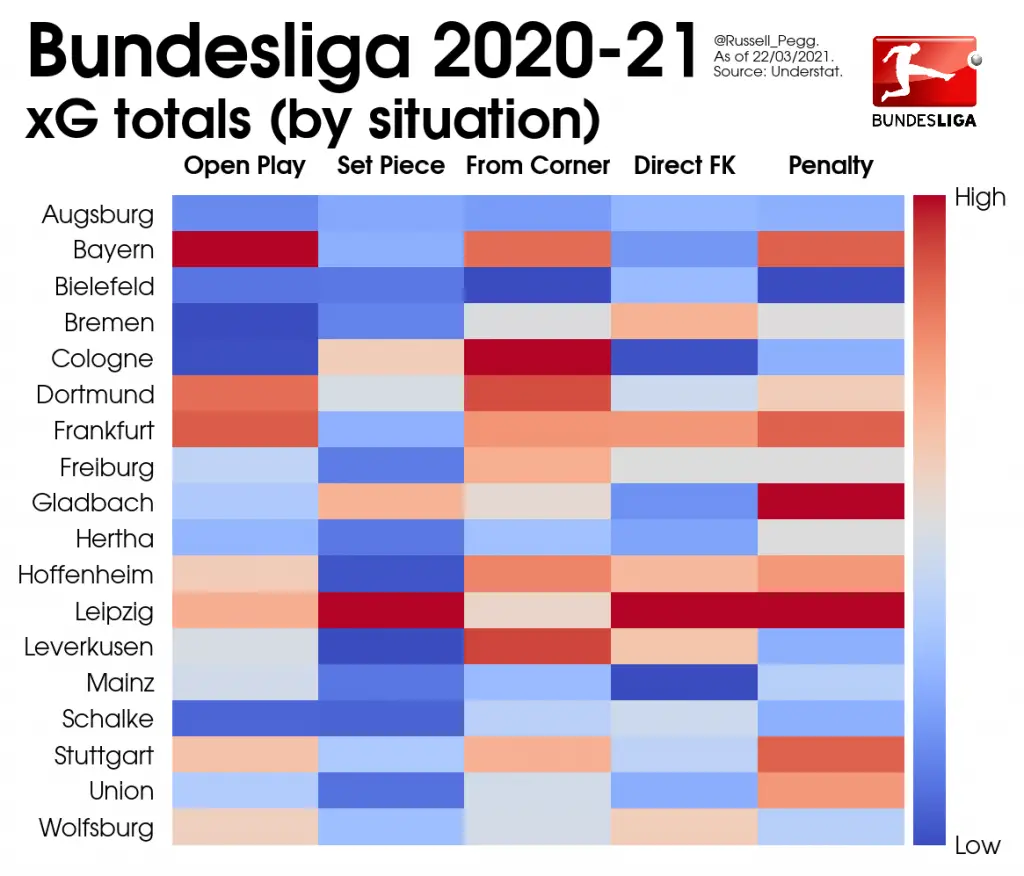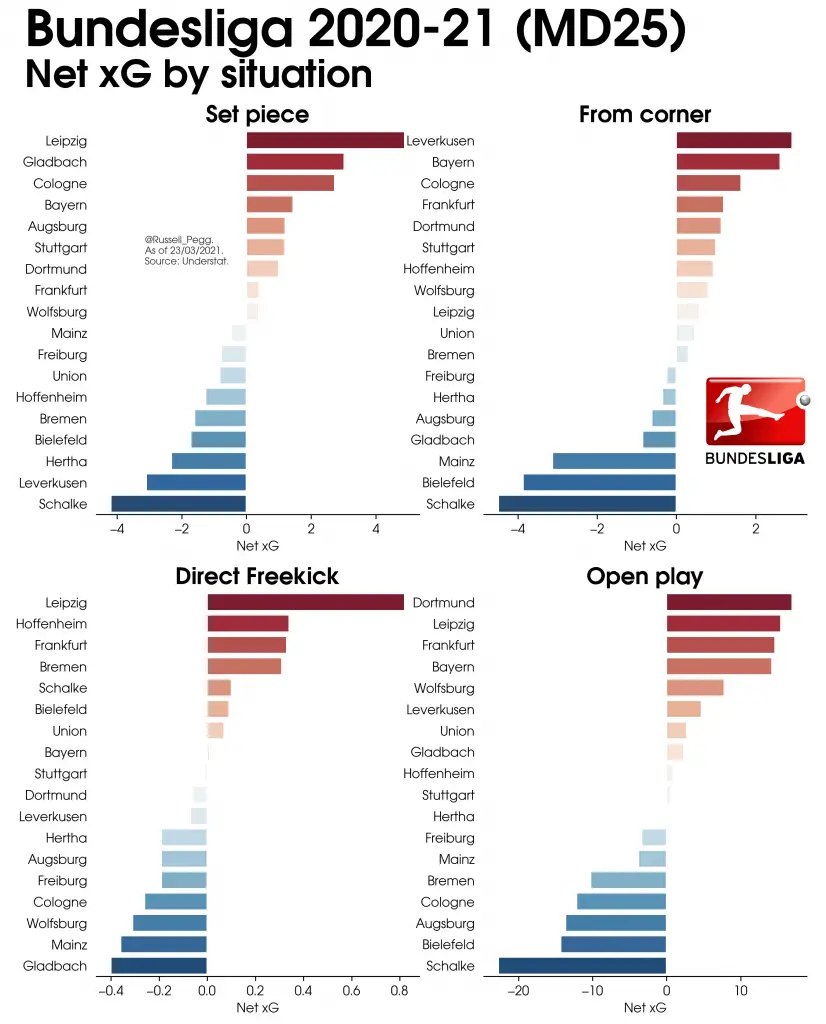 Some obvious takeaways:
Remember Marco Rose's freewheeling, buccaneering Gladbach side from last season? Well, that's a thing of the past. They've barely outperformed their opponents in open-play xG this term, and a league-high 17 percent of their xG has come from penalties.
And remember Markus Gisdol's freewheeling, buccaneering Hoffenheim side from a few years back? That's also a dim and distant memory. No other Bundesliga side creates a lower proportion of their xG from open play than Gisdol's Cologne team, which is also glaringly reliant on corners for producing chances.
Only Sampdoria and Burnley create a greater percentage of their xG from corners in the big five European leagues. For obvious reasons, that doesn't tend to be a sign of a team that's good to watch.
Bielefeld don't create much, but at least much of what they do create comes from open play, though their numbers are skewed a little due to them being the only side in the big five leagues yet to be awarded a penalty this season.
While it's a surprise not to see Bayern at the top of the net open-play xG rankings, they, Frankfurt, Dortmund and Leipzig are still streets ahead of the rest of the league.
The reputation that Oliver Glasner's Wolfsburg team have for being grimly effective may be a little unfair.
Leipzig are the Buli's undisputed free-kick specialists.
Timing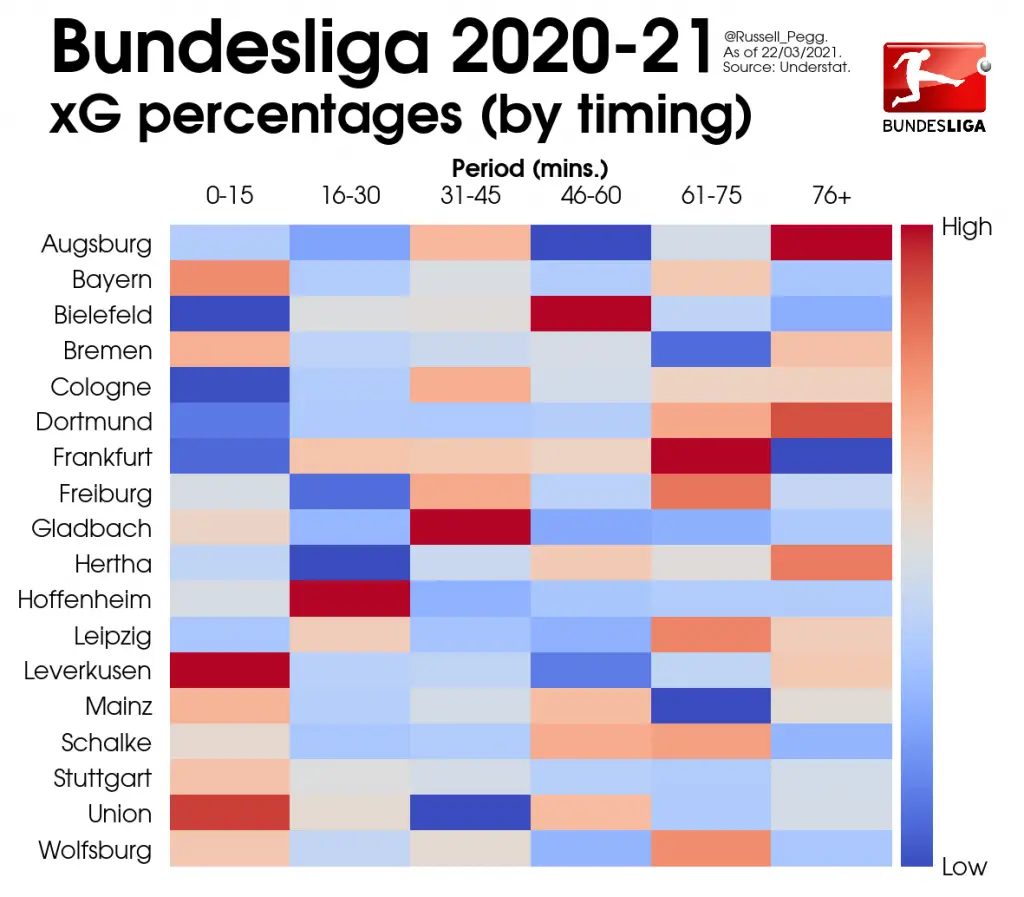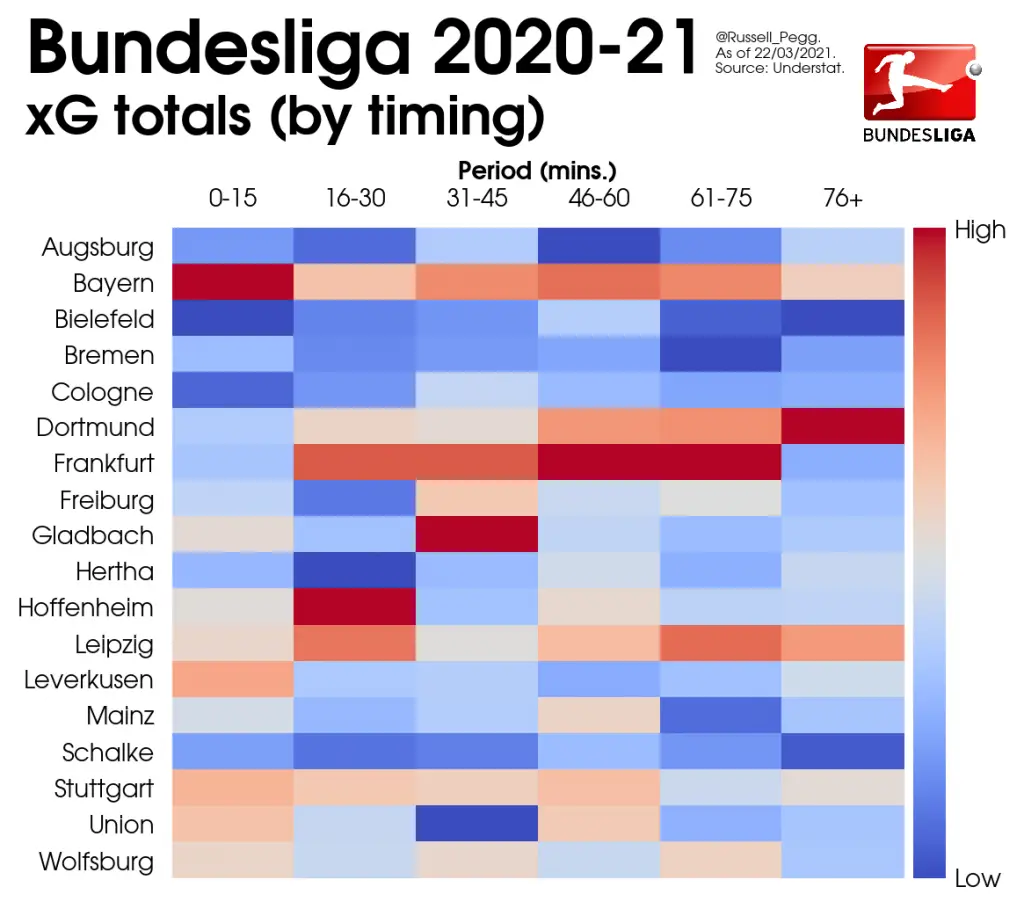 Bayern begin both halves like a freight train.
Union tend to start well and then fade.
Schalke start badly and then fade.
Dortmund are a real slow-burn of a team that often doesn't hit its stride until the second half of the second-half.
The half-time team talks of Peter Bosz (who's been sacked since this chart was created) and Markus Gisdol don't seem to be very effective.
Augsburg have done a lot with very little.
Frankfurt start and end matches poorly but are fearsome in between.
Gladbach come alive just before half-time. And then go back to sleep.



Game state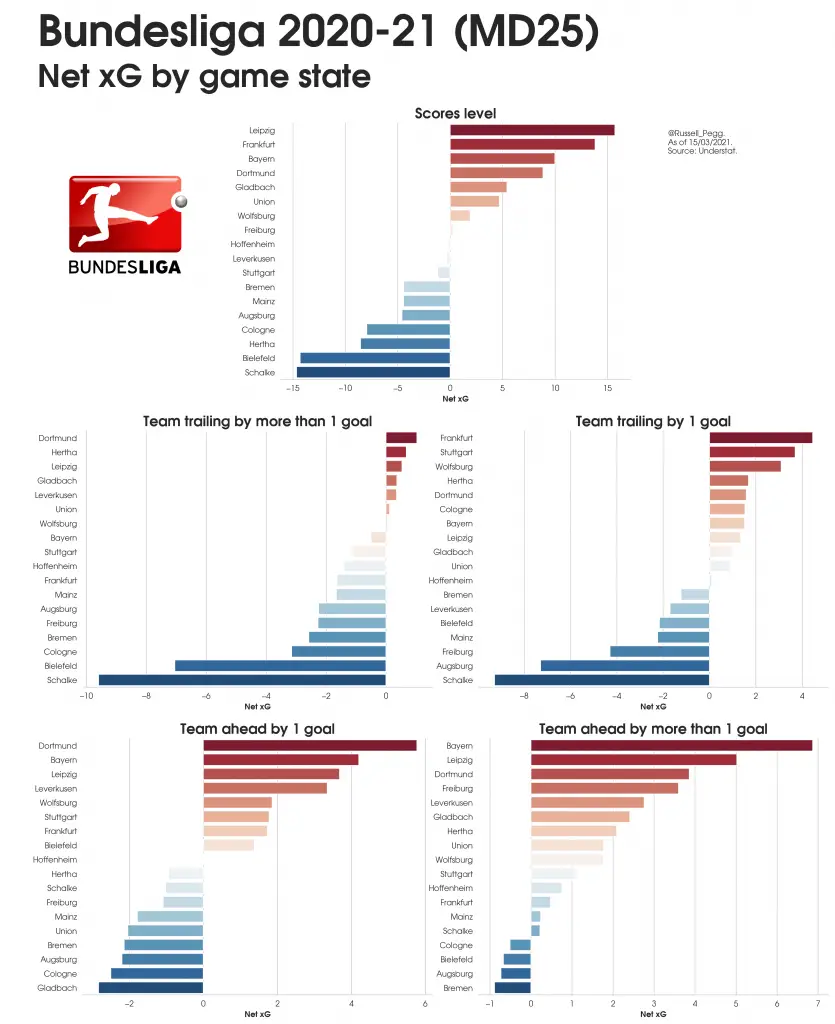 Hertha don't seem to start playing until they go behind.
Gladbach are at their most vulnerable when they go a goal up.
Bremen and Cologne are not good at protecting leads.
Schalke are considerably less bad when they're ahead – but they've only led for 142 of the 2,250 Bundesliga minutes they've played this season.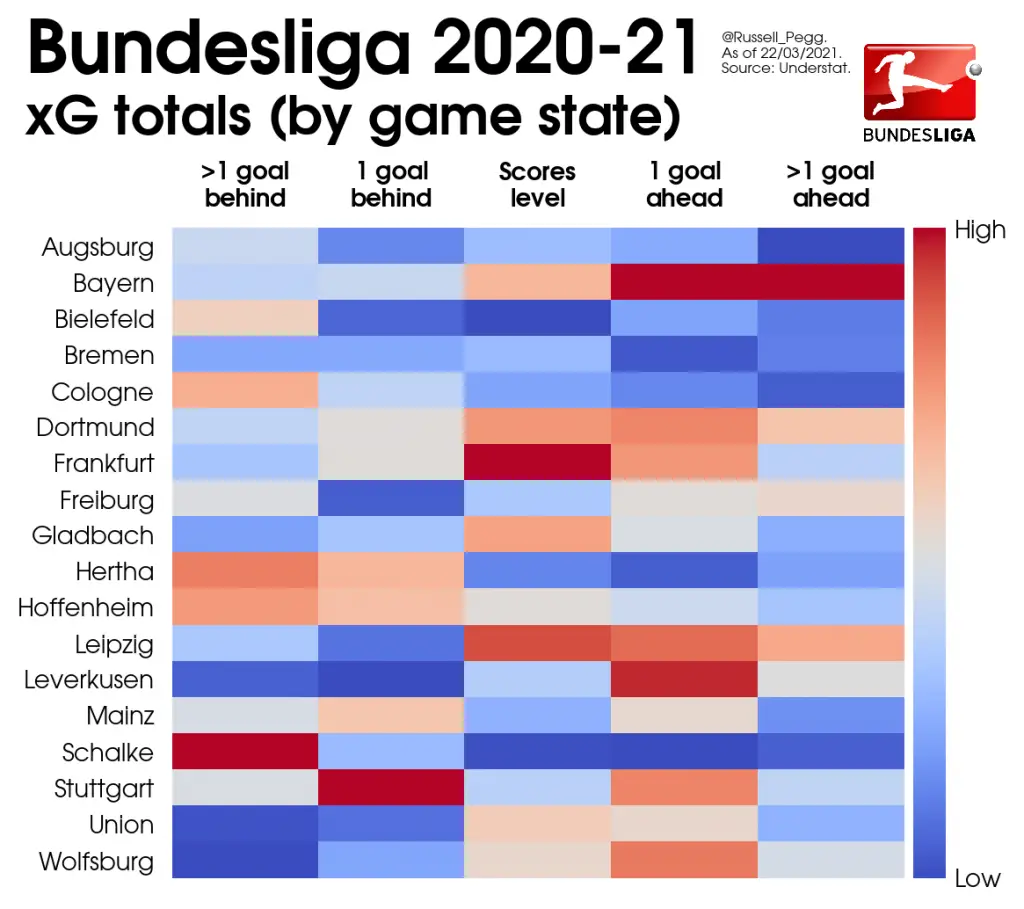 Hertha definitely don't start playing until they go a goal down.
Bremen definitely seem to stop playing when they go a goal ahead.
Scoring the first goal is more crucial for Leverkusen than any other Bundesliga side.
Stuttgart are the Buli's comeback kings.
Comebacks are nigh on impossible once Bayern have taken the lead.
Frankfurt seem to be perfecting the art of doing just enough to get a result.


Shot zones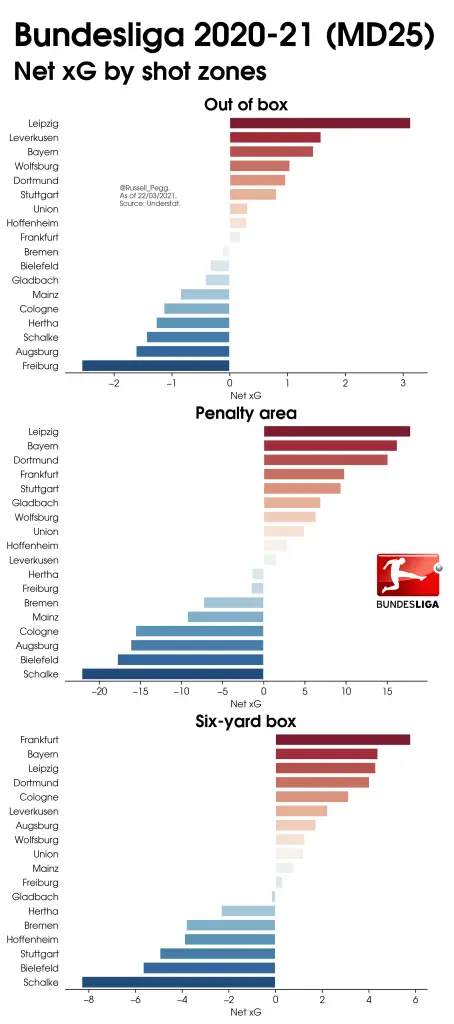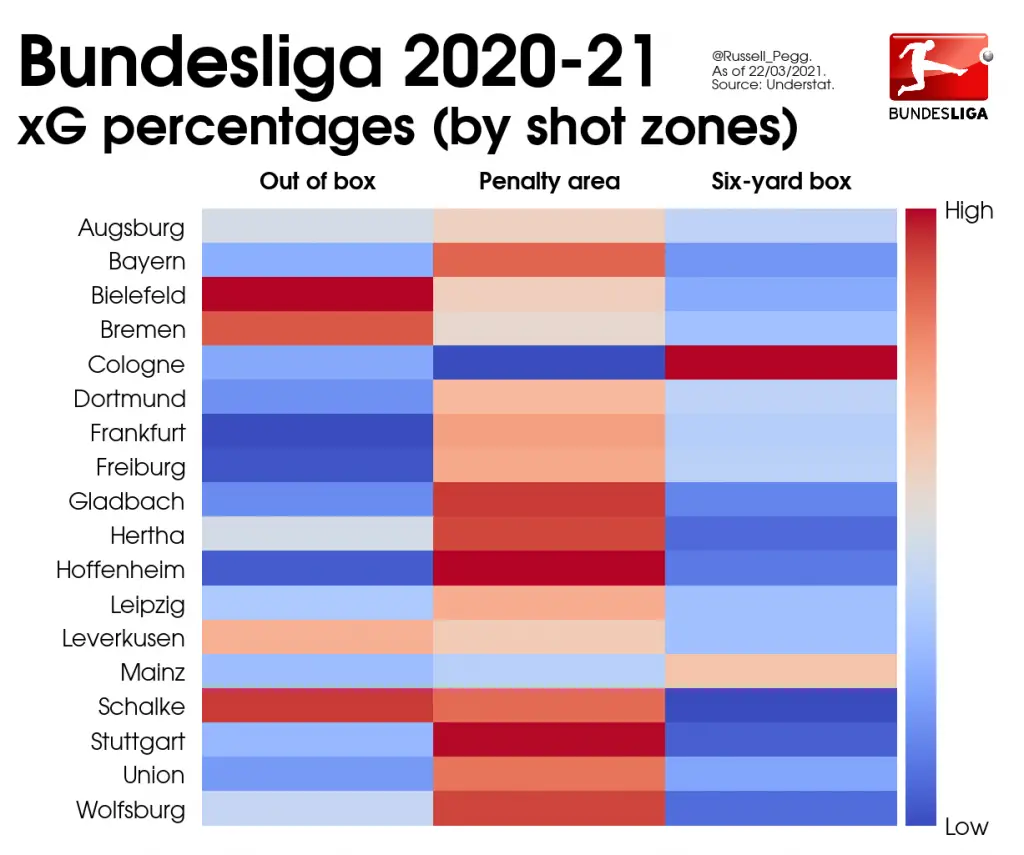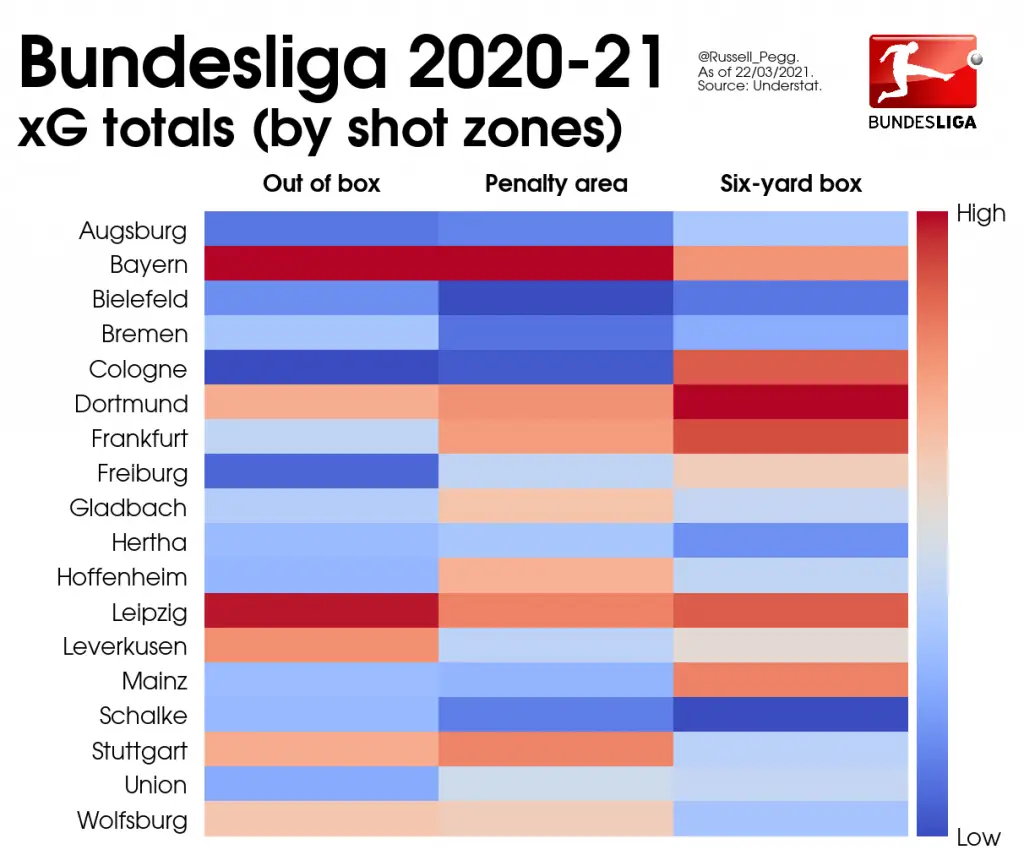 By Warren Pegg.