On Saturday night Borrusia Dortmund traveled to the BayArena to battle Peter Bosz's Bayer Leverkusen. Dortmund have scored 15 goals during the Ruckrunde period, the first team since Gladbach in the 1966/97 season to do so. Whereas Leverkusen came off a disappointing loss to Hoffenheim which ended a three match win streak. Dortmund had only lost one of their last 12 meetings in Leverkusen, and they lost 4-0 at the Signal-Iduna-Park earlier in the season putting history against Die Werkself.
There was boatloads of talent on display between the players and coaches. Today we will take a look at how this talent and tactics collimated into a Bundesliga classic and the match of the weekend across Europe.
Lineups
Peter Bosz set his side out in a 3-4-3 variant. Midfielder Charles Aranguiz missed out through injury. The back three featured a debut of a great prospect, youngster Edmond Tapsoba at left centre-back. Daley Sinkgraven continued his runs of starts since the new year. Kai Havertz was in the attack and would look to makeup for his performance from earlier in the season against the Black and Yellow.
Lucien Favre came out with his signature 4-2-3-1 which was interesting considering the uses of a back three in his previous two Bundesliga matches. Captain Marco Reus was not available for the match. Achraf Hakimi's role was altered as he was pushed forward into role that could be described as a right-sided winger which saw Manuel Akanji shift to right-back. New signing's Emre Can made his debut and Erling Braut Haaland looked to continue his run of outstanding form scoring a goal every 19 minutes.
Pressing and pressing solutions
Bayern Leverkusen have showcased fantastic pressing statistics throughout the season, only allowing 7.42 passes per defensive action, only bettered by Bayern Munich. Both team's pressing schemes played a huge role in this match and both managers were able to make solutions for their team's through their own unique methods in their tactics.
Firstly, Leverkusen pressed in a man oriented scheme which primarily focused on preventing central progression as passing angles were marked off to Axel Witsel and Emre Can. It also left Dortmund in a 5v5 in outfield players. Favre's solution was interesting and it was to use goalkeeper Roman Burki as a 6th man during this phase of play which created a 6v5 against Leverkusen's press. This then allowed them to rotate the ball quicker form side-to-side and then one of Zagadou or Akanji could make a pass to Sancho or Hakimi to progress the ball forward. Burki completed 75% of his passes.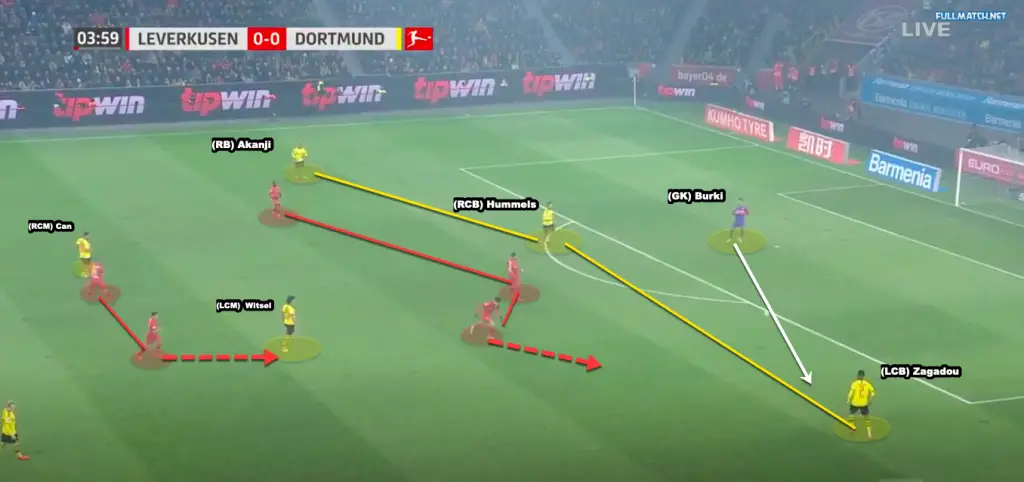 Haaland of course is well renowned for his incredible capabilities inside an opposition penalty box. Already scoring seven Bundesliga goals in four appearances and two starts. But he offered a huge tactical advantage to Dortmund on the day and acted as an outlet. With play starting with the goalkeeper, Burki could pick the Norwegian international out with a long ball. In-turn bypassing the opposition press and Dortmund players would position themselves to win the 2nd ball. In the image below it begins the sequence of Dortmund's second goal highlighting the value to this part of Favre's tactics. Burki attempted 16 long balls.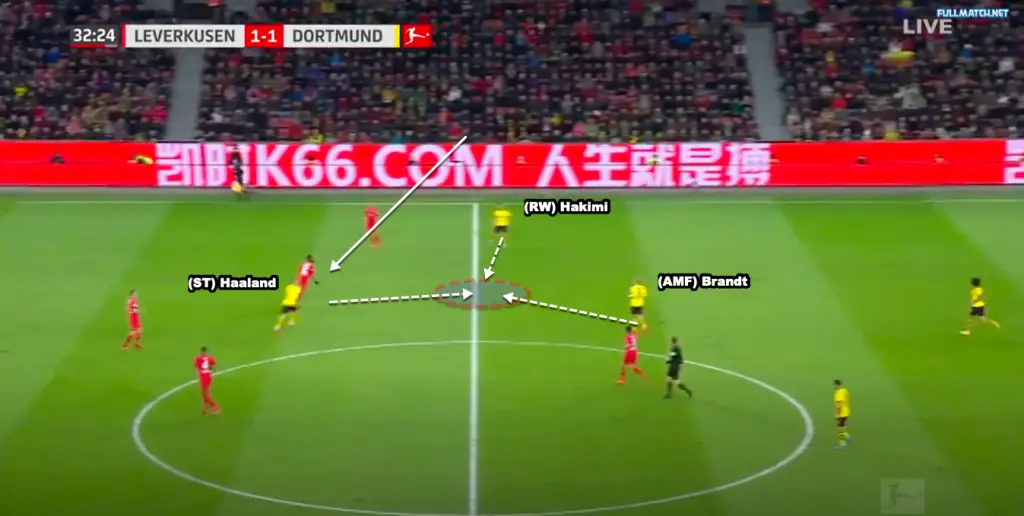 Overall Leverkusen's press can very well could be labelled as ineffective and opened space up for Dortmund to exploit rather than create turnovers and win possession. Dortmund pressed in a 4-4-2 and 4-2-3-1 in the second half. In the first half they looked a lot more unorganised as they too looked to prevent central progression through the double pivot. Bosz's solution was to have one of Diaby or Havertz drop into space in-between the lines of pressure. This created a 2v1 in the situation below where the left-back Sinkgraven, was able to push forward into space and receive the ball.
Through analysis we can see how this piece of tactics from Bosz directly influenced the scoreline. As Leverkusen's first goal came from a sequence of play created by this. The space exploiter himself, Kai Havertz, did what he does best and found a gaping hole in Dortmund's press. From here he used his excellent technique to take down the long-pass from the goalkeeper and send Leverkusen forward to exploit Dortmund's unorganised shape.
My guess would be Favre did not prepare to press a back three and it was apparent with his 2nd half adjustment to a defined 2-3-1 press. Which successfully baited Leverkusen into passing into the wide areas which would set off a pressing trigger and collapse onto the wing-back who would be left into a 3v1 situation and be forced into a turnover. This was much more organised, effective and successful.
Sancho wreaks havoc
Jonathan Tah as a right centre-back served great purpose and functionality for the team in possession but without there was problems. This left Tah, who is not known for his pace or athletic ability, in a complete mismatch against the tricky and quick Sancho who had a field day against the German centre-back. Bellarabi would not track Sancho's movements which left Tah with no support, meaning Sancho would receive the ball in lots of space. In the image below you can see Sancho receives the ball and Tah is caught in a terrible position with loads of space behind him, the Englishmen blasts pasts him and carried the ball forward.
Tah would not commit into challenges in fear of getting burned for pace and this would leave Sancho with time to access and wait for movements around him. Sancho created four chances from open play and attempted nine entriesinto the penalty area.
Favre cuts the pressure
Dortmund's effective press would be cutback once they took a 3-2 lead. Manager Lucien Favre decided to drop back and allow Leverkusen to have the ball. An interesting choice considering how shaky Dortmund's defence can be at times, Dortmund's attack can be seen as their best form of defence as they're more likely to create turnovers and win possession back through pressing. Leverkusen have generated the third most shots on target per match in the league behind Bayern Munich and RB Leipzig. You could consider it him putting an immense amount of faith in his defence but it would not pay off as they crumbled and conceded two goals in the final 10 minutes.
In the first half, Leverkusen struggled as they looked to create wide overloads but would always be found in numerical disadvantages. It also did not help that the off-the-ball movements of the Bayer players was stagnant and they could not shift Dortmund defending players to open space. Bosz brought on Mitchell Weiser at right-wingback and moved Havertz inside more which played a big role in the upcoming section
Dortmund retreating into a 4-4-2 into their own half would allow six attempted entries into their penalty area and only complete one into Leverkusen's in the final 15 minutes. The 80th minute was a breaking point as Leverkusen made a well structured sequence to score their third goal. Wing-back Weiser provided the width which stretched Dortmund's shape and allowed Havertz to come inside to the half-space. Jonathan Tah made an excellent pass which broke the midfield line and found Havertz who turned and sent Volland through on goal which resulted in a goal.
Conclusion
In this tactical analysis you saw the moving pieces in what was a match of the season candidate. Ultimately the team who maintained the pressure for 90 minutes got their reward as Leverkusen came away winners 4-3.
Dortmund's defensive collapse will come as little-surprise to many as they've conceded the most goals out of the top six in the Bundesliga. They also struggled to settle in possession in this game only having 48% of the ball which is uncommon for a Lucien Favre Dortmund team who's signature has been slow and calculated play on the ball. Peter Bosz had a great game and his tactical tweaks also contributed to a fantastic victory that now sees them two points behind Dortmund and Gladbach.
This result might look like a blow into Dortmund's title hopes now, but with much more Bundesliga football to play including a Der Klassiker and a trip to Leipzig it could still be on for the Black and Yellow.
By Craig Moniz.