With football currently on hold for the foreseeable future and my next trip to Germany in May cancelled due to the coronavirus outbreak, memories of my last footballing excursion have been on my mind with some nostalgia.
Ever since attending the Regionalliga Nordost matchup between SV Babelsberg and Berliner AK in 2017, I have been hooked on experiencing German football matches first-hand. It hadn't been until April 2019 that I had visited North-Rhine Westphalia, the country's most highly-populated and football-mad federal region.
This second trip in September of the same year would be different. After mainly witnessing second-tier action in April, this time around I would be visiting Gelsenkirchen, Leverkusen and Mönchengladbach, cities host to three household names in German football. I would be accompanied by my old university friend Ross, who was having his first taste of Bundesliga football.
The trip started in typical fashion, as our flight from Glasgow Airport was delayed by fog and left around three hours late. Of course, my main worry was that we wouldn't make the Schalke vs Mainz game that night, so when we eventually landed in Düsseldorf it was a quick rush to the hotel to check in followed by a dash to get the Gelsenkirchen train (despite my need for a shower).
My panic subsided as we arrived at the Veltins-Arena with an hour to spare before kick-off, joining the swathes of royal blue for the Friday night kick-off. Apparently you get what you pay for at Schalke, with our cheap tickets giving us a slightly obstructed view in the third back row thanks to a roof beam. Nevertheless, it was clear that this was a world-class stadium that more than matched other arenas I had been to in Germany. This is certainly helped by Schalke fans' ability to fill to capacity and produce a deafening atmosphere.
After a scrappy first half, the game came to life in the second half as Karim Onisiwo cancelled out Schalke's opener to bring Mainz level. As the game seemed to be playing out to a draw, Amine Harit scored a late winner for Schalke with an outside-of-the-foot finish and the Veltins-Arena erupted.
After the game, we had to contend with massive queues for the tram back into the city centre; however the jubilant home fans entertained themselves with various anti-Dortmund chants.
Once on the train back to Düsseldorf, Ross and I made conversation with Schalke fans heading for home in Cologne who made clear their disdain of hometown club 1. FC Köln. With supporters returning to far-flung reaches of North Rhine Westphalia, it really served as an indication of Schalke's size and popularity across the region.
The following day would be a slightly different experience, the destination being the BayArena in Leverkusen. Despite their similar recent standing on the pitch to Schalke, Bayer 04 Leverkusen have to contend with a much smaller fanbase and as such own a compact 30,000-capacity stadium around half the size of the arena I had visited the previous night.
Pictures adorned on the exterior of the stadium do serve as a reminder of the talented players die Werkself have had at their disposal in the last 25 years or so though, with the likes of Michael Ballack and Emerson on display.
The current side is not without its talent either, and this was clear to see as Kai Havertz and co. strolled through a 2-0 victory over newly-promoted Union Berlin. Early goals from Volland and Alario were enough to see off a side further disadvantaged by Sebastian Polter's red card within minutes of his introduction in the second half.
Aside from Leverkusen's team, what really stood out was the devotion of the 3,000-or-so Union fans. They continued to sing long after the final whistle, including on the walk back to the train station. At this point in the season die Eisernen gave the impression they were just happy to be in the Bundesliga, but performances since show that they no longer merely make up the numbers.
Our trip to Germany would have a climactic ending as on Sunday I would attend the Niederrhein-Derby between Borussia Mönchengladbach and Fortuna Düsseldorf, my first experience of a local rivalry in the Bundesliga. As our hometown team for the weekend, we opted for away tickets in the Fortuna end.
As such, guidance stated that we were to take the train to Mönchengladbach-Rheydt station, where we were herded onto a shuttle bus to Borussia-Park by a strong police presence. It seemed that any contact between the visiting fans and Gladbach supporters was undesirable. This was confirmed when our bus reached Borussia-Park on the outskirts of the city, as we were confined to the away section of the car park fenced off from the rest of the stadium perimeter.
Once in the stadium, alcohol would be banned for away fans (along with flags and banners due to previous derby misbehaviour), so the Düsseldorf supporters made do with beer beforehand and flocked around a fan by the name of Achim who came supplied with crates of Altbier to sell in the car park.
Once in the stadium, there was a feeling of being vastly outnumbered as the corner of 5,000 Fortuna fans in the guest block shared the ground with nearly 50,000 wearing black, white and green. However, the atmosphere coming from the away end drowned out much of the noise coming from Gladbach's Nordkurve.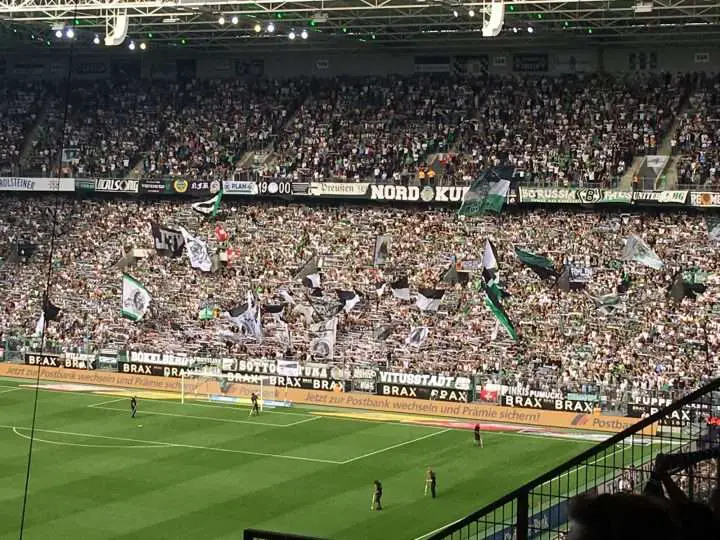 It was pleasantly surprising when Fortuna Düsseldorf dominated the early stages and took the lead through Kasim Adams. The underdogs failed to build on this though, and as Borussia missed chances their eventual breakthrough seemed inevitable. In the end, sub Marcus Thuram's double turned it around for a 2-1 Gladbach victory. The winner coming so late made it a devastating blow for Fortuna, who would have felt a feeling of missed opportunity against their local rivals.
Being in the away end at a local derby such as this was the highlight of the weekend and an experience I am eager to repeat. Although I did not know this at the time, my September trip to Germany will probably be my last for a while. When normality eventually resumes and I return, the region of North Rhine Westphalia will be high on my list to visit as a region of big clubs, impressive stadiums and most importantly- extremely passionate fans.
By Colin Moore.