The current Bundesliga champions, Bayern Munich, travelled to the German capital to battle Jürgen Klinsmann's Hertha Berlin. Hertha had finished the first half of the season with a strong defensive performance against Borussia Mönchengladbach. Further, with Bayern's inconsistent form throughout the season, based off form, the match looked to be a tough test for Bayern. Unfortunately for Hertha, they moved away from the defensive structure that proved solid against Gladbach and in a low block gave Bayern the space they needed to create an overwhelming amount of chances giving them the well-earned 4-0 win.
Line-ups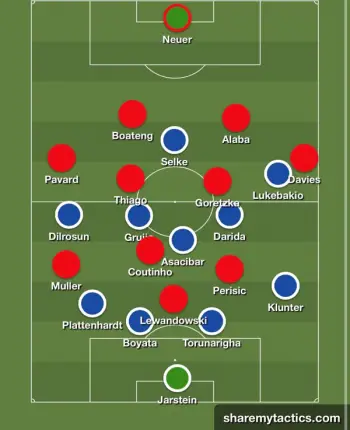 Klinsmann lined up Hertha in a 4-1-4-1. A standard backline with Klünter and Plattenhardt given freedom to overlap on the counterattcack. New signing Ascacibar was positioning between the lines in the 6 spot, more so to mark Coutinho than help transition Hertha's attack into the final third. Instead Hertha looked to the wings, as they have done before, to launch counter attacks.
Against Bayern, Hertha favoured playing counters through Lukebakio looking to take advantage of the match-up against Davies, not a natural leftback. On other wing, Dilrosun looked to drift inside while central midfielders Grujic and Darida looked for deep forward runs. Selke remained the lone striker, both looking to support attacks and make runs behind.
Bayern deployed a 4-2-3-1. The backline allowed for Davies to push much further forward while Pavard was more conservative going forward. The central midfielders did an excellent job of helping control possession and covering for Davies as Hertha tried to counter down that side. Coutinho played his natural 10 position, operating well between Hertha's lines and giving Ascacibar a handful. On the right wing, Müller practically married the touchline while Perisic on the other side pushed much further inside, attacking as another striker at times. Lewandowski was Bayern's classic 9, both coming to the ball to create and finding space to finish off chances.
Hertha's low block
Before the winter break Hertha displayed strong defensive performances, mainly by sufficating central midfield areas making life difficult for their oppoenent has teams attempted to play through Hertha. However, Hertha deployed a narrow low block against Bayern, then looking to exploit wide areas on the counter attack. This is likely because Klinsmann and his staff felt Bayern, with Müller and Perisic, would exploit Hertha's defence if they were able to play through Hertha's mid-block. Instead Hertha and the pace of Lukebakio would stand a better chance by drawing in Bayern and when they've committed numbers forward Hertha could attempt a numerical advantage on a quick counter.
The low block by Hertha worked well in the first half as Hertha were able to mark central runs by Bayern and limit chances into the box. However, the low block became overwhelmed by Bayern's possession in Hertha's half during the first 10 minutes of which pushed Hertha's wingbacks too narrow giving Bayern too much space to create. Further, Hertha's wingers, both Lukebakio and Dilrosun became dropping back, behind their central midfielders. The lack of their presence and support of Selke when Hertha won the ball was crucial as Bayern would counterpress after losing the ball and recycle possession quickly. This become the case during the second half when Goretzka shifted wide to cover Davies and the potential counter attack of Lukebakio. This accerlerated the recycling of possession of Bayern and Hertha found themselves in a deep narrow low block contiunously bombared by Bayern crosses and dangerous key passes.
Bayern's efficient attack
Bayern's attack and possession may have been aided by Hertha's retreat into a narrow low block, especially in the second half, but the ability of their central midfielders to recycle the ball, Coutinho's off the ball movements either in the box or between the lines and Müller finding wide space to create chances were vital to producing their high percentage shots.
Bayern's statistics reflect their dominance in the final third as they completed 604 of their 690 attempted passes, 131 of which were in their attacking third and 16 completed inside Hertha's penalty area. As Hertha's wingbacks remained narrow, Müller, Davies, and Perisic took advantage by producing 37 crosses. The most crucial positioning mistake by Hertha was the space Plattenhardt gave to Müller. The German was able to create space by hugging the touchline and without immediate pressure play accurate passes into Hertha's penalty area. Müller created an assist, two shots that led to a shot on target, and attempted 9 passes into the box.
Bayern's attacking threat was well supported by Thiago. Thiago dominated the central area as Bayern sought to recycle possession through the creative midfielder, he completed 49 out of 54 forward passes. Bayern's play fully demonstrated they were ready to defend their league title. However, the biggest question of their team, the quality of their makeshift backline, was rarely tested. If Bayern's central midfielders can adequately cover Davies and Pavard remains a defensive minded fullback, they have the quality to see out games against most Bundesliga sides. It is safe to say, an in-form Bayern will only make the Bundesliga title race much more exciting.
By Daniel McDermott.