One of the most mouth-watering ties of the Champions League Round of 16 took place as former Borussia Dortmund boss Thomas Tuchel brought his band of superstars to perform against his old employers at the Signal Iduna Park. Since the German left BVB they've gone through numerous ups and downs with multiple managers. Hope and stability was brought to the club with current manager Lucien Favre as they have established themselves as a fierce and serious team in Europe and the Bundesliga.
So the stage was set between these two clubs who met for the first time in the Champions League. In this tactical analysis we'll see what Favre did incredibly well in both ends of the pitch and where things went wrong for Paris Saint-Germain.
Lineups
The talk of the town in Paris was whether or not Thomas Tuchel would be able to use his very attacking 4-4-2 formation that has featured through out the Ligue 1 campaign in European competitions. He would not use it and instead opt for a 3-4-3 variant. Strikers Maurio Icardi and Edinson Cavani would not make the team as Kylian Mbappé was at the point of the front three with Angel Di Maria and Neymar.
Lucien Favre continued with his 3-4-3 which Dortmund has seen much success with since their winter break. Julian Brandt and Marco Reus were not available for selection.
Dortmund out of possession
In my last tactical analysis we saw things go wrong fort Dortmund when defending their own defensive third. Being stretched and picked apart by Bayer Leverkusen. But against former Dortmund coach Thomas Tuchel, Lucien Favre got every defensive detail correct. The French capital club were limited to only 71 passes in Dortmund's attacking third.
Through an analysis of tactics we can see exactly how this was done. Beneath you'll be able to see Dortmund in their 5-4-1 shape out of possession. This worked extremely well for numerous reasons. One very important way this benefited them was how it prevented central ball progression through the double-pivot of Verratti and Gueye.
The midfield four pressed high during PSG's buildup phase which saw Witsel and Can mark them out of the game. Sancho and Hazard would also cut out vertical passing options from the right and left sided centre-backs. This created a 4v2 against Paris' double pivot and limited the influence of ball playing centre back Marquinhos. It forced them into many turnovers as Favre's side made 60 ball recoveries. Marquinhos post game said "We lost the ball often".
PSG would look for solutions during these phases but that would not come as a result of a fine detail in Favre's tactics. If a wide player such as Neymar or Di Maria came inside in-between the defensive and midfield line a centre-back would step out not allowing them to create a passing option in midfield. In the case below it's right centre-back Piszczek and Neymar. The Brazilian rarely received the ball from a vertical pass.
PSG struggles in the attacking third
If you watch PSG this season you know in their 4-4-2 players connect very well and from a tactics standpoint it's something to admire. They've scored 46 goals from open play this season the most in their domestic league and despite no Icardi boasted huge offensive fire-power in Mbappé and Neymar. However it would not be the same story with this 3-4-3 formation for Tuchel, and it would result with Favre, who has a lot more experience using the 3-4-3 formation, won this part of the battle as well.
PSG in the first half were very disconnected in attack. Mbappé specifically was massively isolated as a lone-striker, only making a staggering eight passes in the first half. Tuchel had to do something to get his star players ticking on the ball. His solution was a simple one, have Neymar come inside and allow left wing-back Kurzawa provide the width. Neymar and Mbappé had some good play in-between them one time creating a notable chance for PSG.
But in the analysis below you can see how width was not balanced in the attacking shape. Kurzawa provided width on the left but right wing-back Meunier would not manage the same on the opposite flank. This allowed for Dortmund's defenders to be compact and organised and they could not consistently create dangerous sequences.
Dortmund's success in possession
As we saw earlier Dortmund were more detailed and refined in their off-the-ball approach and the same can be said in possession during buildup and in the attacking third. During buildup they easily shifted the ball throughout the back three. The visitors could never make up their mind on when to press high and when to drop back due to the fear of Dortmund getting in behind their defensive line which the Black and Yellow did with great effectiveness on numerous occasions through out the match.
As you can see below, Dortmund got themselves into a 3v4 situation with PSG defenders out of position from one pass in-behind to Hakimi. If there was one place they went wrong this match it would be their inability to make the most out of the space afforded to them in attack. They only made two big chances and three shots on target but it really should have been more.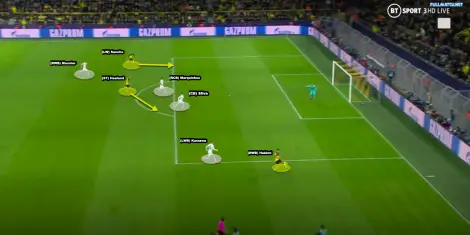 Favre took off Thorgan Hazard and brought on 17-year-old Giovanni Reyna. This saw Sancho move inside more and become more of an inverted attacking midfielder rather than a traditional winger. In this role he was able to assist ball progression greatly. Creating a 3v2 during the buildup against PSG's double pivot and a 3v2 and in wide areas creating a passing triangle with a wing-back and wide centre-back. Beneath this you can see his breathtaking passes received map and it is truly amazing to see his influence across zones of the pitch and phases of play.
In the attacking third Favre's refined shape once again beat Tuchel's. The Dortmund wing-back's provided the width which pull and stretch the defensive line making it unorganized and creating gaps to exploit. Both the now inverted attacking midfielders are occupying areas where they can make movements inside the box where Reyna does so and gets onto the end of Hakimi pass which leads to Dortmund's opening goal.
Conclusion
It was a bad performance for the returning Thomas Tuchel. He was not rewarded for trying to adapt his tactics for the opposition and despite his efforts to make solutions could not. The individual brilliance of Kylian Mbappé would grab them an away goal in a 2-1 loss.
Lucien Favre will be happy as his tactics were successful in a big match win. However Dortmund's xG of 1.4 shows how they were not able to conclusively close the door on PSG and the door is open for them to possibly turn the result over in Paris.
By Craig Moniz.