Many players have been labelled as a "generational talent", but few can claim the title uncontested as Kai Havertz can. The German came through Bayer Leverkusen's youth academy and became the youngest ever debutant of the club in 2016.
His talent has been irresistible making him a staple of the side, becoming the youngest ever player in German top-flight history to reach 50 and 100 matches played. Compared to the likes of World Cup winner Mesut Ozil as he rose through the youth ranks, he's now established himself as one of the most dynamic footballers the game has ever seen with Transfermarkt valuing him at £81 million at 20-years-old and clubs such as European Champions Liverpool and German Champions Bayern Munich chasing his signature. 
During this scout report we will explore his outstanding skills-set and the fine details that makes him the phenomenal player he is. Seeing his advanced metrics, how he influences the attacking third and the zones outside of it. 
Player Radar
Ball progression
One of Havertz's best attributes is his off-the-ball movement. He cleverly identifies pockets of space throughout multiple phases of play and zones on the pitch. Whether it be helping play through a opposition press or manipulating space against a settled defensive shape. He boasted a 0.40 xGBuildup90 last season and executes on the ball exceptionally well with 87% passing accuracy which is way above the average for an attacking midfielder in Europe's top five leagues. 
For Bayer Leverkusen he has primarily operated as an attacking midfielder given the freedom to roam the pitch. Sometimes his starting position may be wider than a traditional #10 when they played in a 3-4-3 variant but when playing a 4-2-3-1 he is much more central. 
Examining him we can see the fine details of how he produces top class sequences of play. In the analysis below, he identifies space in-between the lines of Schalke's 4-4-2 shape. This position is perfect as it asks a question of the defenders on whether they move toward him opening space and weakening their defensive structure or allowing him to receive the ball and influence the game with his quality. The German international loves to receive the ball with his back to goal, using his large frame to fend off players and his speed to turn quickly. 
Once moving into the space he knows he is going to receive the ball so he takes the second to check for what is happening around him, an important detail of a top player.
From here he sees Wendell is in space on the opposite side of the pitch and executes a switch of play which has Leverkusen in an advantageous 2v1 situation attacking the opposition box. A tactical opportunity that not most attacking midfielders in the world would recognise. He processes the game very quickly and particularly loves to look for switches of play.
Again against Schalke, this time he is assisting his team with progressing the ball into the opposition half. Schalke are pressing Leverkusen in a 4-4-2 shape that outnumbers the double pivot in midfield of Aranguiz and Baumgartlinger. Havertz from his free role at attacking midfielder is in a position to view the entire pitch. From here he intelligently identifies a gap in Schalke's press to offer Aranguiz a passing angle which breaks Schalke's two lines of pressure and eliminates six players out of the game.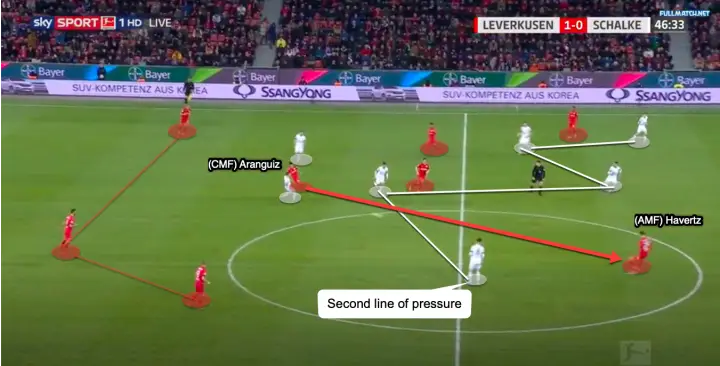 A lot of attacking midfielders of the past and present do not boast world class athletic qualities like Havertz does. He stands at 6'2 and has top technical qualities to go along with it. In the 2018/19 season he even recorded the highest speed of any Bundesliga player.
In this match against FC Porto in the Europa League you can see how these athletic qualities can offer a huge advantage. Acting as a target man and offering an outlet against opposition pressing making Leverkusen much more dynamic during their buildup phase. He has contested 81 aerial duels this season. As an outlet he also can progress Leverkusen from buildup to attacking transition with one pass. 
The contributions to ball progression do not stop to receiving and distributing the ball of course. His intelligent movements also benefit those around him in receiving the ball and creating space. Here he recognises the left-back is going to press Bellarabi on the ball thus opening space disrupting Schalke's defensive line. Havertz's movements force the left centre-back to move and open new passing angles for Bellarabi with Alario in new found space. 
Elite goal scorer
In the 2018/19 Bundesliga season no midfielder scored more goals than Kai Havertz, scoring 17 goals. As we saw in his player radar his expected goals metric is one of his strongest with a 0.39. He models world class movements inside the box that you would see in a top striker such as Edinson Cavani or Pierre-Emerick Aubameyang. 
His best moves come from making vertical runs, with his starting position from central zones. Using his electric speed and intelligent eye for space make him an absolute nightmare for opposition defensive lines. Havertz recognises when there is an opportunity to get into a goal scoring position. Whenever a ball is wide and he notices a defender staring at the ball, he sees his opportunity.
He can make a movement in-behind the defender without them knowing he's moving into the space or cleverly make a movement in front of them to snatch away what should be an easy clearance. 59 out of his 86 total shots from last season came from inside the box, and as you can see by the shot-map below from the 2018/19 season, he is very consistent at getting into these positions. 
Below he is positioned to cause problems to Hertha Berlin's high-line. The left centre-back moves to press Brandt who he anticipates will receive the ball. However, Havertz recognises the space this now opened up in-behind their defensive line and so does Aranguiz. This run by Havertz eliminates all 10 outfielders on the pitch and his pace leaves him 1v1 against the goalkeeper where he calmly chips him.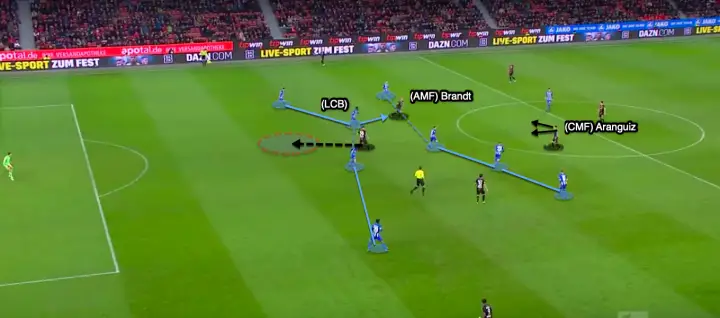 Attacking third influence
A developing misconception of Havertz is that he is just a "second-striker" or "shadow striker", and despite his fantastic qualities as a goal-scorer, limiting him to just that role could not be more far from the truth. As we detailed earlier he is exceptional at manoeuvring through many phases and zones on the pitch outside of the penalty box. But he also influences the opposition third when he is not scoring goals. He made 1.18 key passes and 1.21 passes into the penalty area per 90 minutes, and completed 84% of his passes inside the opposition half. 
This sequence is lovely, Havertz receives the ball at the top of the box. He shapes as he is going to curl the ball around the defender with a shot and the defender, as you can see by his body stance, is completely sold as he is weary of the youngster's quality. But this turns into a disguised pass to send Lucas Alario through on goal with a lovely timed and weighted pass to give him time and space to finish. Showcasing his top pass execution and vision qualities.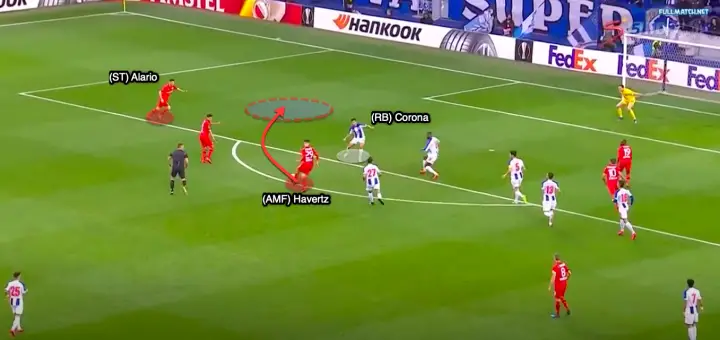 In this situation, Leverkusen are down two goals against Borussia Dortmund. The Black and Yellow have retreated into a low defensive block. With the right back providing width in their attacking structure, Havertz identifies open space in the right sided half-space to exploit. From here he can receive the ball in a position where Dortmund's defensive structure is faltered and he is given the time and space to execute a incisive pass to Kevin Volland making a run in-behind to score. 
Havertz when operating in wide spaces is able to use his fantastic dribbling skills and speed. Achieving 2.80 successful dribbles per 90 minutes is a testament to how dangerous he can be 1v1 against opposition fullbacks. This puts him into great positions to make a pass into the box or top of the box to incoming players and adds another layer to his game inside the attacking third. 
Conclusion 
Some who have not witnessed this player at an extensive level may be hesitant to buy into how good he is made out to be. But hopefully after reading this scout report you can see how Kai Havertz is not only setting the bar for the new attacking midfielder but also a footballer. His outrageous skill set that features no limitation makes him one of the scariest prospects ever seen and he's exhibited the intelligence and mentality to execute his talent producing a world class performance level.  
By Craig Moniz.