| | |
| --- | --- |
| Nickname | Die Schwarzgelben |
| Head Coach | Lucien Favre |
| Stadium | Westfalensadion |
| Bundesliga 2019/20 Finish | 2nd (Champions League) |
Another season of expectations, hope, and prayer are rapidly approaching the Ruhr valley. For Borussia Dortmund supporters, the annual question of whether Die Schwarzgelben have it in them to pip Bayern Munich for the title is in full swing.
There is a lot to be positive about when it comes to Borussia Dortmund. Under CEO Hans-Joachim Watzke, sporting director Michael Zorc and head coach Lucien Favre, Signal Iduna Park plays host to one of the most exciting teams on the continent.                                        
Boasting a host of gifted young players and influential veteran presence & leadership, many will tip them to retain their place atop the "best of the rest" table. But for a side who – on paper – are as strong as they are, the 2019/20 season served as a slight reminder that they remain under pressure on multiple fronts.
While trying to keep pace with Bayern is always a prime motivating factor, clubs in their rear-view are sure to breathe down their neck once more. It was not till matchday 25 last term that Dortmund regained second spot in the table after dropping as low as sixth before the winter break. If they are not consistently on song this season, the fight for Champions League may be a little less straightforward than desired yet again.
Likely Starting XI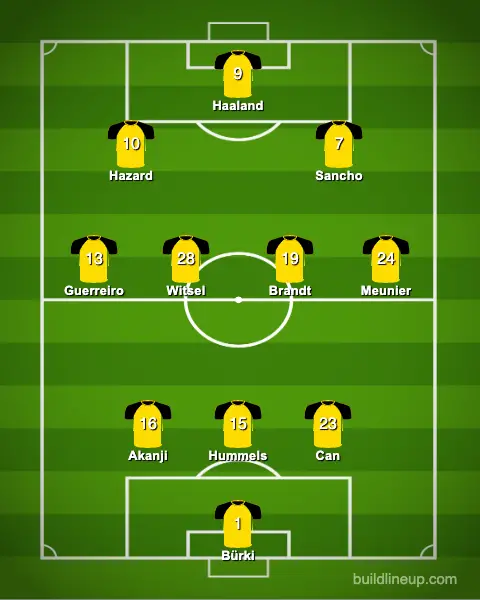 Key Man
Jadon Sancho – Forward 
There was always going to be much talk around Jadon Sancho this coming season. Maybe too much. With constant links to a move to Old Trafford looming, the spotlight has increased that much more on a young player who – without question – is one of the darlings of European football. 
On his day, Sancho is one of the best young players in the world, if not the best.  
His statistical return since breaking into the first-team is nothing short of phenomenal for a player who is predominately a wide-man. Over the last two full-seasons, the London-born wunderkind has logged 29 goals and 34 assists in 66 Bundesliga appearances, for a direct goals involvement of 0.95 per match. For a player who is not-yet 21, that is otherworldly.
But the potential issues around the England international are not if he has the ability to consistently produce, but rather, if a failed move back across the channel will see him less motivated during such a crucial season at the club.
With Marco Rose's Borussia Mönchengladbach making waves last season and RB Leipzig – though now without Timo Werner – still under the guidance of Julian Nagelsmann, there is no questioning the vital nature of Sancho's contributions to Favre's outfit. If he is on song and locked-in, Dortmund will be as lethal as ever. If his head is turned, however, they could be knocked off second or worse.
Signing to Watch
Thomas Meunier – Right-Back
It would have been far too easy to say Jude Bellingham or Reinier, would it not? While it is incredibly hard to overlook all the buzz surrounding Dortmund's latest young Englishman to trade Albion for the industrial heart of Germany, Meunier has massive shoes to fill.
In Achraf Hakimi – now at Inter Milan – Dortmund were privileged to have a right-back who could do it all. Confident and smooth in possession, exhibited excellent pace going forward, was able to track back at speed, and most importantly – offered residual creativity from wider areas.
Hakimi's ten assists in the league last term was good for joint-eight in the overall stats column, and joint-second for defenders. Hakimi's all-action ability afforded Favre greater tactical flexibility, and a genuine additional threat in the final third. With Meunier, there are far more questions than answers.
Having lost his place at Paris Saint-Germain, and never offering up more than four assists across a full league season at any point in his career, Dortmund have effectively been stripped of one of the key assets in what made them such a nightmare to defend against. 
It is hard to look at the Belgian international and see where he can possibly stack up in comparison to Hakimi. Though experienced, the 29-year-old lags behind in nearly all departments when standing next to the Moroccan. If this did not raise enough questions, so too much his ability to remain consistent.
Middle ground will not be enough come the end of the season. Meunier will have to fill Hakimi's place, and fill it well, else it could end up being one of the achilles heels of their campaign.
Strength
A strong central core  
Far be it from me to speak against the nature of Dortmund's ability to – hopefully – score a truck-load of goals through Sancho, Håland, Reus, and a multitude of residual players, but for me their greatest strength is the center of the park. 
On the surface the usual names stick out in neon lights; Brandt, Witsel, and Delaney. Whether all three will be in the same XI week-in week-out remains to be seen, but the aforementioned have a vital role to play in Favre's system. 
But added to the impressive trio is a second layer that speaks to the depth on show. Emre Can could well deputise at the back, but at his core, he's a central player of note. Raph Guerreiro regularly is deployed on the right, but has also shown an ability to come centrally and contribute effectively. Mahmoud Dahoud often divides opinion due to a lack of consistency, but on his day, he's a very, very good player who can effect a game. And then of course you add Bellingham's rapidly-rising stock as a player who legitimately could break into the XI more than many first aspected.  
This does not take into account American youngster Giovanni Reyna (deployed as an 8/10 hybrid against MSV Duisburg) either. Favre can call upon a wealth of ability and tactical flexibility in central areas; a trump card that so often defines an entire season. It will be as important as ever.
Weakness
Lack of depth at either end 
After a run of matches that saw Dortmund draw five of eight matches during the 2019/20 season, Favre shifted the team into a dedicated three-at-the-back system on matchday 13 against Hertha Berlin. He has not looked back since then.  
The switch has been a good one, of this there is no doubt. But the key factor surrounding it going into the current season is a lack of depth that could be exposed if the worst-case scenario comes to pass. With Champions League football on the cards as expected, and a season that will likely prove to be as hotly contested as ever, Dortmund go into the season with just three natural center-backs in the first-team. 
Dan-Axel Zagadou comes into the campaign already sidelined with a knee injury, and as such, Can has been utilized as the right-sided option against Duisburg in the first round of the Pokal. Any further injury concerns that may crop up to either Akanji or Hummels could spell disaster. 
Much of the same could be said further forward. Brilliant though he is, but Håland represents Favre's only true option at center-forward. Yes, Reus can be deployed there to some effect, but a long-term option in such deployment would be less than ideal.  
Dortmund supporters must wait with considerable levels of anxiety to see if their luck will run out or not.
Verdict
Unfortunately, it's hard to look past Bayern to lift the trophy once more. But the biggest questions that surround Borussia Dortmund are whether they'll end the 2020/21 campaign in second-spot. 
Fans will be encouraged by the massive questions surrounding the likes of RBL's assumed struggle in replacing Timo Werner's goal output, while Bayer Leverkusen have not done enough to fill the void left behind by the departures of Kai Havertz and Kevin Volland.
It is a fair assumption to make that their main competition for second comes from Gladbach and Marco Rose. I still have Dortmund down as finishing runner-up come the end of term, but the fight for second will be as tight as it's ever been.