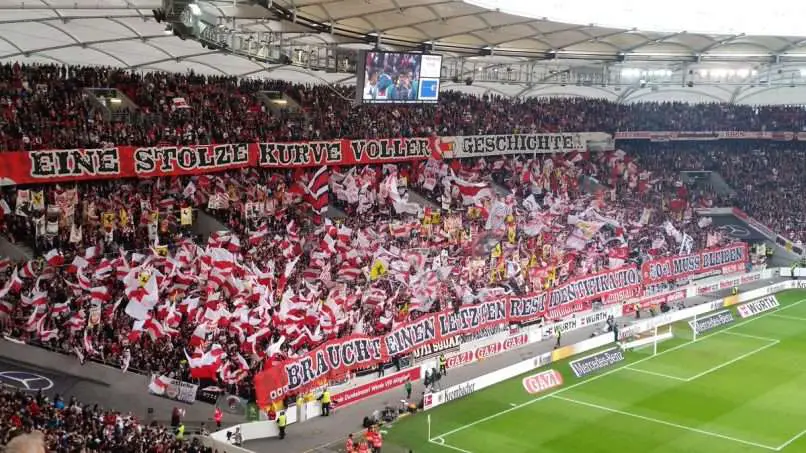 GUIDE | Ranking the Bundesliga's bests club anthems
German football has become known for its great fans and rocking stands. But one thing that has also become obvious is the fans' love for anthems, or "Hymns" as they're more commonly called. There are a few amazing examples of anthems in Bundesliga, 2. Bundesliga and 3. Liga.
I visited Sandhausen in December 2016 and was amazed. The town is small, the fans aren't many and they are in no way loud. The stadium is minimal, but still seems to be a tad too big for the mini-club from St.Ilgen/Sandhausen. SVS does have two things that has canonised them into the heavens of my mind. Their mascot, a Honey Badger on crack, and their fantastic anthem (https://youtu.be/_DP8-W1muc0). This anthem has some obvious strengths, for example, it's easy to sing and easy to remember. The lyrics are perfect and represent both the minimal stature of the club as well as every club's ambition to reach the top. This is the criteria for this piece, in which GGFN look at every anthem in Bundesliga, list the pros and cons in order to grade it from 1 to 5.
Grading explanation:
Do you have any earplugs lying around?
If I'm in the right mood!
This is fine, I can enjoy this and so can the fans. Well done!
Is this on Spotify?
Weltklasse! Instant goosebumps. I'll become a fan only for this anthem.
FC Augsburg  –  Rot Grün Weiss
Pros: This was a real surprise to me in many ways. Augsburg was quirky, look no further than their mascot, but not that they were this good at tunes. This anthem invites sing-a-long and it's very happy and refreshing. You leave all your worries behind to watch football when you hear this. Great!
Cons: The lyrics are a tad stale, I must say. If I do compare this one to Sandhausen's magical bit, it falls just short and mainly due to its mediocre lyrics.
Grade: 4/5
Video: https://youtu.be/bO341h8lt9M
Bayer Leverkusen  –  Leverkusen
Pros: It's quite nice. I wasn't expecting anything special from them, but they have managed to carve out a real pearl. The anthem is well-known and the refrain is well-sung in the stands of the great stadium in the suburbs of Cologne.
Cons: "In unser stadt gibt es viel zu sehen." Okay, Leverkusener's, whatever makes you happy. They try to make the industrial nothingness of Leverkusen into something worth watching, which is both admirable and horrible.
Grade: 3,5/5
Video: https://youtu.be/Jo9_WdfcoIE
Bayern München –  Stern des Südens
Pros: It's one of the best known anthems in German football and it has something to it, I must admit that it grows on you, becomes better every time you listen. It's flashy, true and properly applicable for a club like Bayern.
Cons: However, it's a bit too instrumental, a tad too loud and doesn't say much about Bayern's connection to either the area or the city, nor has the anthem become a part of the club's identity.
Grade: 3/5
Video: https://youtu.be/t-mZK1r8rjY
Borussia Dortmund  –  Am Borzigplatz Geboren
Pros: Am Borzigplatz geboren is in my opinion a better choice for anthem than You'll Never Walk Alone as the song tells the story of a successful Borussia. It's calm, easy to understand, easy to follow and quite beautiful. This song becomes the nexus between one place in the city (Borzigplatz, where Borussia always celebrate their titles) and the fans, which is quite beautiful.
Cons: When do they sing it? Do they even play it? It's often listed as the anthem, but I can't remember ever hearing it at the stadium.
Grade: 3.5/5
Video: https://youtu.be/he36PqQ4ksw
Borussia Mönchengladbach –  Elf vom Niederrhein
Pros: Elf vom Niederrhein follows the Team Presentation, which is quite fun. The anthem is well-known and well-sung as the famous Nordkurve tend to make the ground shake with their passionate screams during the refrain.
Cons: Is it Springbreak in Mönchengladbach?
Grade: 4/5
Video: https://youtu.be/iuAt9ZFea8M
Eintracht Frankfurt  –  Im Herzen von Europa
Pros: I tried to be unbiased. I've sung this song many a time and have grown quite fond of it and here's why: The song, sung by the Frankfurter Police Choir, represents the club and the city. Im Herzen von Europa is a great depiction of what the whole connection between Eintracht and Frankfurt is.
Cons: It's a bit boring, old and stale. Eintracht has always been a flashy team and this anthem doesn't really represent that in any way.
Grade: 2,5/5
Video: https://youtu.be/UzLtPmXnnHw
SC Freiburg  –  Badnerlied
Pros: It's not much, but the anthem is representative for the club!
Cons: Was ist das denn? No idea, not sure the fans know either.
Grade: 2/5
Video: https://youtu.be/48d-Px_Yzy8
Hamburger SV – Hamburg, Meine Perle
Pros: This is good, really good. Hamburg, Meine Perle makes me miss Hamburg. While I've visited the city a few times, I've never grown too fond of it and it's therefore quite amazing that this anthem makes me miss the city. It's calm, always sung live and the lyrics are on point. It might even give you goosebumps! We will all miss it if HSV get relegated.
Cons: It's well-known, but not too well-sung and this is a grand minus.
Grade: 4,5/5
Video: https://youtu.be/efh6taFgjAg
Hannover 96 –  Alte Liebe
Pros: Powerful, beautiful and has good lyrics. It's an anthem worthy of Hannover's history.
Cons: A tad too instrumental, a bit too loud and doesn't really invite sing-a-long, which is a real downer. I like this anthem, but you can barely hear the fans due to the instrumental nature of it, which is a real shame.
Grade: 3,5/5
Video: https://youtu.be/QAt4Pta8HJA
Hertha BSC –  Nur nach Hause
Pros: Powerful, awe-inspiring and grandiose. The Rod Stewart-song inspires and inflicts feelings.
Cons: Ring ring! "Hello? Is this the police? Yes, I'd like to file a Missing People's report! The lyrics of Nur Nach Hause are gone!" *click* "Hello? Hello?"
Grade: 4/5
Video: https://youtu.be/3Otsx-RHeis
TSG Hoffenheim 1899 –  Wir sind Hoffe
Pros: Loud, but nice. Happy and refreshing. I had this stuck in my head for two straight days last spring, which was actually rather pleasing. It's a good song in many ways.
Cons: The lyrics aren't full of innovation. "Hoffe Hoffe, wir sind Hoffe!" Tell me something I don't know!
Grade: 2/5
Video: https://youtu.be/JQwWqBa1hqY
1. Köln – Mer stonn zo dir
Pros: This is the pinnacle of everything. An anthem perhaps only rivalled by Sevilla's Himno del Centenario, You'll Never Walk Alone and Sunshine on Leith in terms of inflicting rather instant goosebumps. It's fantastic, perfect and it's even dialectal whoch gives you a real feeling of Cologne. And the best thing is that the anthem has become a part of the club's identity, which is the ultimate proof that the anthem is top class. Sensational stuff!
Cons: –
Grade: 5/5
Video: https://youtu.be/hlZOj_vyYl4
Mainz 05 – Rot und Weiss
Pros: Hm. Starts off well, I guess.
Cons: Where is the refrain? Too loud, horribly paced and does in no way invite sing-a-long. The tune itself drowns out the possible song from the stands. Nein!
Grade: 1,5/5
Video: https://youtu.be/XD7faAJsOro
RB Leipzig – Stolz des Ostens
Pros: Quite fancy and fun. It could become a classic, but in like 25 years.
Cons: I found myself laughing while listening to it. Can't be a good sign.
Grade: 1,5/5
Video: https://youtu.be/an8kZS9cdHM
Schalke 04 – Blau und Weiss wie lieb ich dich
Pros: This is interesting. I though that the 'Steigerlied' was their anthem, but it turns out that this one is the real one. Which is good. Blau und weiss is a good song in many ways. Even though the fans don't necessarily make themselves heard duting this song, it's kind of the deal. This song is best enjoyed without any chants.
Cons: A bit old and stale. While Steigerlied makes you remember the good old mining days, this song
Grade: 3/5
VfB Stuttgart – Für Immer VFB
Pros: Does really invite sing-a-long, tells the story of the historic VFB that the fans will forever support, no matter what. Bueatiful and not too instrumental, simple and neat.
Cons: It's rather new and the history of the anthem isn't the best. Could become a classic in a while, but is a junior as of now.
Grade: 3/5
Video: https://youtu.be/KSd1d09TeVQ
Werder Bremen – Lebenslang Grünweiss
Pros: It's at times sensational. One of the best in Bundesliga and does really invite sing-a-long with it's fantastic refrain.
Cons: Look, Bremen is an old city and it has lots of history and so has the club. It seems like there should be more to the anthem than there is. The lyrics are a bit too stale and simple, doesn't really represent Bremen.
Grade: 4/5
Video: https://youtu.be/M-6ckGqhtfs
VfL Wolfsburg – Immer nur du
Pros: Error 404
Cons: Everything. The whole club is in shambles, in Medieval ruins, and their anthem seems to be following the same pattern. The city is boring the club is as boring, but the anthem is actually worse. It just creates a numb feeling, a sense of nothingness. I'll rate it 1,5/5 because it does have decent lyrics and the fans do at times shine through the instrumental insanity that this piece is.
Grade: 1,5/5
Video: https://youtu.be/q-4seDTx4YU
By Axel Falk.