RB Leipzig is one of the most fanciful teams you can watch in the Bundesliga and most of that can be attributed to their often-vibrant pressing and attacking football.
Ralph Hasenhüttl's team was one of the biggest surprises in Europe last season when they finished second behind Carlo Ancelotti's Bayern Munich, but they have since drifted off and while they do currently sit second, their season has not been as good as 2016/17. RB remain in contention for Champions League football and are in the Last 16 of the Europa League, so one can't really say that their season has been a failure. Their tactical system seems to be working wonders, even though we might assume that many teams have already figured RB Leipzig out.
This pressing team has one of the most exciting squads in the Bundesliga. It's a squad full of youth, power, speed and technical abilities that put many other squads to shame. RasenBallsport's attacking quality has never been easy to question as they both possess a perfect starting XI and the depth to cope with an array of tournaments at once. While their attacking qualities are unquestionable, their defensive quality is what has often let them down and this the main reason they could not truly challenge Bayern for the title last season, nevertheless this season. There have been a few tangible problems that some clubs have already figured out, which will be analysed below.
Tactical Analysis
RB Leipzig press their opponents, that their main tactic and it has always been. RB's pressing under Ralf Rangnick was a tad different than the one Jürgen Klopp developed at Borussia Dortmund. Rangnick's first idea was based on an anti-Pep idea. Pep's notion 'you can't concede if you've got the ball' was turned into 'you can't lose the ball if you haven't got it' and in a pressing crazed Germany, this was actually a useable idea.
Rangnick developed a tactic that was based on steering the opponents, luring them into traps. Then, his players took the ball quite simply and scored through overloading and counter-attacking their opponents. His idea of pressing has been altered quite a lot since, but Leipzig still isn't a team that's fond of having the ball. They are much more comfortable with pressing high to win the ball back close to the opponent's goal. However, in contrast to Rangnick's system, they do not give away the ball in order to win it back. When RB are in possession of the ball, they often have good enough players that can create chances.
During the last two seasons, former VfR Aalen and FC Ingolstadt coach Hasenhüttl has been the manager of this band of brothers. In good times and in bad, his resilient tactics has brought them stability and hope for a blissful future. The Austrian has fielded an interesting 4-2-2-2 while at Leipzig, which in no way is reminiscent of the way he decided to play while at Aalen or Ingolstadt, mainly due to the tactically and technically superior players he's now got at his disposal.
His 4-2-2-2 is very versatile and mobile with a bunch of quick and agile players that move around as they wish, thus creating a dynamic that's very difficult to predict. Hasenhüttl's attacking priority while at Leipzig has been tangible at least and he has been very successful with his offensive approach. He fields two very dynamic and quick wing-backs with wingers/attacking midfielders who drift inside and out, often finding themselves in acres of space in the half-spaces between the opponent's lines. Marcel Sabitzer and Emil Forsberg, often the two players in these positions, drop in behind the lines and receive balls that they then distribute to the speedy attackers.
Forsberg is the main man in this set-up. While Sabitzer often becomes a more typical winger, 'Mini-Foppa' tends to drift inside and behind to receive balls. His brilliant vision and hawk-eye for a pass makes it extremely easy for him to create chances, which made him the spearhead for last season's successful Saxony outfit.
Last season was very successful for RasenBallsport. They finished second in Bundesliga behind Ancelotti's Bayern and had high hopes going into this season. They kept hold of their key performers and even though Naby Keita will leave the club this summer, they've already got a replacement in the squad in Kevin Kampl, one of the most underrated midfielders in the league. Another key performer for RB Leipzig last season as well as this season is Diego Demme, a defensive midfielder that won his first international cap just this autumn. His performances in the middle of the park has been an absolute key for Leipzig as his work rate and passing range from deep has eased things for Keita and Forsberg, allowing them a more attacking approach.
Demme's juggling act in midfield has made him one of the most important and most undervalued players in Europe and should arguably be in contention for a spot in the German national team come the summer. His importance to the team has been demonstrated in the last few matches, in which he has not featured due to injury. His absence from the team has meant that Kevin Kampl has had to take the helm in defensive midfield. While the Slovenian is an extremely capable midfielder, his defensive qualities do not match Demme's. This has made Leipzig much weaker.
Demme is as important in Leipzig's attack as he is for their build-up. When they do build up play from the back, the 26-year-old drops back to help out. He has a very respectable passing range which he uses rather frequently. This does also allow both Keita and Forsberg to be a bit more attacking in their approach as they won't have to drop down to help. Demme's capabilities in attack and in the build-up does therefore make him the centre of all, the main hub for all attacks. He is also of grave importance to Leipzig's defence. Sitting in front of defence to shield it, he can also press rather relentlessly.
However, his main strengths lie in covering so other players can press. He can press, but he's best at marking and covering the possible passing options and the eventual passing lanes. This is where Keita or Kampl often tend to get it wrong. They press and then get exposed, which is why Demme's intelligence in the middle of the pitch is needed to make Hasenhüttl's system work. The German understands when to press and when not to, he understands his opponents and can make decisions based upon it. He knows which players to press and he understands when he should cover and shield.
The wing-backs tend to drift forward in Hasenhüttl's system and this craves a certain type of defender. Leipzig's rather vast array of attacking wing-backs are, however, offensively suited to this system. Lukas Klostermann, Bernardo and Marcel Halstenberg all possess excellent ball-playing abilities that can make them a part of any passing combination needed. They're also often a big part of the pressing as they both press and cover when needed. In the last few games for Leipzig, both wing-backs have recorded a rather ludicrous amount of ball touches. For example, Bernardo had 60 touches after only 25 minutes against 1. FC Köln, which is quite astonishing for a left back. This correlates quite well with the way RB play football. They tend to use their wings, especially their left wing and this is due to their attacking midfielder often drifting into the half-spaces. As Forsberg often deployed out on the left flank, more than often becomes a 10, the left flank is 'left' to be manoeuvred by Bernardo.
This season has in many ways been different from last. While the wing-backs have an increasingly important role in Hasenhüttl's system, the middle has more than seldom been left exposed. This is down to a few things.
Firstly, the system has been somewhat tweaked, it seems. Hasenhüttl added several wingers in the summer and this was obviously a sign of things to come. Forsberg has played more centrally, when he hasn't been out injured that is and Keita has had a much more offensively minded role. The mindset of the midfield set-up seems to be that Demme, or who-ever is his temp', can handle the middle all by himself. Keita or Forsberg have often become an attacking playmaker, trying too hard to link up with the strikers Timo Werner and Yussuf Poulsen.
This has worked quite well at times as Werner has bagged a bunch of decent goals, but the whole system looks unbalanced at times. This seems to be a product of an increased influx of wingers. Players like Bruma and Jean-Kevin Augustin, and most recently Ademola Lookman, have made it impossible for Hasenhüttl to keep playing a very narrow 4-2-2-2. Nowadays, Leipzig field a strange 4-4-2, where one of the central midfielders quickly becomes an attacking midfielder whose sole purpose is to press and operate behind the two attackers. The wingers tend to drift inside often, once again leaving space for the wing backs.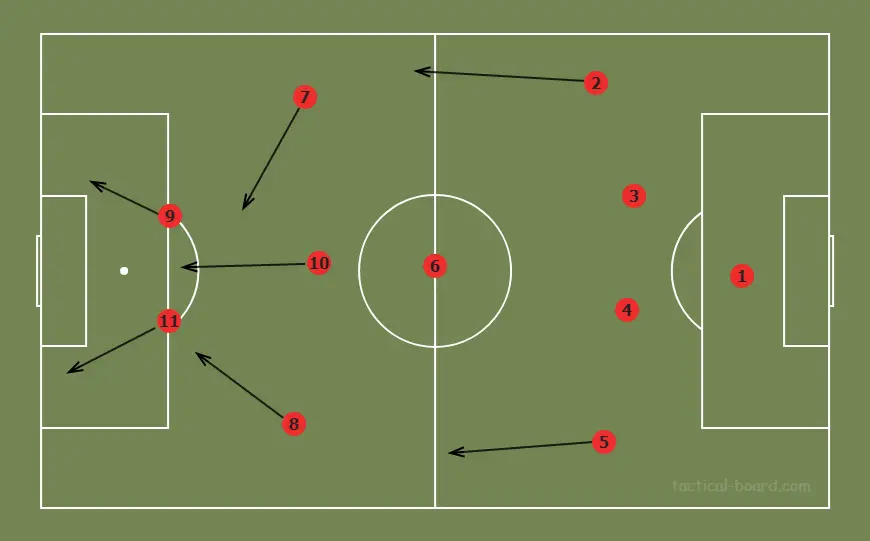 Above, you can see RB Leipzig's current system, not how it looks from the beginning, but in-game.
Leipzig's current set-up is also all about the pressing. Their pressing is a bit more aggressive than Hoffenheim's or even Eintracht Frankfurt's. Leipzig try to instantly press the man in possession of the ball, instead of luring him into already set-up traps. As seen in the picture below, the players closest to the player in possession quickly press, while all the others mark and cover.
It's a very easy and aggressive way of doing pressing, albeit rather effective for a side like Leipzig with many quick and agile players. It might look chaotic at times, much more so than Frankfurt's or Hoffenheim's very methodical pressing, but it has worked against most teams in the league so far. Hoffenheim and Frankfurt tend to let a player, often a centre back, transport the ball into the opposing half, blocking all available passing options. Then they quickly press, take the ball and expose the space that the transporter has left. They set-up traps and lure their opponents into these. Leipzig are a bit more ad-hoc, a tad more aggressive, but we must remember that their pressing can be seen as a relic from Rangnick's time at the club.
Above we can see an actual situation from RB's game against Köln. RB are red, blue are opponents. Yellow lines mean that the blue player is covered.
Strengths
Leipzig's obvious strengths lie in attack. They often tend to outscore their opposition and even though they can keep a clean sheet, they prefer scoring more. They are extremely quick on the counters, which makes them difficult to face. Their pressing is also a big part of what makes them so dangerous. Leipzig are relentless, aggressive and hard working. They often press and work like a team, albeit they might seem like a bunch of individualists. Leipzig is also a very hated club and Hasenhüttl is apparently a great motivator. One can assume that they often draw motivation from the hatred shown towards them. It's a quasi-eternal 'us against the world' scenario going on and they absolutely flourish in it.
Another strength is their ability to break the lines of their opposition. As stated earlier, Forsberg and Sabitzer often tend to drift behind enemy lines. They find themselves in acres of space and before they're closed down, they do often find a chance. Hasenhüttl has here played to Forsberg's and Sabitzer's strengths as footballers. He knew that they're both agile, strong and clever attacking playmakers so he instructed them to drop into space. The duo is a clear strength for Leipzig.
Another one is Werner and Poulsen. The German-Danish duo has attributed quite a few goals so far this season. Both players are quick and possess great understanding for the game. They seem to work together, in symbiosis and understand each other well. Werner's speed makes it very possible and plausible for him to drift wide to create space, both for himself and for Poulsen. This is due to Werner luring a defender or two with him and therefore allowing Poulsen or another attacker to drift into the area. This has become one of the main attacking tactics for RB during the last year. Werner, or Augustin, drifts wide. A cross comes in and due to Werner's creation of space, there is enough room for Sabitzer to drift into the area to finish the chance.
In the last few games alone, lots of chances have been created and finished by the third man drifting into space created by one of the strikers.
Weaknesses
RasenBallsport Leipzig is an attacking team, that's for sure. Their defensive abilities are often overlooked by most, but for good reason. While both centre backs are very capable ones, none of the two wing-backs are very good defensively. Klostermann is a typical wing-back whose obvious strengths lie in attack. He plays as a right back due to him being defensively superior to the likes of Sabitzer or Bruma. The same goes for Bernardo. The Brazilian joined the club from Salzburg last winter and quickly got integrated into the squad. His attacking abilities are unquestionable and his feet are blessed, but his defensive abilities are easy to doubt. He's better defensively than Klostermann, but his strengths also lie in attack. Both are good enough for a Bundesliga team battling for European football, but not good enough defensively if Leipzig are to compete for the league title.
They're also too dependent on Demme. When he's out injured, or by some other reason, they need someone that can step in and convincingly fill his place. While Konrad Laimer was signed to do just that, his youthful character has stopped him so far. Laimer is a future Demme, but he's too young and inexperienced to take the helm at defensive midfield, especially considering how important that role is to Leipzig's system. The current system also tends to expose Demme in the middle of the pitch, which is quite hard to understand. They had a good balance last season, why test something else. Why change a winning system? Kampl is a great player and so is Keita, but none of these possess the defensive ability and understanding of Demme. Therefore, his importance ironically becomes a weakness for die Roten Bullen.
Willi Orban and Dayot Upamecano are both good central defenders. Both are great at stopping balls behind due to their strength and quickness. They're also good at reading low crosses and through balls. However, they do have one tangible weakness. Neither Orban nor Upamecano possess any aerial strength, which against taller and aerially stronger opponents becomes a real problem. A rather big bunch of the chances conceded have been through corners or high and sweeping crosses.
RB Leipzig is an offensively minded team with clear defensively weaknesses and they're grand supporters of pressing. They do have a few keys, but the main one lies in the middle of the park. Demme's juggling nature has become Leipzig's biggest strength and while losing Keita will hurt, keeping hold of the little Diego will prove to more important. One of the most entertaining sides to watch in the Bundesliga nevertheless, RB Leipzig is a must watch if you ever find yourself in Saxony. Even though their fans might disappoint, the football most certainly will not as Leipzig's energy crazed vibrant nature will spin you enough to fall in love with them.
By Axel Falk.