Joachim Löw has one of the absolute biggest squads in the world and one of the most complete and competent at that. Blessed with a tactical purity as well as a clear idea of football, and the German way of doing it, he has moulded this brilliant squad into a tactical monster that is absolute and immune to injuries, sickness and tired legs. He has built a philosophy that revolves around player types, rather than the player quality and this choice of interest is crucial to the German success at international level.
In this piece, we try to explain what Löw's system looks like and why it's granted him tactical purity. The notion "Anakin Skywalker of world football" will also be used. Consider yourself warned.
Löw, the saviour
When Löw took charge after Jürgen Klinsmann's departure in 2006, he inherited a labile football nation. It was a German National Team that had just disappointed the vast mass of football fanatics in the Teutonic parts of the world in a decent, but not good enough World Cup on home soil. His entrance wasn't lauded at first, but it was welcomed. A change was needed at the top, mostly due to the continued chaos and failure. The German National Team between 1998 and 2006 has lately been seen as the worst ever and Löw's appointment was therefore necessary but also frowned upon by some, mostly due to his lack of experience. He had managed VfB Stuttgart between 1996 and 1998 as well as their rivals Karlsruhe in 1999-2000. Other than that, not too much experience to be excited about. He had always been a respected player, but was never good enough for the national team and so there was a clear lack of belief from the German fans.
However, he started off well. He performed some kind of culture revolution and started to include younger players to try to shield himself from the failure of the older players. His first tournament came in 2008 when the German team, baffling enough, reached the final, but lost to a fantastic Spanish team under Luis Aragonés, the very same team that would then go on to tantalise the world with its revolutionary style of Tiki-Taka.
The system
As most are hopefully aware, Löw's Germany won the World Cup in Brazil in 2014 through their great defence and fantastic goalkeeper. Since then, the team has gone from strength to strength and has now been less reliant on their great defence, which is always a big plus. It is good to build a team from the back, but it is as important to have the quality necessary to cause splendid harm up front.
While Germany always have been rough and well-organised, Löw's German squad has another clear trait that has surely been influenced by Aragonés' and Pep Guardiola's style of football. In 2010, Löw's first World Cup, Germany played "too nice," according to German legends in the game. Löw has taken that into account however, and his team proved to be a holy mixture of all things lovable in football when they then won in 2014. While one might argue that the gold medal in 2014 could and should have been the pinnacle, Löw doesn't agree.
Since the win in 2014, Germany has had a small identity crisis. Löw's job was never in peril, but due to Philipp Lahm and Bastian Schweinsteiger leaving the national team, questions have been raised regarding their replacements. In Schweinsteiger's role, it was obvious that Toni Kroos was the replacement. Lahm's position though, has been discussed and contested. When Joshua Kimmich rose to power as the new poster-boy of his generation, it became obvious that he was to be the replacement for Lahm, both at Bayern and in the national team. Having found the replacements for their departing players, Löw could build on the success in 2014 and is now one of few national team coaches to ever be called an invincible. Löw's Germany hasn't lost a game since the semi-final in the Euros against France in July 2016. This is quite the feat.
But how has he done it? It's no secret that a managing a national team is difficult. Due to injuries and drops in form, it's never easy to maintain the team as it is, or was. There has been a change in tactics, though. It's like Löw had an epiphany and realised what he must do to prevent injuries and bad form from harming his team. The change in tactics was a definite serendipity.
Since the beginning of the World Cup Qualifiers in September 2016, something has changed. Both Löw's choice of players and his on-field tactics and instructions seem to be consequent, no matter the team he fields. In their game against Chile in the final of the Confederation's Cup, Germany played a distinct 4-2-3-1.
In this 4-2-3-1, the goalkeeper has a clear role to play as a ball-playing sweeper. This makes it easier for the defenders for they can take risks more frequently. While the 'keeper is prone to playing with his feet, the defenders are too. The two central defenders in this system are quite static and follow a clear pattern. One lies a bit deeper than the other and this one is often the one with the best feet. In front of them lie one very competent defensive motor and one more dynamic midfielder. In the game against Chile. These two were Sebastian Rudy and Kimmich respectively.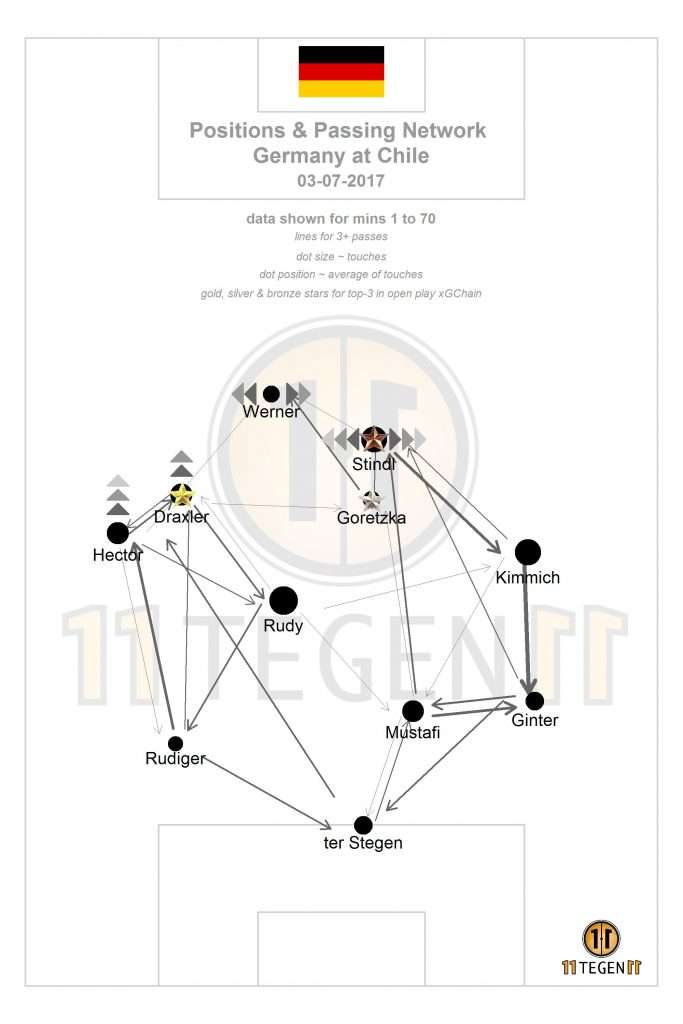 [Editors note: Be sure to check out 11tegen11 on Twitter for more pass maps and tactical analysis on not only German football, but world football.]
In this certain game, Kimmich often drifted out wide in defence, which probably was to help right-back Ginter handle the agile Alexis Sanchez. Because of this, the 4-2-3-1 often formed into a 5-1-4-1 in defence, with five players being ready to counter attack the minute the opponents lost the ball. This shows great understanding and flexibility. Germany won this game 1-0.
Later on this year, in their game against Norway in September, Löw fielded the clearest edition of 4-2-3-1 in quite some time. Marc-André Ter Stegen as a goal keeper, famed for his ball-playing abilities. Two central defenders, one a bit deeper than the other. The deeper role was assigned to Hummels, mostly due to his excellent passing skills. He partnered up with Antonio Rüdiger, a strong and physical centre back. His role was to intercept and win duels.
Kimmich and Jonas Hector as extremely dynamic wing backs, forming a 2-4-3-1 in attack, which overloads and creates loads of chances. Kroos as the mastermind in midfield with dynamic Rudy alongside him. Creative genius Mesut Özil in front of these two with two inverted wingers who often drifted in while in attack to create space for the dynamic wing backs.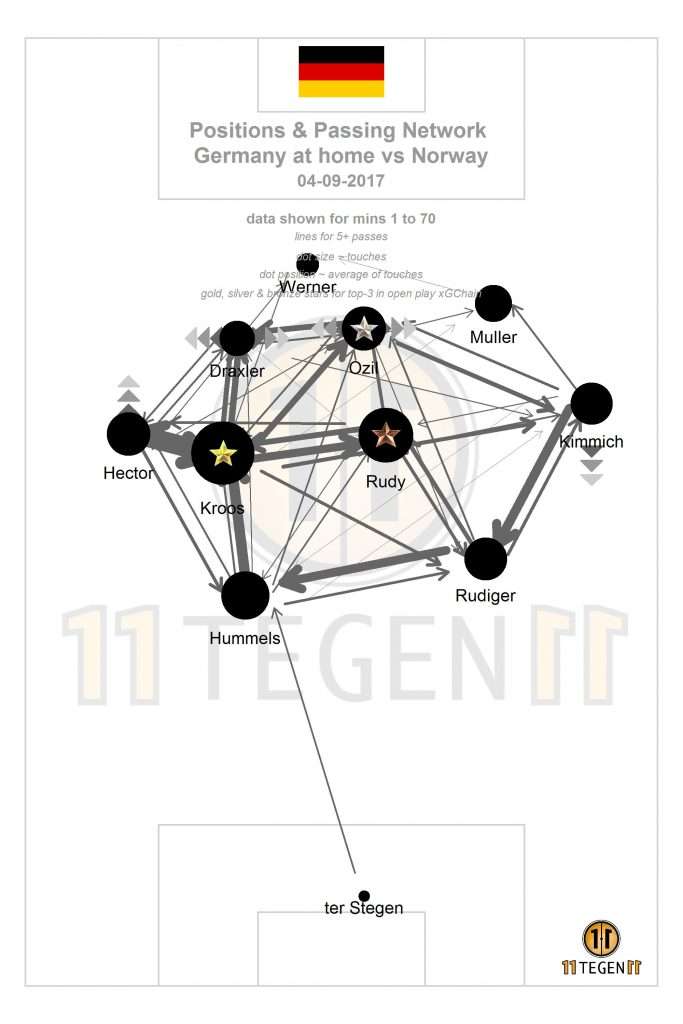 This created much space for Mesut Özil, one of the best creators in the world, who picked out passes for the wingers and wing backs. In front of all this, the insanely quick and complete Timo Werner. This system was created to bring balance in the force, nothing more and nothing less. Löw's 4-2-3-1 is the Anakin Skywalker of world football, even though one must argue that Luke was the one to actually bring balance to the force. A perfect mixture of attacking and defensive awareness, combined with great individual skill and no lack of players of any type.
Later on this autumn, Germany played Azerbaijan and the Germans won 5-1 in Kaiserslautern. This game was a bit different from the other two games so far. Germany fielded a 2-3-5 and this was aimed to hurt Azerbaijan. However, what becomes clear while watching that game is that a few things are very similar to the other two games. The Germans field a ball-playing goalkeeper. They also field two central defenders where one of them is ball playing and one intercepts. They also use one dynamic wing back in Kimmich, but the drifts in and becomes a central midfielder. Alongside him Emre Can has Kroos' role.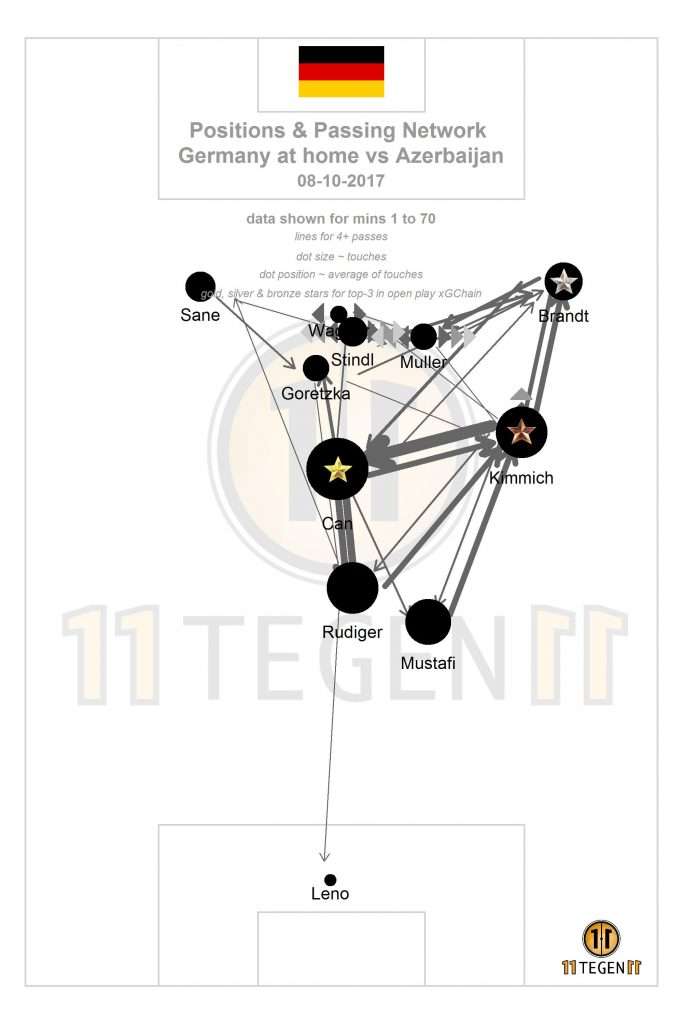 Due to the five man in attack they also make use of the wingers drifting in to create space for the other wingers. It really is hard to fathom and explain, but Löw's tactics won them this game 5-1, event though one might argue that Germany's U21s could have beaten that Azerbaijan team.
The last game we will compare is the last game of 2017, against the team they lost to in July 2016: France. The game was played on Tuesday and ended 2-2. While this isn't that flattering, we must remember that Löw fielded youngsters and new players in new positions. For example, Can played right-back in order to offer Kimmich some needed rest. Sami Khedira also returned alongside Kroos.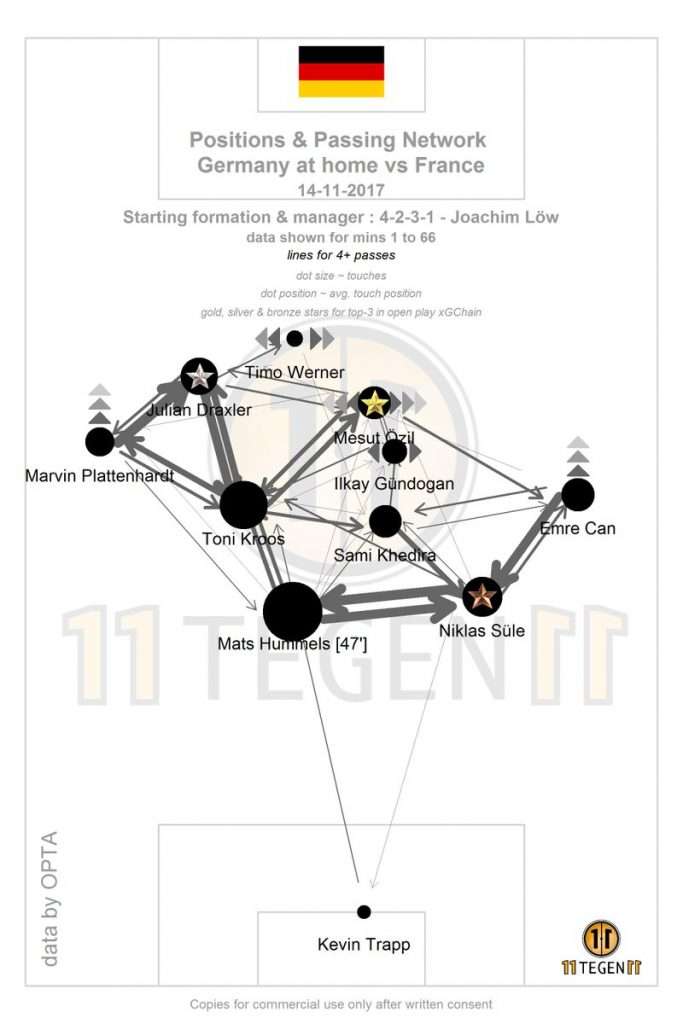 Germany played a distinct 4-2-3-1 and controlled large parts of the game with the flexibility of this system, but a few things became clear. First of all, Rüdiger should not have the role as a ball-playing defender. Can does not work as a dynamic wing-back, while many would rather see Mitchell Weiser replace Kimmich when the latter needs a rest. In addition to that, Kevin Trapp isn't the best with his feet, which is why ter Stegen should be the replacement for Manuel Neuer when he's injured or is given a rest. They still managed to draw with one of the most talented attacks in the world against them.
Every manager's dream
What becomes clear with this article is the flexibility of this system. Löw's 4-2-3-1 is a system with many clear roles to fill and almost all roles are made to fit the available player types. Add to that, the depth at every position. Germany could field four completely different starting line-ups while the result isn't likely to differ that much. Werner works just fine in the role as lone attacker, but so does Thomas Müller, Lars Stindl or Sandro Wagner.
They have tremendous depth on the wings with Leroy Sane, Julian Brandt, Kai Havertz, Marco Reus, Andre Schürrle and Julian Draxler among others. In the creative role they have more than fantastic quality in Özil, Ilkay Gündogan, Mario Götze, Max Meyer and Leon Goretzka.
Many of the players mentioned can also fill in at defensive midfield and act as a dynamic or a ball-playing mastermind. The thing that makes this system so extremely lethal is that it's built around the team, die Mannschaft, rather than around a few individuals. It's also made to work with different player types, due to its flexibility.
Löw has created every manager's dream, a system that makes every player in it flourish and this is what makes this team invincible and it is also what will win them the World Cup in Russia 2018.
By Axel Falk.