After another sleepy international break 2. Bundesliga returned with a bang last week with three rounds of matches squeezed into a ten-day period. Sandwiching a full midweek league round between two weekend rounds is uncommon in Germany and generally unpopular with coaches. So much so, in fact, that it's widely nicknamed Englische Woche – a reference to English football's relentless, packed football schedule, which still baffles many on the continent.
With a possible 9 points on offer in one week it had the makings of a crucial one for the title race but it's actually managed to get even closer somehow. As the first team this season to reach 50 points Union Berlin topped the table for the first time but hit a stumbling block in the form of the international break. Before then they had accumulated 22 of a possible 24 points in 2017 in a blistering run of form that was reminiscent of Freiburg's winning streak last year. However, after losing momentum they picked up just one point during English Week.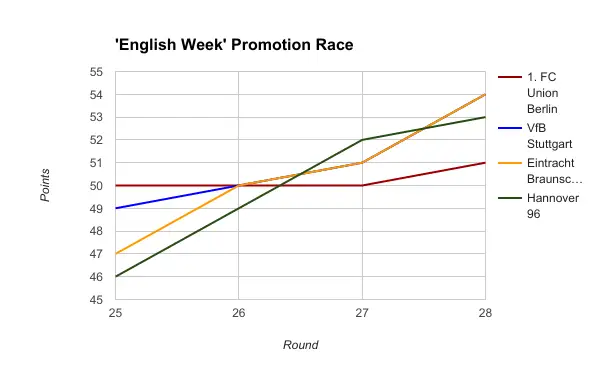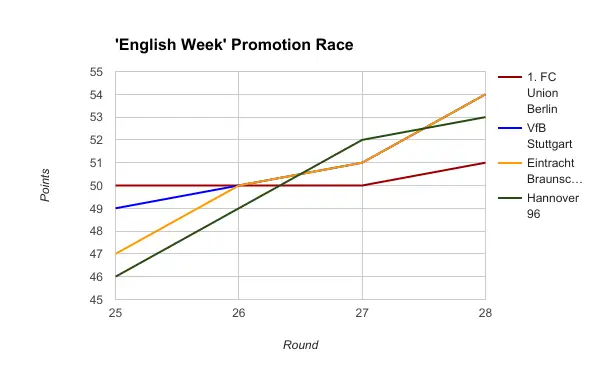 Union hit a brick wall when they travelled west to Hannover for André Breitenreiter's first game in charge of die Roten. Encouraged by what he saw in a friendly win against Schalke 04 over the break, the coach stuck with a similar system for the match against Berlin and earned a deserved 2-0 victory. Although it was a simple 4-4-2 on paper, in practice the full-backs pushed high up the pitch, with the wingers ahead of them tucking in, and captain Manuel Schmiedebach dropped between the centre-backs to conduct play from deep like an NFL quarterback. Breitenreiter also insists upon a quicker tempo than Hannover had been playing under Daniel Stendel, which is noticeable with more running beyond the opposition and one-touch passing.
The first goal in particular was a devastating counter-attack that ended with the talismanic Martin Harnik dinking a cute cross for the resurgent Niclas Füllkrug to volley home. The latter never really kicked on under the management of Stendel but he's been the main beneficiary of Breitenreiter's appointment, and with a coach that believes in him he's beginning to look like the player that was so important for Nürnberg last season. The strike partnership combined again in the next game against his former team, as Füllkrug played the provider role this time for Harnik to sweep in the only goal of the game.
Remarkably, in the space of just a few days, Hannover leaped from 4th and outsiders in the promotion race to be the outright table toppers. The title of league leaders changed hands for the third time in one week though as they put in a very tired performance against Würzburger Kickers in the third game and could only manage a goalless draw. Breitenreiter will see the positives of keeping three clean sheets in a team where the defence has been the major concern this season. No doubt the club's new general manager Horst Heldt will be satisfied with his appointee taking 7 points last week.
The talk of the town right now though is the impending derby between Hannover and fierce rivals Eintracht Braunschweig on Saturday. The two sets of fans have clashed in recent years and if the 2-2 thriller they played out earlier this season is anything to go by it should be another spicy, exciting encounter. There is only a single point between them as they sit in 3rd and 2nd respectively, so this will be more than just a derby – it's a promotion race six-pointer.
Eintracht Braunschweig enjoyed a good week of their own as they also picked up 7 points to surge into 2nd place. It started with their first victory away at Kaiserslautern in over forty years in which Mirko Boland scored the only goal of the game and a fortuitous one at that – as he bundled it into the net with the combination of face and arm. Boland has been Eintracht's superhero in recent games and he actually looked like one last week as he wore a mask to protect his broken nose.
Like Hannover, Braunschweig also kept three clean sheets, including one away at in-form Greuther Fürth in which both teams seem satisfied to share the points in a 0-0 draw. Monday night's game against 5th-placed Dynamo Dresden was a must-win game and once again Ken Reichel came to the rescue with a 92nd-minute winner. A showreel of his career goals is up there with any defender in the world and this was another beauty – a drilled volley from twenty yards into the bottom-corner.
That late winners moved Braunschweig up to joint-top on 54 points – only 2nd behind Stuttgart on goal difference. Late goals were a theme of the week and played a big role in deciding the current table. Union Berlin were on their way to 53 points before 80th and 90th minute goals for Fortuna Düsseldorf levelled the game at 2-2. Similarly their devastating home defeat to Erzgebirge Aue in midweek was the result of a 79th-minute winner.
League leaders Stuttgart were the masters of the late goal last week though. They were the clear favourites for promotion at the start of the season but it's not been plain sailing and they recently went on a five-game winless streak. It seems morale was only maintained by their late comebacks, the most dramatic of which came in one of the games of the season against Dresden. It was the reverse fixture of Dynamo's historic 5-0 home win and the visitors incredibly raced into an 8-0 aggregate lead less than half an hour into the game at the Mercedes-Benz-Arena. Stuttgart rallied though and completed a stunning 3-3 comeback with a 94th-minute equaliser via a Simon Terodde penalty.
That took the top-scorer's tally to 17 for the season but even he couldn't find a way past 1860 München's back three in the midweek game. Stuttgart didn't leave it quite so late to equalise this time but it still came in the 92nd-minute thanks to a mix-up at the back, allowing defender-cum-makeshift-striker Marcin Kaminski to score. VfB finally got the win they were so craving and at the perfect time as they beat Karlsruher in the derby at the weekend, taking them back to the top of the table.
But with just six rounds to go now who will be going up on 21st May? As it stands there is only 3 points separating the four sides but only two automatic promotion spots. Union Berlin have arguably the weakest squad of the four, and perhaps squad management was an issue in English Week, but they've proven how tough they can be to stop once they've built up a head of steam. Finishing 3rd in the promotion playoff spot may be their best bet.
Stuttgart, echoing Liverpool's problems, may have lost (Carlos) Mané for the rest of the season due to a knee injury, but they still have an enviable amount of attacking talent to choose from. Takuma Asano, for example, stepped up with a brace in the derby, and with the firepower they possess they are surely still favourites for promotion and perhaps the title too.
That leaves local rivals Hannover and Braunschweig, which makes the upcoming derby even bigger. Breitenreiter has made a positive start to his time at 96 but his counterpart Torsten Lieberknecht at Eintracht has been in his role for a decade now and knows his side inside out. Both coaches have won promotion to the top flight before and both are gunning for the top two. It's too close to call between them but the derby could answer some of these questions.
There are games between the top four almost every weekend between now and the end of the season which could prove decisive: Following the derby this weekend, there's Stuttgart vs Union in Round 30, Braunschweig vs Union in Round 32, and finally the massive clash between Hannover and Stuttgart in the penultimate round of the season. It's one of the closest promotion races in 2. Bundesliga history and it's too close to call right now. Either way, it's going to be fun going along for the ride! – AW
Team of the English Week
Manuel Riemann (Bochum); Louis Samson (Aue), Julian Börner (Arminia), Salif Sané (Hannover); Florian Dick (Arminia), Michael Liendl (1860), Dimitrij Nazarov (Aue) Marcel Gaus (Kaiserslautern); Ihlas Bebou (Fortuna), Niclas Füllkrug (Hannover), Amilton (1860)
Goal of the Week
Ken Reichel, Eintracht Braunschweig (vs. Dynamo Dresden)