Should Pierre-Emerick Aubameyang depart Borussia Dortmund over the summer, then Thomas Tuchel and the clubs hierarchy could make a move for Olympique Lyonnais' Alexandre Lacazette, per Bild. The Ligue 1 club would command at least €60 million for the Frenchman, who …
Read more »
Ahead of Borussia Dortmund vs AS Monaco, Thomas Tuchel stated he was unhappy with the timing of the replay after the shocking events that took place in Dortmund on Tuesday evening. "There are players who can easily deal with what's …
Read more »
The Uefa Champions League quarter finals have thrown up some intriguing...
Speaking in an interview with French media outlet, L'Equipe, Borussia Dortmund's Ousmane Dembélé confirms there were other clubs interested in signing him, but his heart was with Dortmund from early on. "There was interest by other clubs but I didn't …
Read more »
Borussia Dortmund CEO Hans-Joachim Watzke has told Sport1 that he expects Pierre-Emerick Aubameyang to stay at the Westfalenstadion, but should the opportunity arise to join Real Madrid or Barcelona, then he'll think about it. "I think he will stay with us. …
Read more »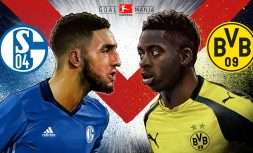 Schalke vs Borussia Dortmund always brings controversy with one of the...