There is certainly a lot of negativity surrounding German football at...
Ajax forward Amin Younes has revealed he's frustrated after the Dutch club blocked a move that would have increased his chances of being in Joachim Löw's Germany squad for the World Cup next summer. "Three big clubs in Germany and …
Read more »
Borussia Dortmund have extended the contract of Roman Bürki until 2021. "Roman is the perfect fit for Borussia Dortmund on both a sporting and personal level. We like his style of play, see great potential for development in him and assume …
Read more »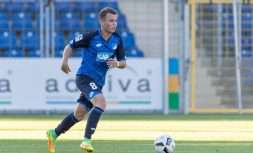 Unearthed by Julian Nagelsmann at just 11-years-old, Dennis Geiger has become an...
Borussia Dortmund have recalled Jadon Sancho ahead of England U17s match against Japan U17s at the World Cup in India. A €7m signing from Manchester City, Sancho played in BVB's UEFA Youth League game against APOEL on Tuesday, scoring in …
Read more »
It's hard to believe that it's almost been four years since...